Wildlife Corridors That Work: A Highway Underpass for Mule Deer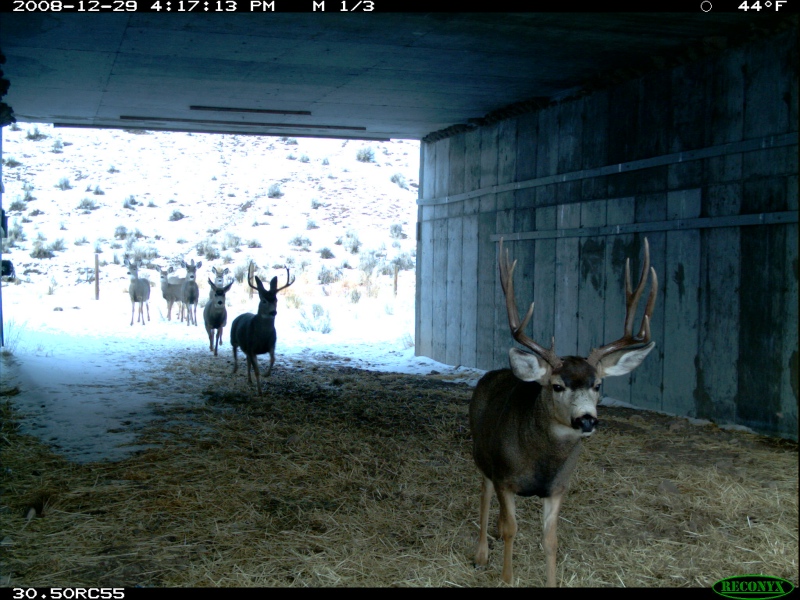 As part of our Freedom to Roam campaign, we're interested in Corridors that Work, wildways that help animals migrate or travel between protected areas. Recently, we heard about a series of underpasses built on Highway 30 in western Wyoming. This part of Wyoming is home to about 100,000 mule deer. Of these, 95% are considered migratory and travel 30-100 miles between their high-elevation summer ranges and low-elevation winter ranges. These migrations are difficult under natural conditions, as deer must negotiate severe weather and deep snowpacks, subsist on variable and unpredictable forage, and all the while avoid predators. Human-caused obstacles such as roads, fences, and development add another layer of difficulty to their journey.
We asked Hall Sawyer, a wildlife biologist specializing in migration corridors for pronghorn and mule deer in Wyoming, to tell us more:
Prior to underpass construction, US 30 presented migratory mule deer with a significant obstacle. This section of US 30, called Nugget Canyon, had chronic problems with mule deer and vehicle collisions.
[Photos courtesy Wyoming Department of Transportation.]
There are about 10,000 deer in this area who regularly migrate. Previous mitigation measures, such as flashing lights and reduced speed limits, didn't work. So in 2001, Wyoming Department of Transportation installed one underpass to see if it could move mule deer underneath the highway and reduce wildlife-vehicle collisions. Monitoring efforts indicated the underpass was successful, so
Mule deer are generally apprehensive about walking through an underpass—it goes against their innate knowledge of how to avoid predators. To make these underpasses more welcoming, they were designed fairly large (12' high, 20' wide) such that deer approaching the underpass have a clear view of the other side and feel less threatened. 
Additionally, the floor of the underpass is covered in soil, so they are not deterred by having to walk on concrete. These underpasses are easily approached with no major obstacles, and the closer you get, the view of the other side progressively improves.