Listen to "No Big Deal" Dirtbag Diaries Podcast Episode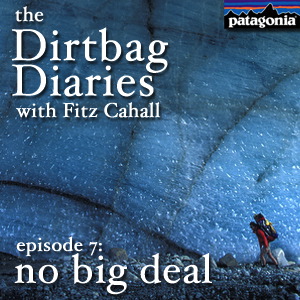 Fitz Cahall brings us another wonderful tale for the virtual campfire today. In a sea of podcasts the Dirtbag Diaries is a rare species, one of the few honest and inspiring options for outdoor enthusiasts. Please help spread the word by turning on your friends and family to this unique podcast. And now, Episode 7, No Big Deal:
In 1996, photographer John Burcham and three friends completed the first foot traverse of the 650-mile long Alaska Range. Together, they forded streams, chased off curious grizzlies and crossed crevassed glaciers. After 75 days, they had become a single unit. After delays mounted, Burcham decided to leave the group at the very end of the trip in order to make it to his sister's wedding. They said goodbye and parted ways. He was alone in the continent's last great wilderness with a sobering realization — crevasses, hungry wildlife and hypothermia can kill you, but loneliness can drive you crazy.
Listen to the MP3:
Episode 7 – No Big Deal (right-click to download)
Or watch the enhanced version with photos from John Burcham. Here's Part 1:
Watch parts two and three of the enhanced version after the jump…
No Big Deal – Part 2
No Big Deal – Part 3