Surfboard Dispatch from Fletcher Chouinard Designs
/
Dec 04, 2009
2 Min Read
/
Surfing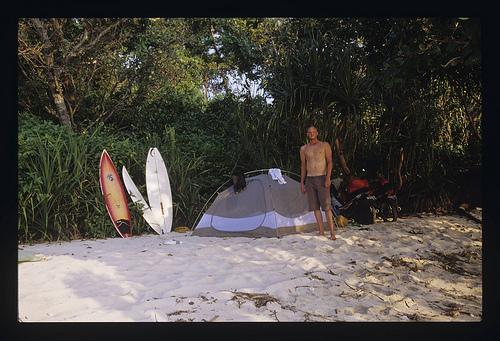 Editor's note: With the Pacific Ocean starting to wake up, now's a nice time to hear from our friends at Fletcher Chouinard Designs (FCD) surfboards.
From the FCD inbox –
I bought a 6'10" Octo model from you guys a year or so ago, and thought you'd like an update…I spent a few months this summer camping and traveling throughout Indonesia, and found some pretty great isolated waves by going slow and keeping to the coast. The board served me well and hopefully will continue to provide lots of enjoyment over the years.

You can see the board behind our tent in one of the photos, and the wave we found we camped at for 3 days and never saw another surfer except some friendly fisherman, that's the wave on the first day, and last day.

Thanks for the great board, and I'm sure to come back to you guys for my next one.

– Ed
Click the jump to see a picture of the wave these guys scored alone for three days.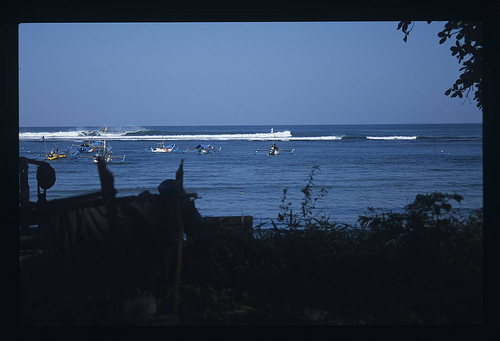 Check out fcdsurfboards.com to see all the epoxy surfboard shapes they offer. If you have a question, leave a comment on their site and they'll get right back to you. You can also learn more about FCD in our new online surf catalog.
Update: This just in from the crew at Patagonia Cardiff…
FCD Board Demo       
December 12, 8am – 12pm at Patagonia Cardiff
FCD Surfboards is having an equipment demo on our patio, a one-minute walk from several local breaks.
We will have a full complement of boards shaped by Fletcher Chouinard, including his latest models the Huevos Ranchero and the Peke. There will also be our wool-lined Regulator Wetsuits here to demo and give insight into why wool is the best way to stay warm on those cold winter days.
This event is free, and we'll be serving donuts and coffee to keep you going from board to board. The only thing we ask you bring is a debit/credit card and ID so we can hold your info while you try the boards. Each person will be allowed up to one hour with each board.  If a board you want to try is out, we will have a priority list going to ensure you get a chance.
Hope you can make it.