Unsustainably Organic: A Garlic Crisis
I made a big mistake. It involves garlic.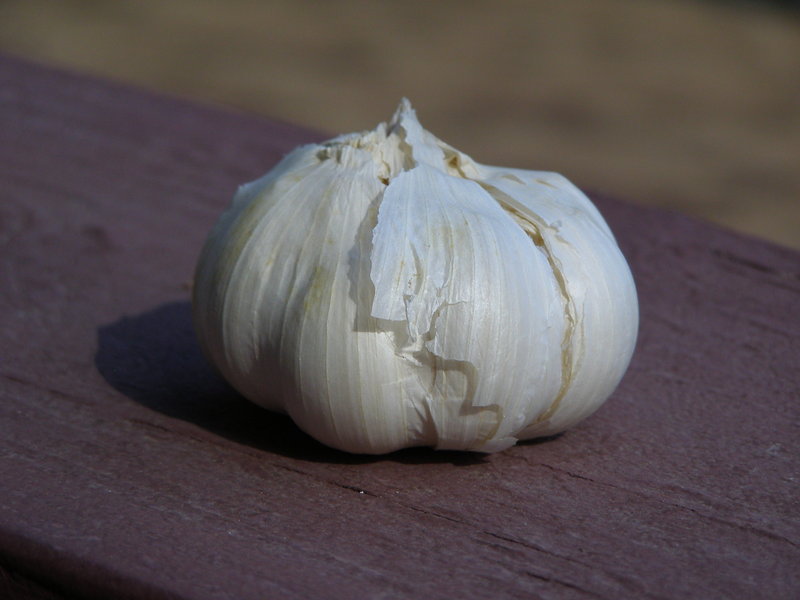 Buying organic is good, right? I tend to think so, especially when my guilt-free organic garlic is now only $0.25 more expensive than its non-certified shelf-mates over at the local eco-chic shop n' strut. I'm a sucker for getting my values at a bargain, so I took a glance at the price, picked up a couple of fresh heads, and was on my way.
But my stinking rose has a dark side, one I didn't take the time to notice 'til I got home . . .
[Behold the unwitting, guileless garlic. So innocent. So fragrant. So well-travelled. Photo: localcrew]

So I'm home now, and that's when I notice something peculiar about my garlic. Like Chairman Mao, the Ming Dynasty, microwave- and oven-safe table settings, and most things plastic or electronic, I see here that my organic garlic comes from China. There it is on the label (yes, my garlic is packaged – Strike Two!). Because I'm getting ready to sauté my garlic into a sauce made from fresh, locally grown tomatoes, it throws my mistake into bold relief.
What's the big deal? To start, garlic's pretty easy to grow, even in our country's driest state. And how far is China from where I live here in Nevada? Let's ask Google maps: Hmm . . . First try, entering "Distance between Reno, NV and Nanchang, China" brings up: "ChristianRock.Net – The best Christian rock on the planet" I need to get more specific.
My garlic, it turns out, traveled along with all of its smelly friends in a no doubt incredibly confined space, approximately 6529 miles. That's 10508 kilometers. That's straight-line distance. Why Nanchang? I hear it's nice there this time of year.
But really, folks. Over 6,000 miles!? My garlic is better-traveled than most Americans. Considering this, it's quite a bargain.
So anybody want to guess the price paid for that garlic? For reference, let's plan a little trip to Nanchang. Why? Well, I hear it's nice there this time of year. And to pick our own darn garlic, dag nabbit. "Pick your own strawberry" patches are just the best first step to sipping summertime from a daiquiri glass, so why not pick our own vampire repellent? I'm ready to try a garlic daquiri, so I check YourFavoriteAnonymousOnlineTravelAgent for a one-way ticket (my garlic, after all, ain't going home). Again, any price guesses?
First, the flight: Air China's got me covered for $885. At $7.38 per mile, that's not a bad deal. Certainly cheaper than driving . . . an M1 tank. The garlic? Under $2, friends. $1.98 for two heads, to be exact. Am I alone in my problems with this math? Besides that, where'd my garlic come up with that kind of airfare?
So here's a friendly suggestion: It's summertime. There's a farmer's market somewhere and you probably don't live too far from it. Go buy your vegetables from someone who grew them. Shake the hand that pulled your sweet, beautiful food up from the earth.
And if you're looking for something to read, check these lovely new releases out:
Animal, Vegetable, Miracle, by Barbara Kingsolver
The Omnivore's Dilemma, by Michael Pollan
Coming Home to Eat: The Pleasures and Politics of Local Foods, by Gary Paul Nabhan
Got some other reading selections along a similar vein? Feel free to throw 'em out there in the comments section.
Happy eating. Happy reading.