Sometimes a compelling image says everything, no words needed. Sometimes the most basic photo hides a deeper meaning, an experience, a story; maybe a few details deepen what we see in that captured moment, or maybe it's something we never imagined. Other times it's just a pretty picture. That's all.
A lot of my posts run long, taking some time to read. They also take a lot of time to compose (I know, hard to believe upon reading my posts, much like when someone sees art and goes, "My kid could do that.") So, we got to thinking that sometimes a brief post, almost like a haiku, might be nice. Break-up the tempo a bit. Here's the first of this periodic series, in which we'll post a photo(s) with minimal text.
***********************************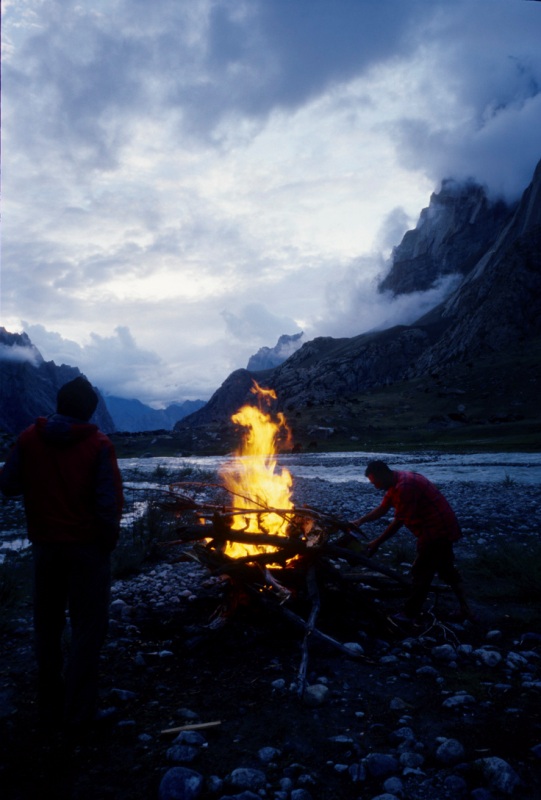 "Shandar!" shouted Sarfraz, our assistant cook, at the explosion that was the daily lighting of our campfire in Pakistan's Nangma Valley. Shandar means excellent, rad, beautiful. But I suppose it can mean different things. Rain soaked us for weeks. Ghafoor, our cook, guide and dear friend, and Sarfraz spent every afternoon gathering enough firewood to build enormous white-man's fires, usually pouring kerosene directly onto them while lit. Josh once suggested that maybe such an enormous fire wasn't necessary each night, and Ghafoor looked at him as if he was speaking French. So I grabbed one of our fuel canisters and made a hucking motion toward the fire. Josh smiled and shrugged. Ghafoor's eyes lit up. Terrible, I know, but…Shandar!
[Photo: Kelly Cordes]