Pohnpei: A Different Perspective of a Familiar Place
Reo Stevens
/
Aug 24, 2017
/
7 Min Read
/
Surfing
Robby Naish once spoke about the irony of traveling the world to compete. He spent 30 years filling passport after passport, but never really saw anything other than the beach. It's an easy trap to fall into. With today's high-paced society and accurate weather forecasts, traveling surfers and kite surfers often focus too much on finding the best conditions (which is great if that's all you value) rather than taking full advantage of a destination.
Last March, I was lucky enough to be invited on a trip back to Pohnpei aboard the Cabrinha Quest with a group from Patagonia. Our goal was to reach P-Pass but with no rush or stress towards getting waves. Of course, we all wanted to get barreled but the focus of the trip was to slow down and make the most of what Mother Nature gave us.
There is no better way to force yourself to slow down and relax than traveling by boat. Our boat, Discovery, has an average cruising speed of 6-7 knots and it has probably logged more miles in the last 10 years than any other Lagoon catamaran out there. Discovery would get us anywhere we wanted, just not quickly—a perfect vessel to make us slow down and enjoy everything Pohnpei had to offer rather than speeding past the island's hidden splendor while only focusing on the surf.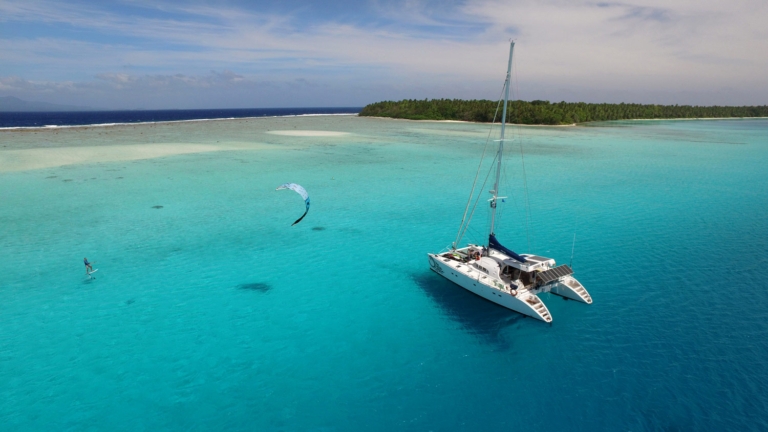 To fill this slow-paced trip, an eclectic crew was assembled to make sure an expert was on hand for any conditions that could be thrown at us. Jason Slezak (kitesurfer), Dan Malloy (surfer/diver), Jason McCaffrey (jack of all trades), Scott Soens (photographer) and Tyler Emmitt (videographer) would all meet up in Hawaiʻi to join me as we began the island hoping flight en route to join Discovery and the crew of the Cabrinha Quest.
Pohnpei is home of the Nan Madol ruins which are located on the eastern side of the island. It is a ruined city, approximately 1.5 kilometers long and 0.5 kilometers wide, with roughly 100 artificial islands linked by a network of canals. These islands are made up of thousands of large carved stoned pillars stacked in Lincoln Log fashion. They're so heavy that no one could say for sure how Nan Madol was built. There are theories, the most common one among natives is "magic" as the building of such a structure by hand is incomprehensible.
We walked around the ruins and SUP'd through the cannels seeing as much as we could until it was time to head back to Discovery. We all left just as amazed by the ruins as we were dumbfounded about how it was built. We enjoyed sharing our own theories of how we thought it was created, although I'm pretty sure we were all wrong.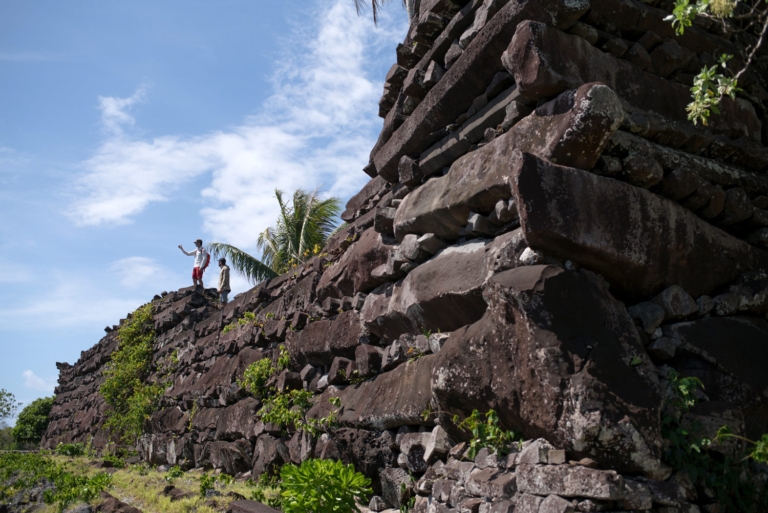 Back on Discovery, after our visit to the Nan Madol ruins, Captain Tom suggested we all pump up our kites and do a downwinder alongside the boat while we make our way to the next anchorage. After all, why ride the boat to the next destination when you can kite?
Pohnpei is surrounded by a fringing reef that creates a protective lagoon around the island. These reefs are filled with life. They are shallow enough that they keep boats away, but deep enough for someone on a kite to be able to check them out up close and personal. For several hours, Jason and I blazed in and out over the reefs seeing a variety of marine wildlife that we would have never been able to see without our kites.
After exploring as much as we could around the island of Pohnpei, we decided to venture away from the main island and see what the recently designated marine reserve Ant Atoll had to offer. Ant Atoll, located on the west side of Pohnpei, has one of the most unique passes I have ever seen, an S-shaped path that is carved through the reef of the atolls. It's also the only pass! Normally, a shoreline slowly tapers off into the deep blue, but the strong current flowing in and out of this specific lagoon has created a drop off in the pass that instantaneously goes from a shallow depth of only a few inches to 80 feet. This allowed Captain Tom to bring Discovery very close the reef's wall, and get us up close and personal to the breathtaking underwater view.
To take full advantage of the situation, a rope was tied between the hulls on the stern of the catamaran allowing us to hold on for a free ride through the pass. Each person would jump off the bow of the boat and let Discovery pass over them while grabbing the rope as they came out from between the hulls. It was the perfect way to see the entire reef pass, as the current was too strong to swim.

Every crossing is an opportunity to catch fish, and every freshly caught fish meant fresh sashimi. As soon as we cleared the pass fishing lines were thrown out and set. Ten minutes later, the reel started screaming like a banshee. Nothing makes a fisherman move faster than that sound. Whether dead asleep, deep in a good book or lost in thought on the bow, that screaming reel will make any fish-hungry sailor run across the boat without regard for crew or personal safety. Dan was first to the reel and won the honor of pulling in the first fish of the trip.
The next morning, we awoke to a sleeping reef break. There were no signs of swell but a 20-knot wind blew steady on the bow so we knew we were not going to be bored on our final two days.
With no sets on the reef, everyone used the opportunity to stay in bed recovering from the week's adventures. It wasn't until the smell of fresh-brewed coffee made its way through the boat that everyone slowly emerged from their cabins. Somewhere around cup number three, I looked out and saw a head-high wave break on the reef.
"Set!"
I rushed to the bow to watch and see if another would shortly follow. Sure enough, several sips later, another set rolled down the reef. I bailed on the rest of my coffee and grabbed my kite and board. I quickly pumped up, launched and began tacking upwind to the break at P-Pass. My timing was perfect; I got there just as the next set started to roll through. I turned on the first wave, set up and laid into my first bottom turn of the trip. Butter-smooth waves and a powered nine-meter wind caused the rest of the crew to follow suit very quickly.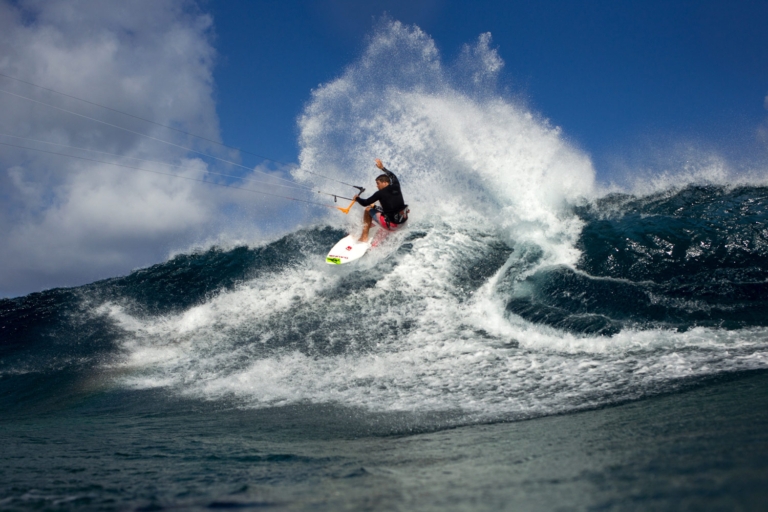 After spending a few hours in the water, everyone went back to the boat for a late lunch except Dan and I. It was right about this time that one of the biggest sets of the day decided to roll through. Being on a kite, I could easily see the second wave of the set was bigger and lining up on the reef making it the one to catch. I wasn't sure if Dan could see what I was seeing so I tried to sell him on the first wave so I could selfishly claim the second one for myself. "Go Dan, go! Looks like a sick one!" I yelled, trying to act like a friend while the devil on my shoulder was smirking with greed. Dan was no fool, though. His years of surfing knowledge and contest experience instantly knew what I was selling was bullshit. He simply smiled and paddled over the first wave directly into position for what turned out to be the wave of the trip. It was a perfect wave and he rode it with ease. I turned around and caught the very next wave getting a good ride myself.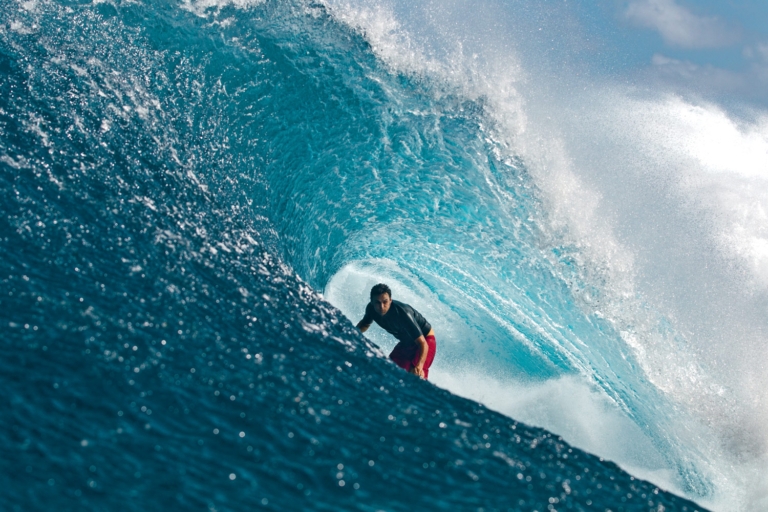 The day continued with everyone sharing waves and hooting at each other's rides until not one of us could stay out any longer. We made our way back to the boat for one final dinner and reflected on the past 10 days and all that we accomplished. Our long list of extracurricular activities made us all feel like we had made the most of our trip and actually experienced what Pohnpei had to offer.
This story first appeared in Kitesoul Magazine.