Questioning the Environmental Impact of World-Class Competition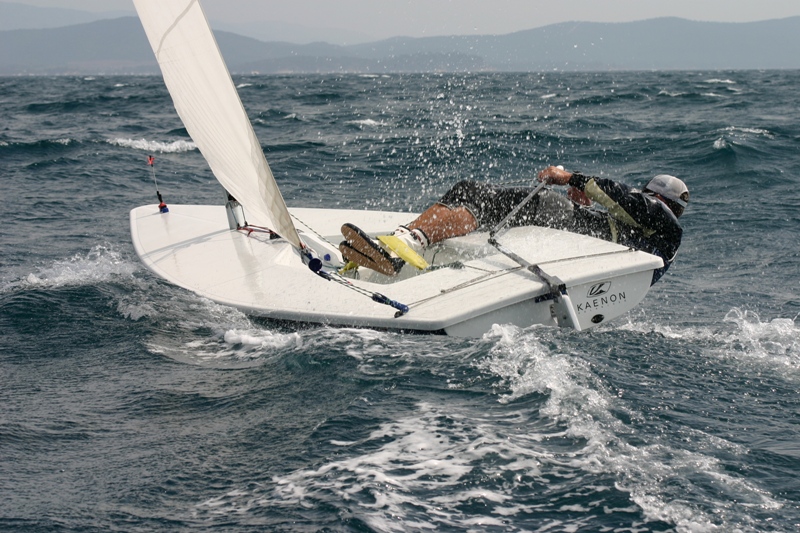 As an expert navigator of a craft that's designed to run strictly on wind power, Patagoniac and US Sailing Team member Andrew Campbell brings us an interesting perspective on the environmental impact of organized competition. Andrew has been a member of the US Sailing Team since 2001 and is currently training and racing his Olympic-class Laser around the globe in pursuit of a spot on the 2008 Olympic team. He just returned home from the World Championships in Portugal and the PanAm Games in Rio de Janeiro where he won a gold medal. He also maintains his own blog: CampbellSailing.com
I was recently in Mallorca, Spain training for my Olympic sailing bid in the single-handed men's division when I saw an interesting article in Outside magazine. It featured the Kodak Gallery Pro Cycling Team and its effort to throw off the shackles of emissions from the purported 1,500 support and transport vehicles that drive approximately 2,000 miles during races like the Tour de France. Their venture, in which they are apparently succeeding, is to "become the first carbon-neutral pro bike squad, purchasing enough wind-energy credits to offset all the emissions the team and staff will generate." Is it ironic that a team of cyclists, a bunch of guys on bicycles pedaling away and emitting little more than the CO2 out of their exhausted bodies, could make such a significant impact on the environment?
[Andrew Campbell racing his Olympic-class Laser. Photo: Luther Carpenter]
My brain was stirring. It is certainly true that cycling teams make a significant impact on the environment. Think of all the support cars filled with team managers and coaches, equipment specialists, and water bottles that tail the peleton as it careens across France every summer. On top of that, 18-wheelers transport the bikes from finish lines to new start lines each day and set up camps running generators and electric appliances to maintain a 30-person squad. The idea that a bunch of cyclists could be concerned about how "green" their campaign is stimulated my brain to consider the world of sailboat racing. As much as we like to brag about its clean and quiet demeanor, the sport of sailboat racing – from Olympic sailing to the America's Cup to local one-design racing – has a massive impact on the environment because of the resources we use to get ourselves and our craft to race locations around the world.

I have made a massive impact, as far as emissions are concerned, just in the last 10 months of full-time sailing. I have driven across country four times, once with a Laser roof-topped, and once with a 470 backwards (Team McNay-Beihl can take the guilt for those emissions, and I assure you that the gas mileage was NOT good for that trip). I've driven across Germany and Poland twice, each time with two Lasers on top of the car. I've driven across Florida more times than I'd like to admit, and covered plenty of distance in Southern California. I will likely drive to Rhode Island from San Diego again in September for a race. There will be plenty of driving across Spain, France and Portugal for the Olympic European Circuit in the coming months. I have flown from San Diego to Germany and back, to China and flown back from Korea, and now to Barcelona from San Diego. Before the summer is over, I will make another round-trip to Europe, with a not-so-minor stopover in Rio de Janeiro, Brazil. Meanwhile, my boat has used container space aboard some big ships to and from China, and to and from Europe. I just took a six-hour ferry accompanied by three American coach boats on trailers attached to three Euro-sized vans. I have burned gallons of gas riding in escort and coach boats on the water when I'm not racing. And we often motor our sailboats out to the racecourse to save hours of strain on the headsail, the modern combustion V-8 has made it very convenient to do so.

All this impact I have made in the last 10 months pursuing a game that is derived from a sport where only the wind, and maybe a few waves, push us around the racecourse. Like the cycling team there is a certain irony in the fact that the carbon-impact from my sailing during the last 10 months is relatively massive compared with most human beings on earth. I would not be surprised if there are 1,000 Olympic-level sailors and 700 more coaches and administrators who make a similar impact as I do.

I am by no means criticizing anybody who travels with their boats. Sailboat racing and the travel demanded by its pursuit is the single best thing that any of us can spend our time and money doing. But the article about the Kodak Gallery Pro Cycling Team prompted an interesting train of thought that could make a large impact in sailing and every other sport. If there is anyone out there with a tangible idea of how to make the US Sailing Team or US Laser Sailors sustainable and carbon-neutral through some sort of sponsorship, that would be an incredible point of marketability for a team that lacks public support.
[Driving through Arizona en route to another race. Photo: Andrew Campbell]