Tommy Caldwell's Recap on Free Climbing El Cap: Another Butt-Kicking
Today, Tommy Caldwell writes about the conclusion of another season of trying to free-climb the Dawn Wall. And coming up empty – though that's really not the right word. We've covered his efforts in multiple posts (click here, here, or here), and it's made frequent news in the climbing world for its nearly incomprehensible difficulty. Here's how it feels, from the man himself. His words remind me of what it means to be grateful and of the spirit and values that matter most, which, I think, is worth remembering as we approach the holiday season. Happy Thanksgiving, everyone. – Kelly Cordes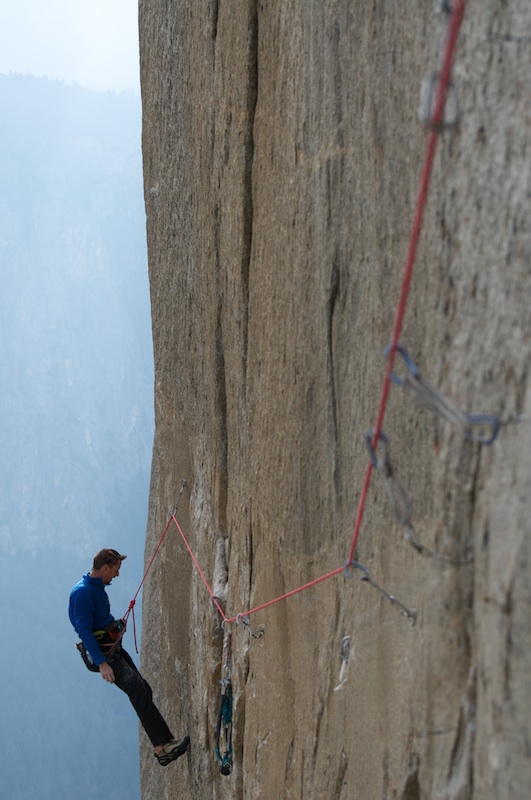 The wheels of my van protest loudly as I hit the rumble strips on Interstate 70. My wife, Becca, bolts upright out of a peaceful sleep with a panicked look on her face.
"Did you fall asleep?" she says, her eyes the size of basketballs. Did I? I think for a second. I gaze toward the passenger seat. A bit of drool glistens on her cheek and her long hair sticks straight out from the right side of her head.
Wow, that girl is cute when she is irritated at me.
"I guess I was just daydreaming." I shrug my shoulders and try to put on my best puppy dog eyes.
"Well be careful!" She curls back up in the seat and is asleep in seconds.
The truth is, I am not even a bit drowsy. The post-expedition mind is a funny thing. Both happy to be returning home, but trying to find a way to cope with something. A kind of loss of immediate purpose. And although the trip I am returning home from wasn't exactly an expedition, it had a similar effect on my psyche.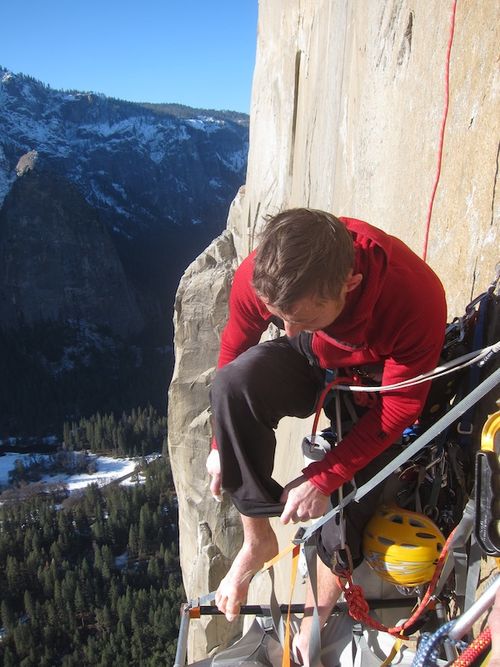 Tommy shoeing-up for another try at pitch 13 on the Dawn Wall, El Capitan, Yosemite Valley, CA. Photo: Kelly Cordes
My mind drifts to the previous attempt. Several years of effort, perhaps even my whole life, had brought me there, ready for my final push. For sixteen days I stayed on the wall, struggling to free-climb this darned project I have become so obsessed with. The first ten days went well, and I made steady progress. Tackling each hard pitch as if it were right off the ground. I would try as hard as I could on my first attempt. If or when I fell, I would then hangdog up the rest of the pitch and work out the moves. After that, I would try over and over until I successfully redpointed. Sometimes the hard pitches went quickly, but more often I would climb late into the night. One particularly memorable night an intense windstorm roared. I was on my sixth attempt of the day and had finally made it through a wet streak low on the pitch. As I pulled into the last hard sequence I heard Becca shriek. An updraft had lifted the portaledge she was belaying from and nearly thrown her off. My toes were numb and arms absurdly pumped. My fingers began to fail and I screamed with determination. I pulled one more move then skated off. I quickly pulled back onto the wall, climbed to the anchor, fixed the rope and got back to Becca before the wind threw her completely off the ledge.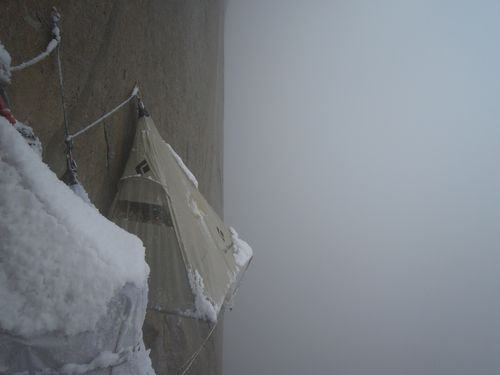 Sitting out a snowstorm on the Dawn Wall. Photo: Rebecca Caldwell
Each day I encountered another obstacle. Storms blew through, followed by a scary showering of ice chunks as the sun cleaned the wall. Becca stuck it out as my belayer for ten days. When she rapped to the ground I couldn't help but feel deeply sad. My good friend Kelly Cordes offered to belay me next, and the minute I saw his goofy grin surrounded by that ridiculous mullet as he jugged-up, any serious thoughts evaporated. On the eleventh day I seemed to hit the wall. My body was run-down and the skin on my fingers was beginning to look like the dried mud of Death Valley. I tried the thirteenth pitch for six days. My friends and family in the valley continued to send up support. My dad belayed for a few days and Kyle Berkompas put in a day. Their support helped to push me hard, but in the end I had to accept defeat.
The sun sat high in the sky as I drove through the red sculpted walls of the San Rafael Swell. I pondered the motivations for taking on such a project. In so many ways, free-climbing El Cap seems absurd and contrived. But it drives me in a way that I love, satisfying a deep-rooted curiosity. A need to explore not only what I see, but who I am. I choose to immerse myself in this project again and again because it stretches my imagination and reminds me that I am capable of much more that I am usually aware of. It would be empty without the allure of success. But it doesn't always end that way. At least for now.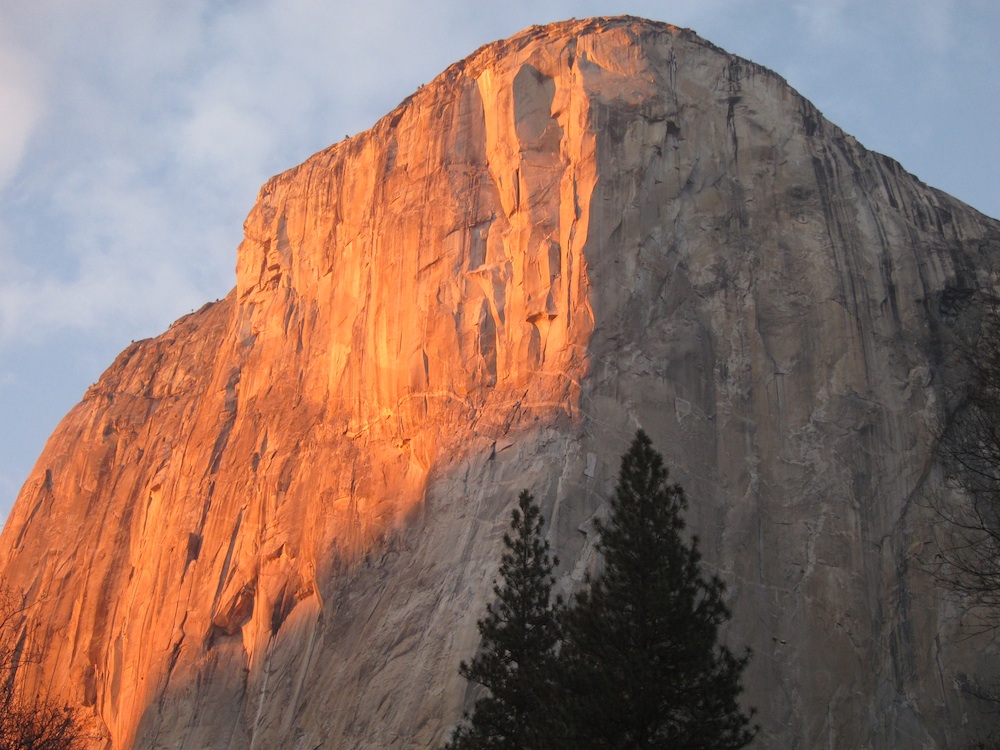 The Dawn Wall at dusk; Tommy's portaledge camp (and him, climbing above, for those with sharp eyes) is visible in the lower right, just right of the large pine tree near the center-foreground of the frame, and about one-third height up the tree. Photo: Kelly Cordes
Every time I find struggle, a love for the people around me overwhelms my mind. Thank you to the hundreds of people who have been rooting for me. To Josh, Brett, Kyle, Lincoln and Ben for being a constant, positive energy while documenting this epic. Thanks to Kelly and my parents for being there when I needed you most. But thanks mostly to Becca for being the bright shining star of my life. For supporting me regardless of the hairball schemes I dream up, and for showing me a love that inspires me more than any climbing project could. And thanks again Dawn Wall for kicking my butt in a way that leaves me hungry to be something more.