Recommended Reading: "The Last Season" by Eric Blehm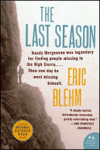 Author Eric Blehm is a longtime friend and field-report contributor of ours. His latest book, The Last Season, has just been released as a paperback version with a new cover and 16 new pages of text/photos, including an interview with the author, a tribute to mountaineer Patty Ramber, and an essay by Randy Morgenson (the book's subject). For more info or to order the book, visit www.thelastseason.com.
In addition, Eric is one of three finalists for the Barnes and Noble Discover New Writers Award in the nonfiction category. He'll be headed to NYC the end of the month for the awards ceremony. Good luck Eric!