In Bristol Bay, Rites of Summer—One Welcome, One Not
Tim Sohn
/
Jul 27, 2018
/
9 Min Read
/
Activism
The start of a Bristol Bay fishing season is always an enervating mix of excitement and uncertainty, but for the past decade-plus, a larger uncertainty has loomed: the proposed, but still theoretical, Pebble Mine, a massive open pit mine that would sit near the headwaters of Bristol Bay's river systems and potentially pose an existential threat to the salmon and those who depend on them.
Though the mine has had several setbacks recently, fishermen tend, by both experience and temperament, toward seeing things as more marathon than sprint, and they know that the mine remains as real a possibility as ever.
"The fact remains that the Pebble project is in permitting on the federal level right now," says Brian Kraft, a Bristol Bay fishing lodge owner who has been fighting Pebble since 2004. "Some company will reinvest in it at some date if we don't have permanent protections in place for Bristol Bay."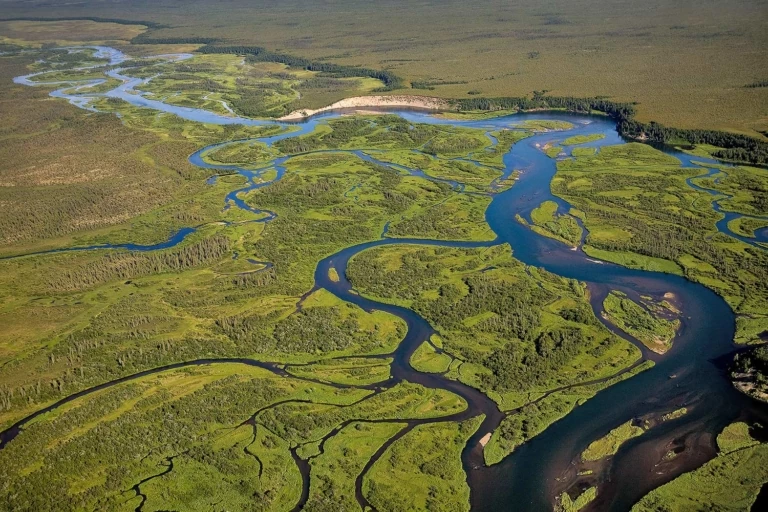 Not long ago, it appeared to Kraft and his allies that they might actually escape from this purgatory. In 2014, the Environmental Protection Agency, after three years of study, released the Bristol Bay Watershed Assessment, and prepared to use its authority under the Clean Water Act to severely restrict mining in the region. The prospects looked bleak for Pebble, a massive gold, copper and molybdenum deposit worth potentially hundreds of billions of dollars. Discovered in the late 1980s, it sits about a dozen miles north of Lake Iliamna, in an area crisscrossed with streams that feed into Bristol Bay. Those streams and the rivers they flow into comprise one of the world's last remaining intact wild salmon ecosystems. Bristol Bay's annual spawning run—more than 58 million salmon have returned so far this summer—has been a cultural and dietary mainstay for Native populations for millennia, and is the basis of a sustainable economy that, according to the Knapp study from 2013, supports over 14,000 jobs, generates about $1.5 billion in annual revenue and supplies nearly half the world's wild sockeye salmon.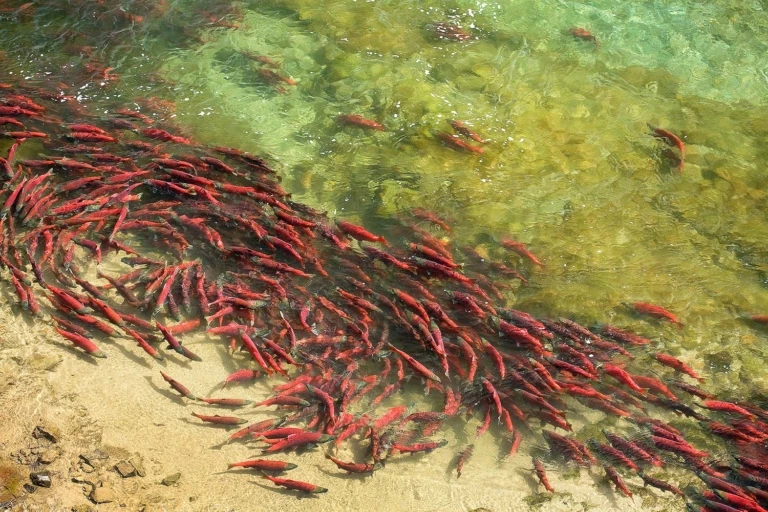 By that time, with its partners having pulled out and little hope of attracting new ones while EPA action was pending, Northern Dynasty Minerals, the Canadian company that owns the mining rights, was left teetering on the brink of financial insolvency. It used its dwindling funds to mount an aggressive legal and lobbying campaign, successfully tying up the EPA with lawsuits that were still unresolved at the time of the 2016 election. The Trump administration, predictably, has proven far more Pebble-friendly, and Northern Dynasty has done its best to seize the moment.
During Scott Pruitt's brief tenure as EPA administrator, the former EPA litigant found time, when he wasn't building a soundproof phone booth in his office or demoralizing EPA staffers, to take four meetings with Pebble representatives, and only one with the mine's opponents. He then settled the lawsuits and shelved the proposed restrictions. Northern Dynasty began touting Pebble's revived fortunes and in December 2017 delivered on what they'd been promising for years: They filed a mine plan with the Army Corps of Engineers, thereby officially beginning the permitting process.
The mine they've proposed is a sort of Pebble Lite, featuring a substantially smaller footprint than earlier iterations—a "project that is responsive to Alaskan input and needs," according to Pebble, and features "significantly enhance[d] environmental safeguards." To the mine's opponents, it looks like a fantasy, a rushed and inadequate plan that they say the Army Corps should never have accepted.
"They've dreamed up this big plan with no basis in reality, and no baseline data for the vast majority of it," says Alannah Hurley, executive director of the United Tribes of Bristol Bay, a consortium of Native groups that opposes the mine, and a fisherman herself.
There was, they noted, still no data on economic viability, and no environmental baseline data on a slew of big—and to many observers, ill-advised—new ideas, things like a year-round, ice-breaking ferry across Alaska's largest lake, Iliamna, or a haul road that would pass alarmingly close to the McNeil River Refuge, a famed bear habitat, before crossing the Alaska Peninsula and arriving at a nonexistent port on the Cook Inlet side.
"The road and port and all the associated industrial activity will be adjacent to probably the best wilderness bear viewing there is," says Tim Bristol, executive director of SalmonState, a conservation group and Patagonia environmental grant recipient. "We all know about the potential impact to the salmon, but now people are starting to realize brown bears could be at risk as well. This project just keeps getting dumber."
When Pebble filed updates to the mining plan in May, including increasing the size of its proposed excavation and calling for a bigger onsite power plant, it seemed to underscore both the half-bakedness of their original proposal and opponents' sneaking suspicion that they were merely trying to open the door to something larger. "The small mine is just a facade," Hurley says. "They're building up power for a future megamine."
For their part, the mining company rejects such theories. "I think it's pretty typical for proponents to make project adjustments as they go along," says Sean Magee, VP of public affairs for Northern Dynasty. And any future mine expansion, Magee points out, would have to go through its own environmental impact study and face the same scrutiny all over again. "The people opposed to this project continue to focus on a different project than the one we've actually proposed."
The new plan was enough to attract a new partner, at least briefly. First Quantum Minerals coughed up a first payment of $37.5 million to help fund this initial round of permitting while the parties negotiated a deal that would have seen First Quantum eventually invest over $1 billion for 50 percent ownership of the project. By this spring, the Army Corps had begun the scoping period that precedes the drafting of an Environmental Impact Statement (EIS), soliciting input for a process they hoped to have wrapped up by 2020, a fast-tracked timeline that to some observers looked suspiciously aligned with the presidential election cycle. When I attended one of the scoping hearings in Anchorage in April, Pebble appeared to have a clear path forward and the mood among longtime mine opponents was bleak.
But then, as it so often does in Bristol Bay, the weather shifted again.
First, Senator Lisa Murkowski, who has long sung her noncommittal "let due process run its course" song on Pebble, joined a number of state officials in penning a letter urging the Corps to extend its initially truncated 30-day comment period to a more standard 90 days. (By the time the comment period closed at the end of June, 175,000 comments had been submitted. If the testimony given at the nine public hearings held by the Corps is any indication, the vast majority of the comments will prove to be anti-mine.) Murkowski's move wasn't much, but it showed that she would not let her constituents be steamrolled.
"Many Alaskans have shared concerns with me that a 30-day scoping period may be insufficient for a project of this magnitude and potential impact," she wrote in a letter to the Corps, highlighting her desire that all stakeholders have a chance to be heard.
Then, just before Memorial Day, First Quantum, after extending its negotiation period with Northern Dynasty twice, did what all previous suitors had done and left Pebble at the altar, backing out of the proposed deal Pebble's stock dropped 30 percent on the news, with investors noting a difficult path ahead for a company with no immediate partnering options and only enough cash on hand for about a year of operations.
"We were shocked," says Hurley, of United Tribes of Bristol Bay, of the decision. "I don't think [First Quantum] had a clear idea of how vast and committed the opposition was when they first came into the framework agreement."
Pebble did its best to put on a good face. "For me, today is business as usual," said Pebble CEO Tom Collier in a statement after the news broke. "Our project is well defined and we are going to continue communicating with Alaskans about why we believe in the opportunity it represents." But it was clear that things were back in limbo. Again.
The mine's opponents cheered—finally some good news as fishing season got underway—but the long years of this fight had made them wary. "First Quantum pulling out was great," says Kraft, "but that was just the starting bell to the next phase of this fight." Hurley agrees. "Our day-to-day hasn't changed," she says. "They've come back from much worse."
Realizing they wouldn't find much of a hearing at the federal level, the opposition had already redoubled efforts at the state level, looking towards November, hoping to make Pebble a major issue in a competitive gubernatorial race and pushing a "Stand for Salmon" ballot initiative that aims to update existing permitting laws to protect salmon populations from potential damage inflicted by development projects. The ballot initiative gambit has been tried before, but this time around the effort is better targeted and has elicited more support.
It's been a wild ride since the First Quantum news broke. Just days before the end of the Army Corps scoping comment period, Pruitt directed EPA staff to draft a rule to limit the Agency's authority to block polluting projects under Section 404(c) of the Clean Water Act, the very power invoked by his predecessor to try to impose limits on Pebble. A week later, Pruitt was forced to resign, leaving open the question of what will happen to that directive, though it seems safe to assume that, though Pruitt is gone, his deregulatory agenda is not.
But the opposition's state-focused strategy is beginning to pay dividends. Perhaps prompted by the entrance of former Sen. Mark Begich, who opposes Pebble, into the gubernatorial race, current Governor Bill Walker, who has been tepidly anti-Pebble in the past, came out strongly against this version of it. In a letter to the Army Corps, he asked that they suspend the EIS process until Pebble can supply a viable preliminary economic assessment. Pebble, he wrote, "has yet to demonstrate to us or the Alaska public that they have proposed a feasible and realistic project." Walker's letter seems unlikely to halt the EIS process, but his stance is a good indication of which way the political winds are blowing in the state.
Pebble responded by chiding Walker for interfering with a process that they contend will answer some of the very questions his letter raised. "This is what the Corps will evaluate and we can either meet this expectation or we cannot," said Pebble CEO Collier in a statement.
So where does all of that leave us? Northern Dynasty is pushing forward and says it's confident of finding a new backer and hopes to release a preliminary economic assessment this fall. The Army Corps has concluded its scoping period and is working towards a draft EIS, due out in mid-2019. And opposition groups have vowed to keep the pressure on, even as the Stand for Salmon ballot initiative faces opposition from a group called Stand for Alaska, bankrolled by millions of dollars in donations from mining and oil and gas groups. All of which means that the familiar sense of uncertainty is back, or perhaps never left.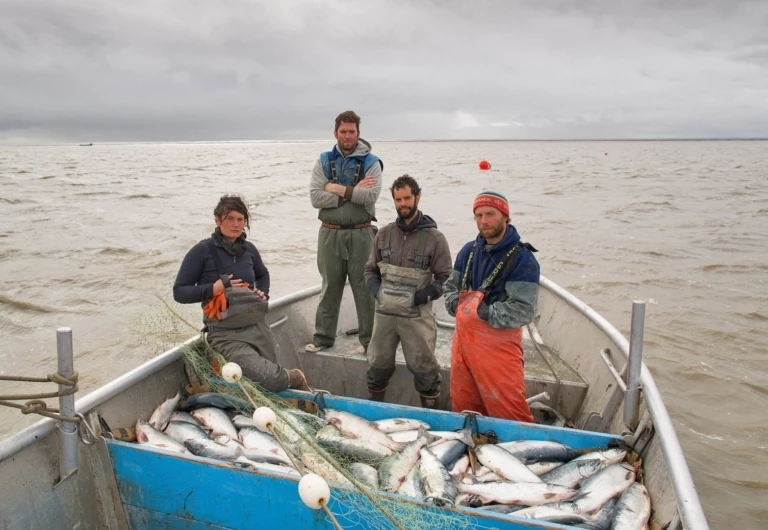 Towards the end of every Bristol Bay salmon season, as the nights grow longer and the fish less plentiful, fishermen face an unpleasant reality: "ghost fish," the bloated, bleached and partially decomposed carcasses of salmon that have fallen out of fishing nets or off of boats over the course of the season and have spent weeks marinating in the waves. Fishermen dread these flotillas. They are prone to becoming tangled in nets and exploding in putrid bursts once on deck, but they are an inescapable fact of Bristol Bay life, coming in and going out, tide after tide, each day a little more haggard, a little more foul. The long arc of the Pebble Mine saga has started to have a similar feel for some fishermen.
"It's definitely taken a toll over the years," says Kraft, the lodge owner. "You get fatigued, and sometimes it can be discouraging, but at the end of the day this issue is as important as it gets."
Stand for Salmon
You can take a stand for Alaska's wild salmon by signing up for campaign updates and making a donation in support of better habitat protection across this amazing state.
Act Now