Scramblin' Around the Sierras with Spoodle and Beater
Jasmin Caton
/
Jul 30, 2013
/
9 Min Read
/
Climbing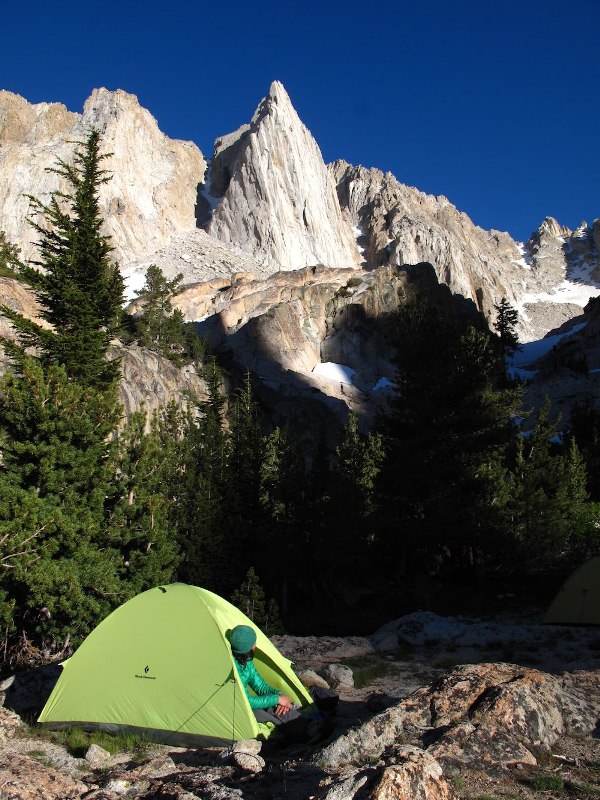 I have known Rich Wheater (AKA the Beater) and Senja Palonen (AKA the Spoodle) since my very first summer of rock climbing in Squamish. We were introduced by a mutual friend one morning at Starbucks (back then everyone hung out there to find a climbing partner in the morning) and they invited me to join them on a mission to climb Sunblessed on the backside of the Chief. Sunblessed was reputed to have a five-star second pitch of 5.10a crack climbing. Rich and Senja were kind enough to let me, a climber of a mere few months, lead this amazing pitch using their rack, and it was one of the most memorable days of my first climbing season.
Since that summer day in Squamish over 12 years ago I have shared numerous climbing adventures with Rich and Senja. Wherever Rich and Senja are you will also find lots of laughing, great food, plentiful cocktails and great stoke for climbing, so generally I like to be where they are. I have chased them down in Thailand, Red Rocks, American Fork, Indian Creek, Yosemite, Skaha, Horne Lake and many crags in between. They may not be the first people to roll out of bed in the morning, but they are almost always the last ones to leave the crag in the afternoon. Don't be fooled by their casual demeanour, these two get shit done. Senja holds down a real job in the city and prances up Squamish test pieces like The Shadow on the weekends. Rich is an extremely accomplished adventure photographer. They both trail run and mountain bike like fiends.
Getting invited to join them for a week of fun in the Sierras was a perfect chance to escape the June blahs in Squamish and although we didn't get after anything really hard, we certainly kept busy and enjoyed some extremely classic cold beers, margaritas, gourmet burritos… oh and a few SPECTACULAR Sierra granite routes.
Objective #1: Matthes Crest
This climb is basically a hike to a long horizontal scramble back to a hike. The main appeal is the amazing geometry of the feature you are climbing along. The highlight of the route was definitely the overhanging rock cornice on the final section, which is much wilder than my photos indicate.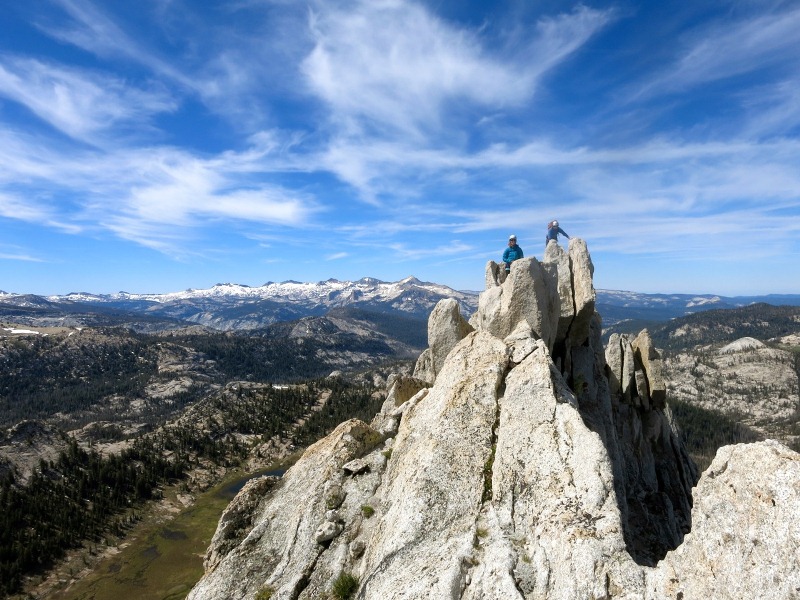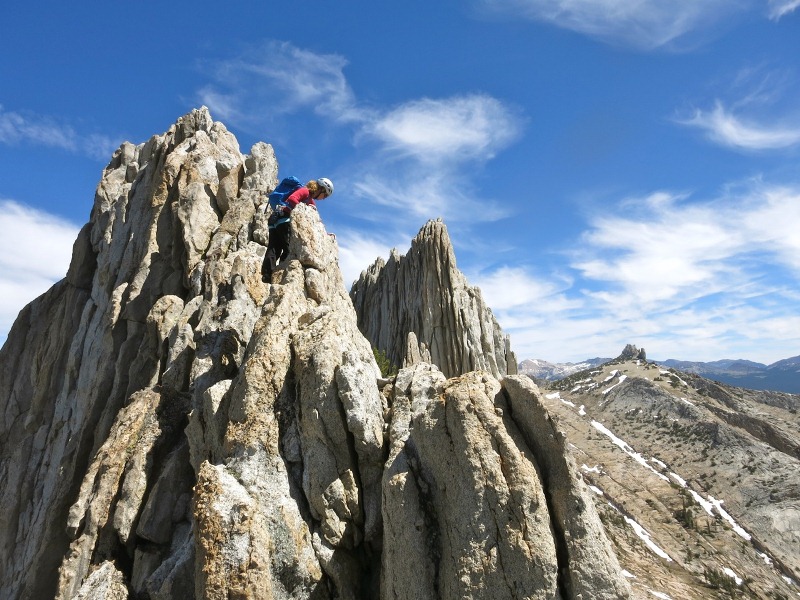 Senja spies out her route options on the Matthes Crest.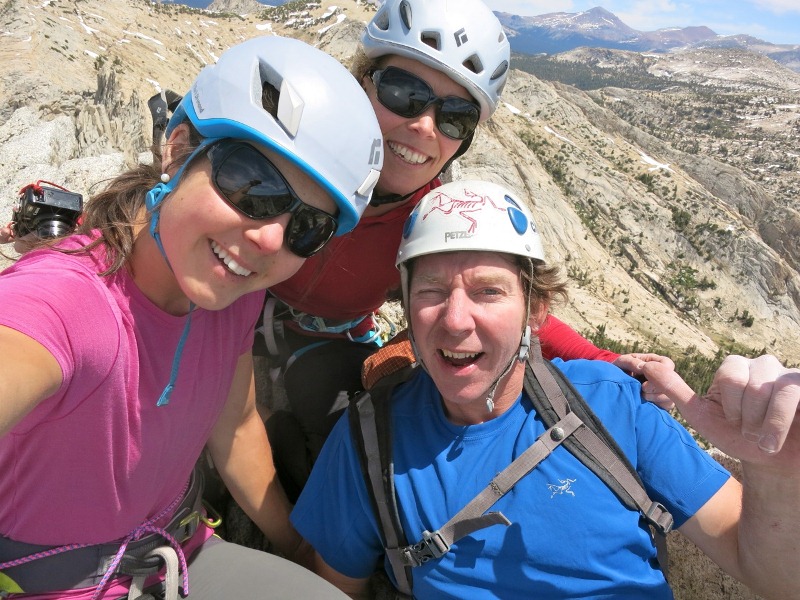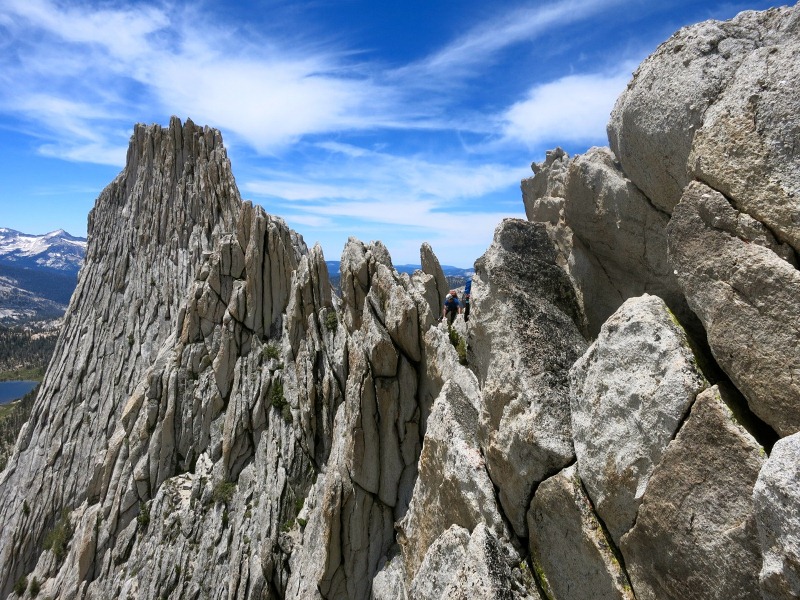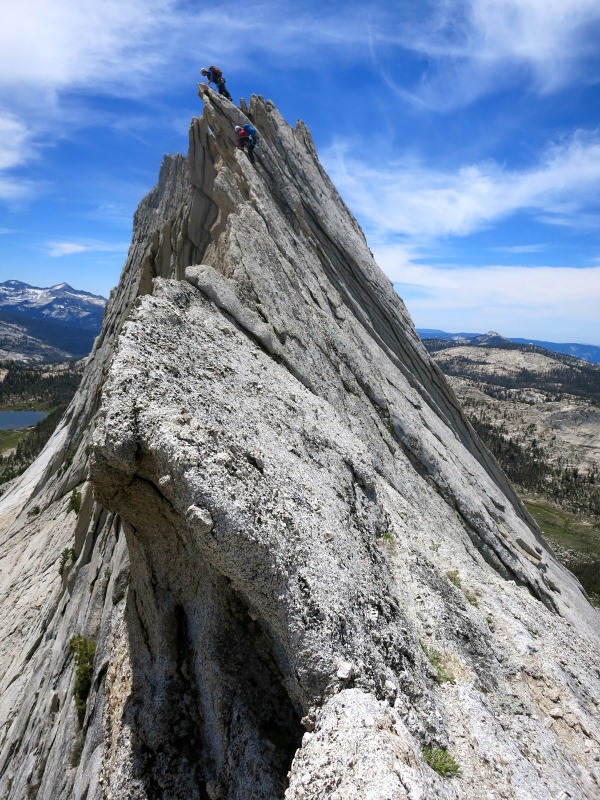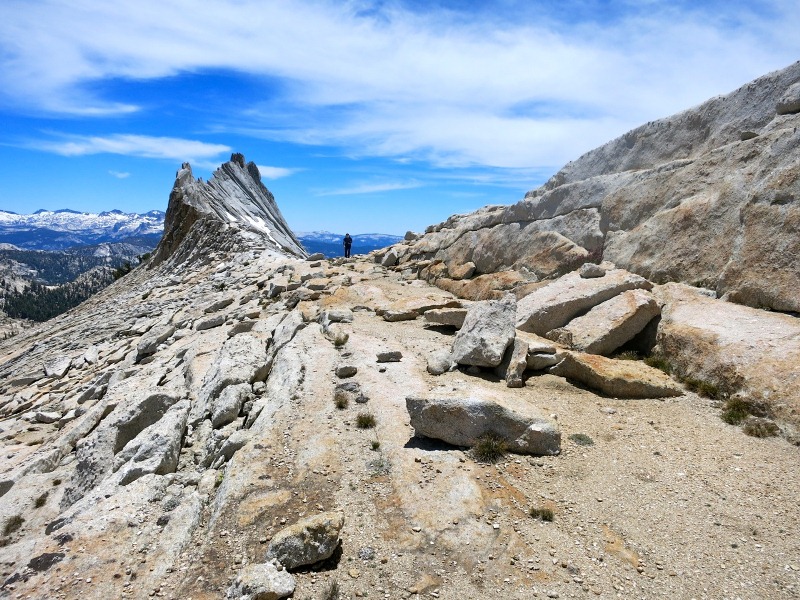 Objective #2: Positive Vibrations on the Incredible Hulk
Climbing on the Incredible Hulk has been on my hit list for years. After climbing it himself, my husband Evan described Positive Vibes as being like, "doing the Grand Wall in the alpine." How could I not want to do that? I don't know if I'd use quite that analogy. The Hulk has a deliciously more alpine feel than the Chief (maybe because it's at 10,000′ and has a 2.5-hour approach?).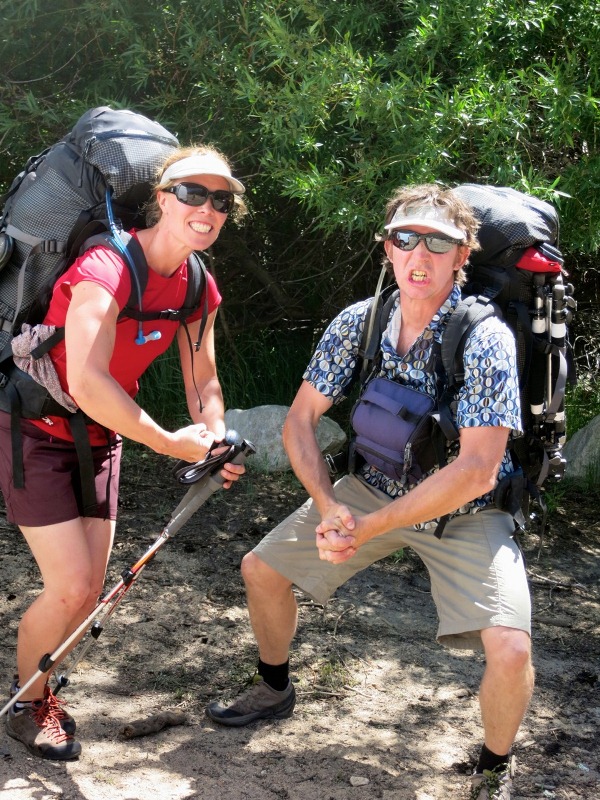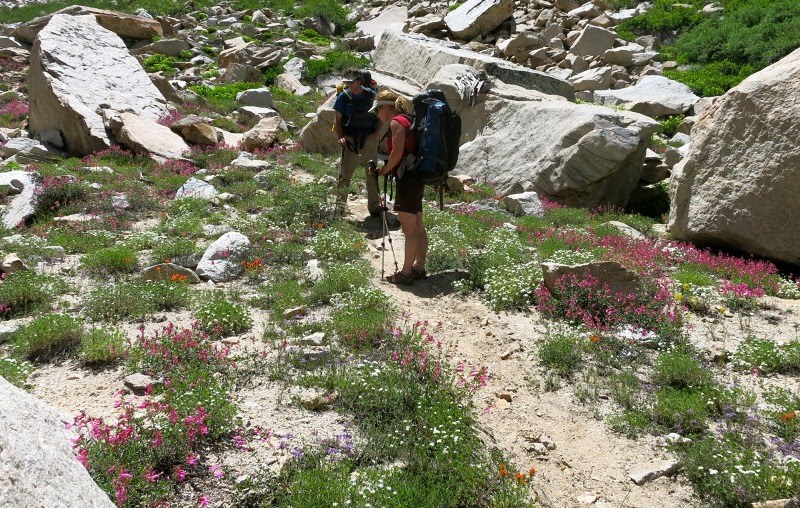 It was a dream to finally get to play on this inspiring and gorgeous hunk of rock. We hiked in late, the day after climbing Matthes Crest with enough supplies to stay for a few days. Senja and I started off by climbing Positive Vibes. It was a stellar route and a super fun day. Most of the climbing was around 5.9 or 5.10, with two distinct sections of 5.11-. The pitches were long and the biggest challenge was staying warm and relaxed with the strong winds blowing all day. Even when the sun hit us I still needed to keep on all my layers (Capilene long johns under my climbing pants, a tank, a Merino t-shirt, an R1 fleece and a Nano Puff Hoody).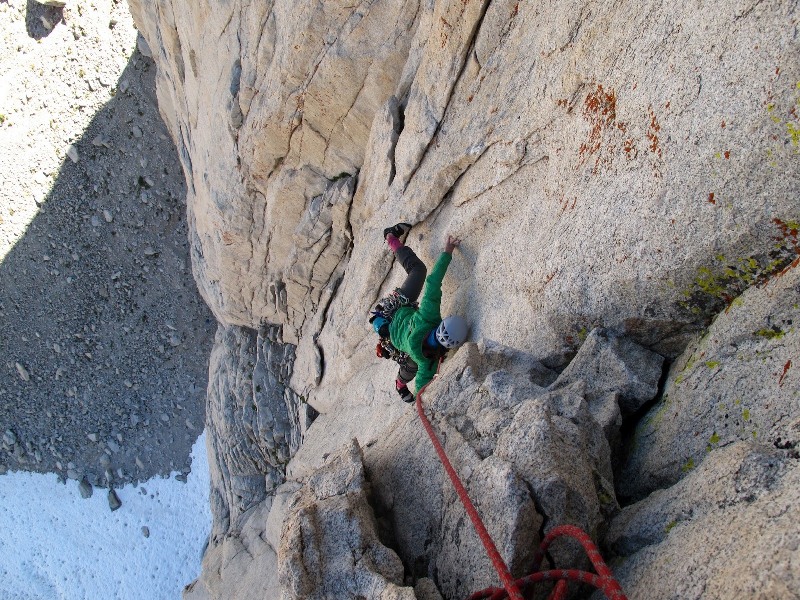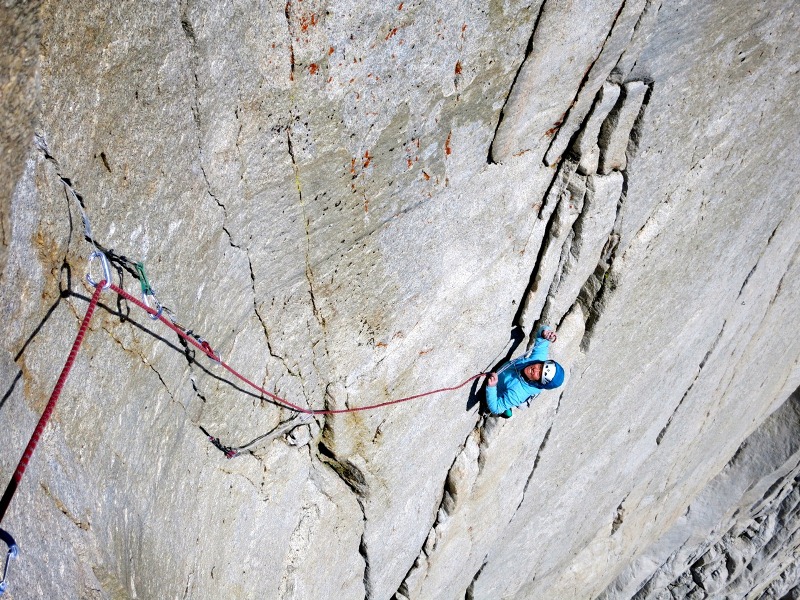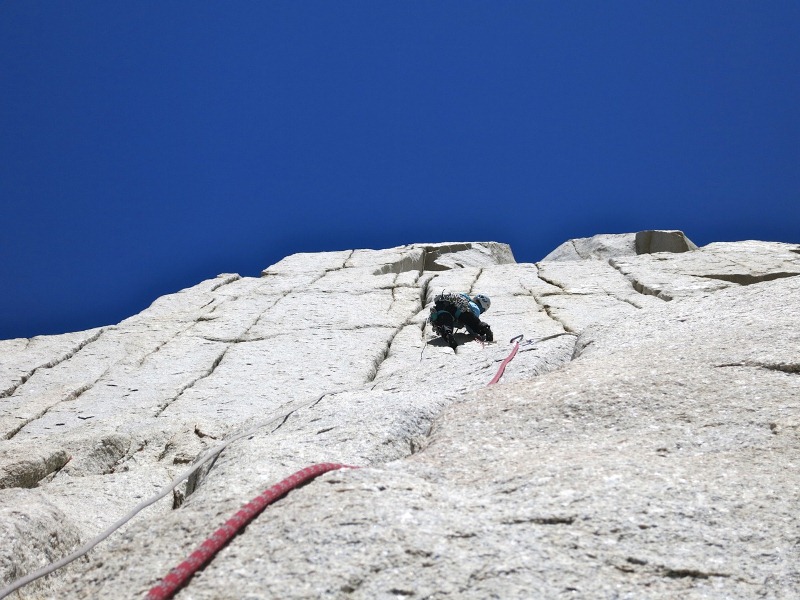 The Hulk is pretty classic in the sense that when the hard climbing is over, you are not even close to the summit. This section is especially time consuming when it's your first time up the route. There is a fair bit of route-finding and 4th or easy 5th manuvering to get to the final two 5.8 pitches and the summit.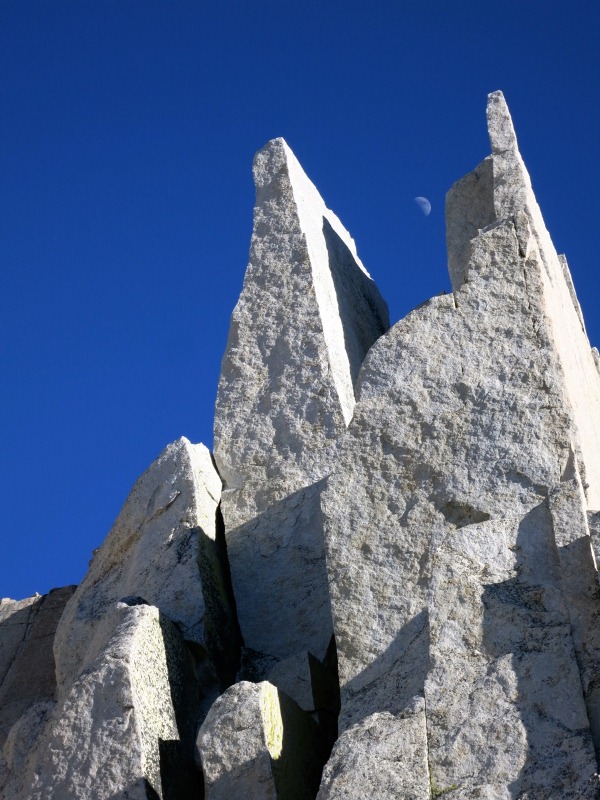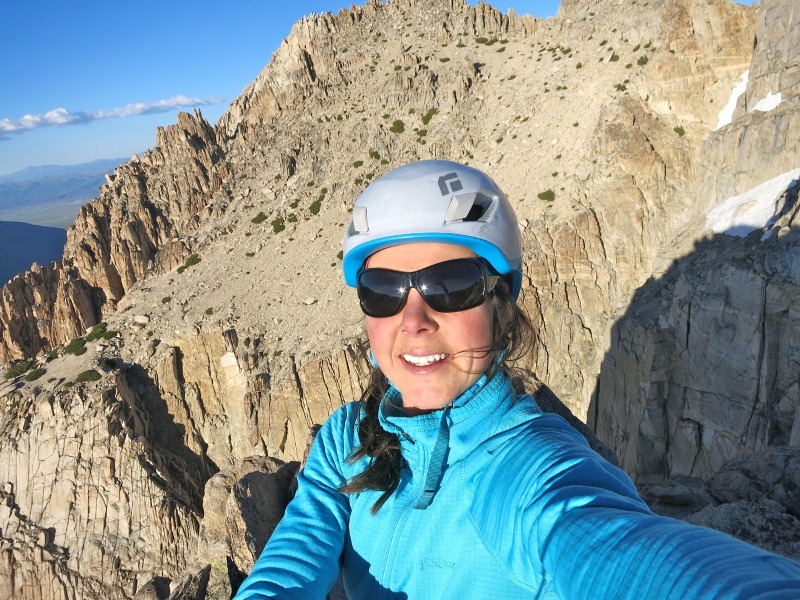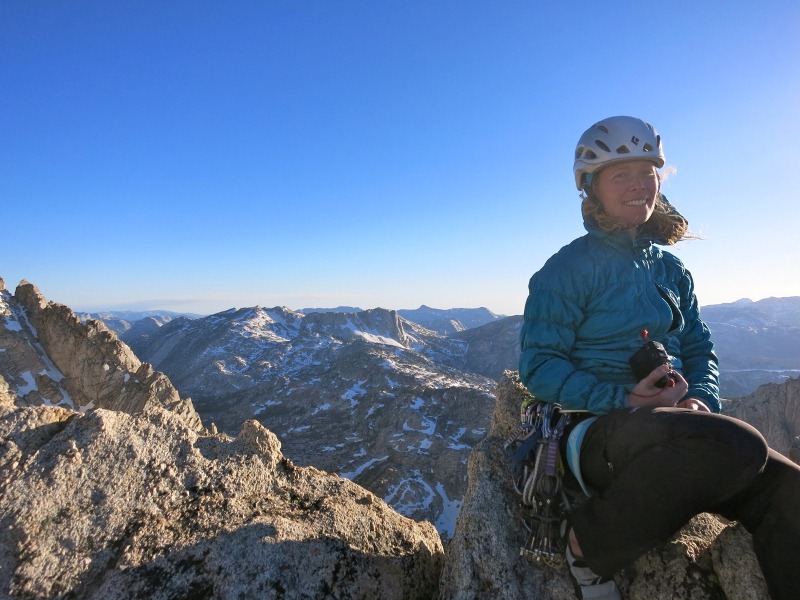 Although we had intended to stay and climb longer on the Hulk, the cold wind had really taken it out of us, so after a restful bivi and a leisurely morning we decided to hike out and seek some more sheltered digs for a few days.
Objective #3: Speed of Life and cragging at Tioga Cliff
Thumbing through the guidebook and perusing Mountain Project kept revealing a super-starred route called Speed of Life. It's only 2 pitches and has a steep 45-minute approach. Not such a great suffering-to-sending ratio, but I was keen to check out the second pitch which is a 5.11b overhanging wide hands to fingers splitter.
When I opened the van door at the parking area it was very nearly ripped off. The winds were howling from the west and our only hope was that the northeast facing wall would be sheltered. We slogged uphill and forged a mini-schrund to access the base. Immaculate lazer cut granite cracks lead skyward. It looked amazing and was sheltered (enough) and almost warm (enough). I don't have any pics of the route, but Rich shot the second pitch so at some point I may have a few shots to share. We capped off the day with a few pitches of quality sport climbing at the Tioga Cliff.
Objective #4: Third Pillar of Dana
Senja needed a rest day and had already climbed this route with another friend earlier on the trip, so Rich and I embarked on a mission to climb this Sierra classic. The winds were even stronger than the day before, but once again we were banking on shelter on the east-facing route.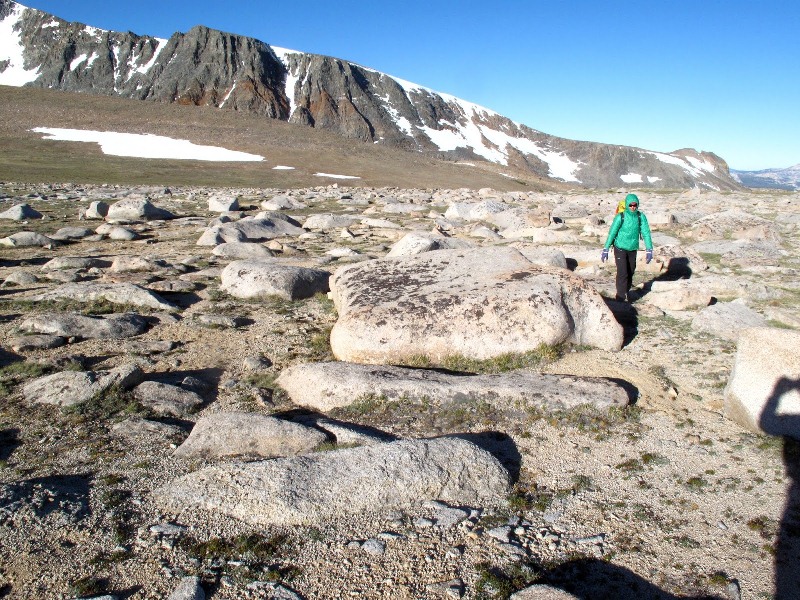 The Third Pillar of Dana approach is rather round about in the sense that you hike up to a plateau, cross the plateau and then descend down to the base of the route, climb out, hike back across the plateau and then descend back down the other side. Whew, even typing that sentence made me tired! The approach is actually really chill overall, with great terrain for walking and lots of views of mountains and gorgeous flora to keep you occupied should your climbing partner be an over-caffeinated, trail running, mountain goat of a man.
All was going great on the final descent to the base of the route, we had found an easy way through some more exposed 3rd and 4th class terrain at the top and were cruising in some slightly loose but easy going mixed talus and scree. The last thing I remember (this is true!) was Rich joyfully uttering the words, "Against all odds Beater and Spazzmine (that's his nickname for me) send the Third Pillar of Dana." Suddenly, a rock shifted underfoot and my world was flipped upside down and then back right-side up and then upside down again. I was literally out of control rag-doll cartwheeling tumbling down the gully. I came to a stop after two cartwheels and sat up dazed. Rich yelled, "Holy shit Jas, are you OK?" I managed to get out a feeble "yes" and began to give myself a bit of a head to toe. I had a bad feeling about what might lie beneath a big tear in the shin area of my pants, but it was nothing but a bad scrape. I can still hardly believe I escaped from what was certainly my worst alpine tumble ever with only a few bruises and a sore shoulder. Given the terrain it could have been much worse.
We continued down the descent. I moved a bit slower, still reeling from a big dose of adrenaline. Luckily, the high quality of the climb cured my jitters almost instantly.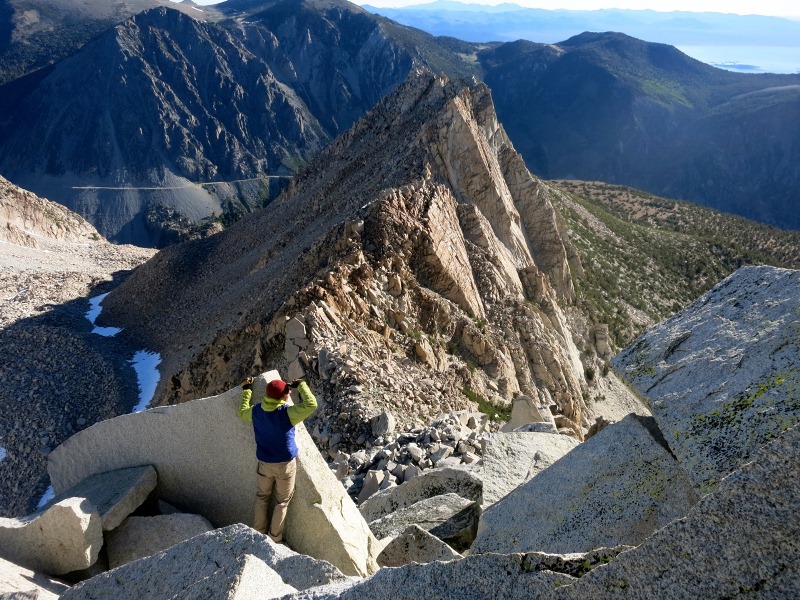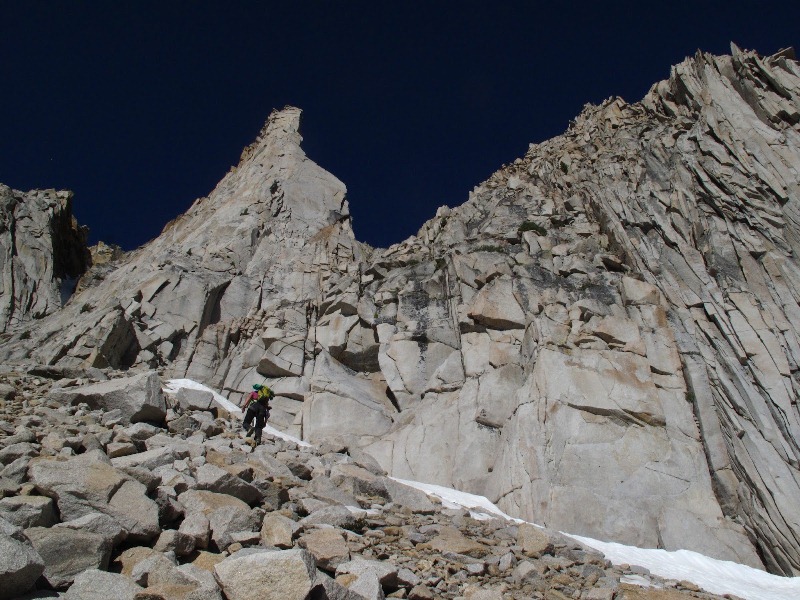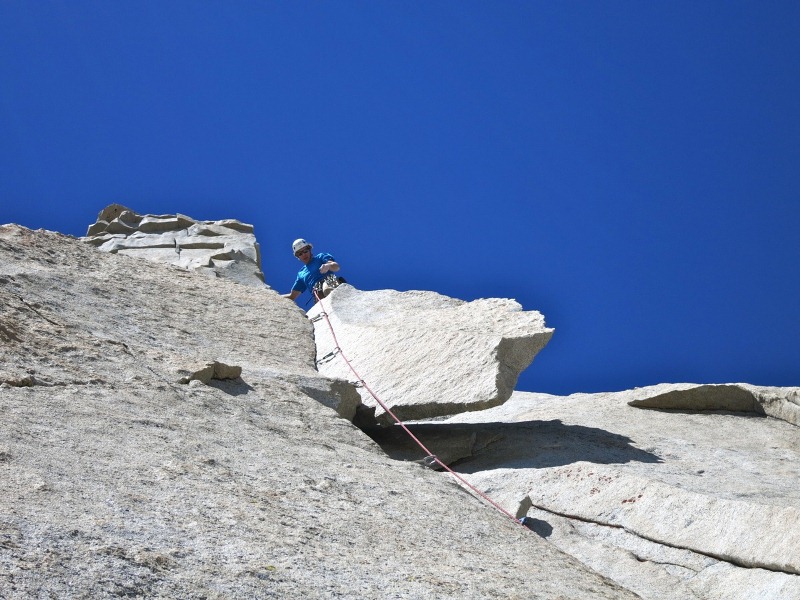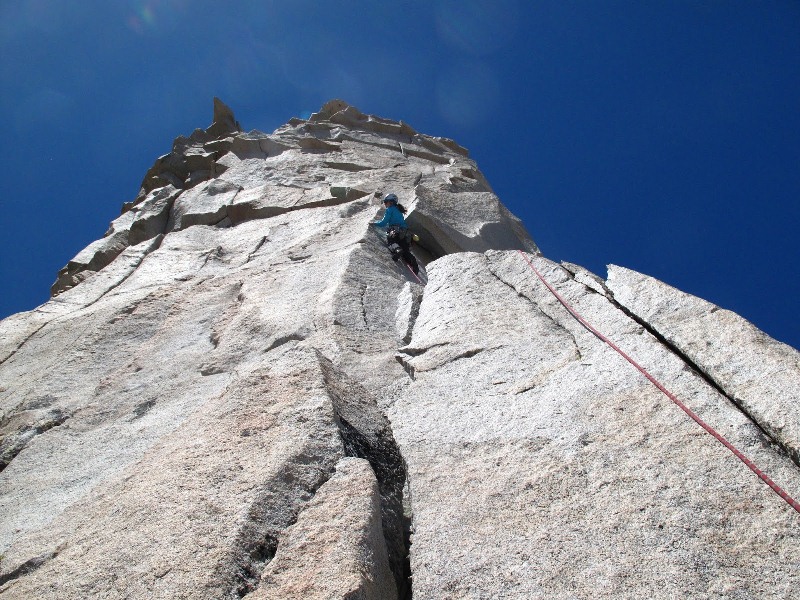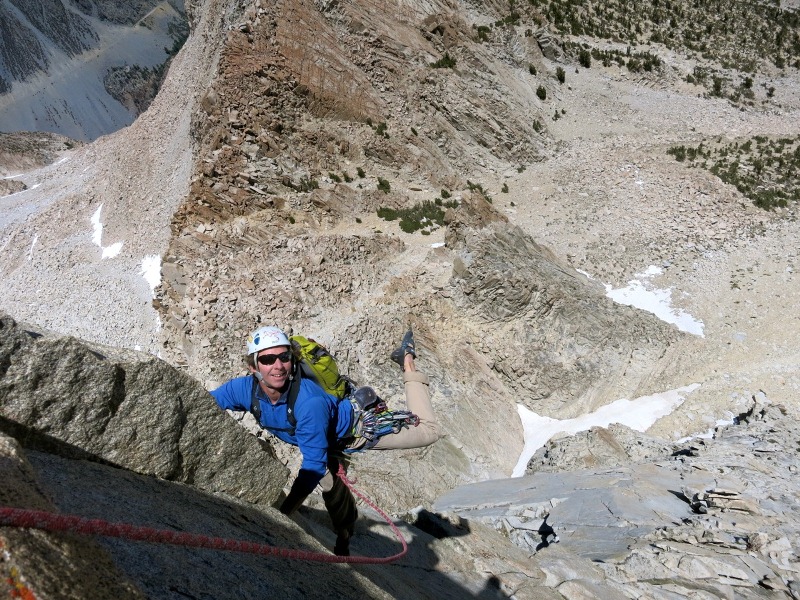 Objective #5: Pull with my arms more, push with my legs less (a day of cragging at Lover's Leap)
After so much hiking and minimally challenging climbing we were all worried our arm muscles might be atrophying. A day of harder cragging was in order, and it would set us up well to deliver me to my flight home to Squamish from Reno. We spent a lovely day of climbing amazingly featured rock at Lover's Leap. My shoulder was pretty sore from my tumble, so I only did a few pitches. I loved all of them and I can't wait to go back for more!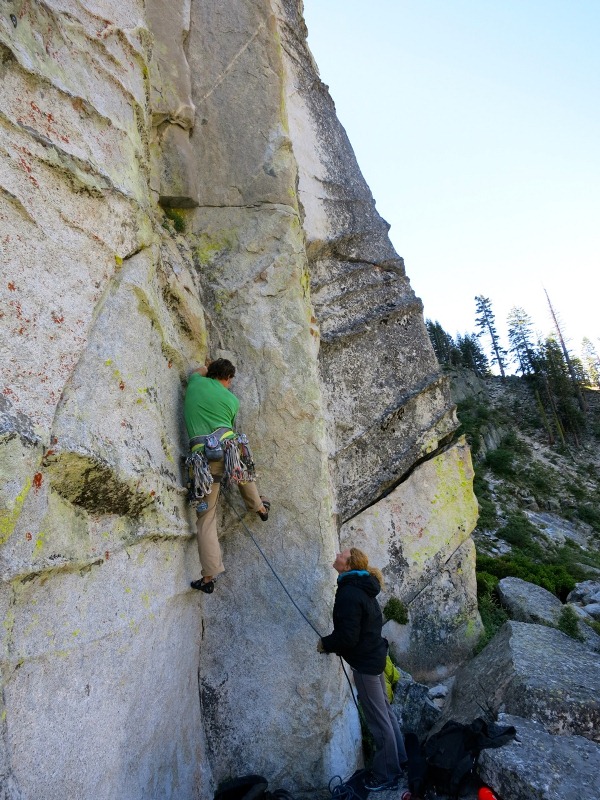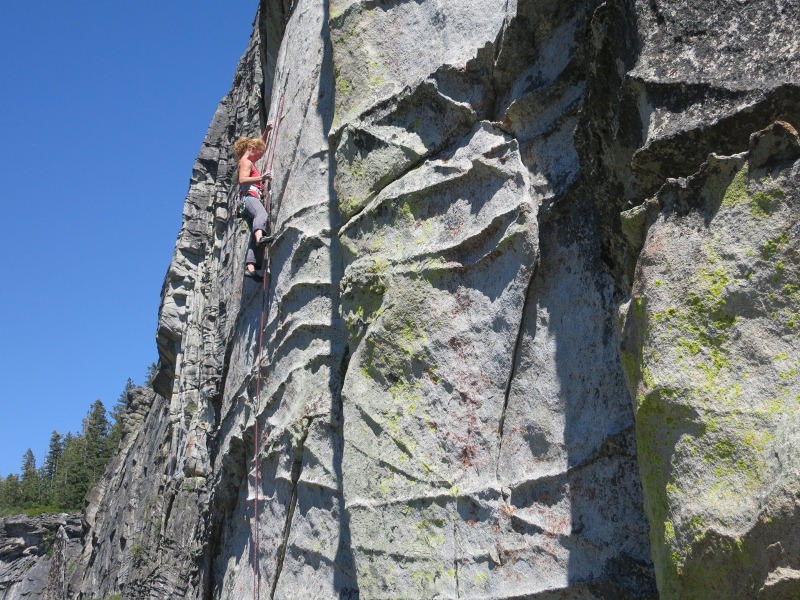 It was an action packed week of adventure with Beater and Spoodle in California. I didn't work on my tan as much as I would have liked due to the windy conditions, but I certainly felt like I was in the mountains. Being welcomed along on this trip by Rich and Senja was yet another reminder that the community I have found through climbing is by far the greatest gift this crazy sport has tossed my way.