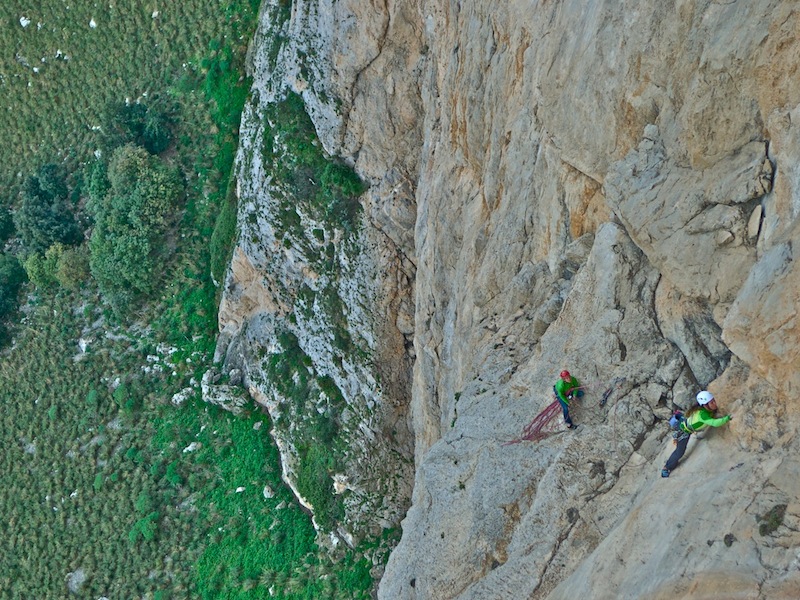 "Why would you come to Sicily to climb when you live in Utah?" the svelte Swiss woman asked in a barely detectible, yet posh accent. I looked at her blankly for a few seconds, wondering if she was attempting "second-language humor" or if she was indeed serious.
"Uh, we don't have overhanging tufas along the Mediterranean," I said, still somewhat unsure if she was putting me on or not.
"Yes, but there are no creks," she said, miming a handjam.
I'll trade "creks" for good olives, authentic gelato and cheap prosciutto any day of the week I told her.
"But Sicily is not well known to Americans, no?" She was unflagging (but correct) in debating our choice of European vacation, but still I hesitated…was this one of those Euro rhetorical questions: "no, yes" or "yes, no"?
"Ah yes, but who doesn't prefer an adventure?" I said, answering her question with my own. She looked at me like I was a day-old croissant. I giggled.
And for the next two weeks we – JT, Chris Kalous (JT's college "Outdoor Adventure Floor" dorm-mate from freshman year) Whitney Boland and myself – got ourselves into plenty of adventure… both climbing and as tourists.
As always with our travels, climbing is only part of the equation when we choose where to go – we enjoy the culture, people, and food just as much as the climbing. If it were just about climbing limestone on sunny European beaches, we would have gone to Kalymnos. But we wanted to go someplace a little different, someplace with more grit than glamour (but not crazy-different like Algeria or Stolby!).
Our trip was fast and furious, both on the rock and on "rest" days (JT, the overstoker super-planner, is like Chevy Chase in Vacation). We wanted to put up new routes, multi-pitch above the sea, show Whitney the ins/outs of multi-pitching, sport climbing steep caves, explore ancient ruins, beachcomb, and, of course, eat and prepare authentic Sicilian cuisine.
While the boys equipped a new route, I climbed with Whitney. I like Whitney. She likes to cook and clean as much as I do, climbs in jeans, and at barely five feet, makes me feel tall.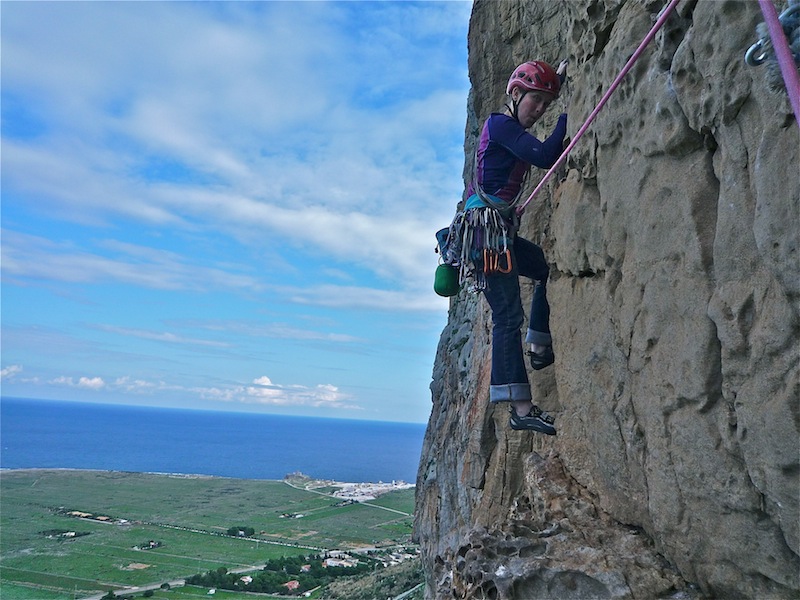 Little women, big wall; midway through our first multi-pitch adventure together. On the rainy walk-off, we snacked on almonds and figs from trees in the descent gulley. Photo: BAG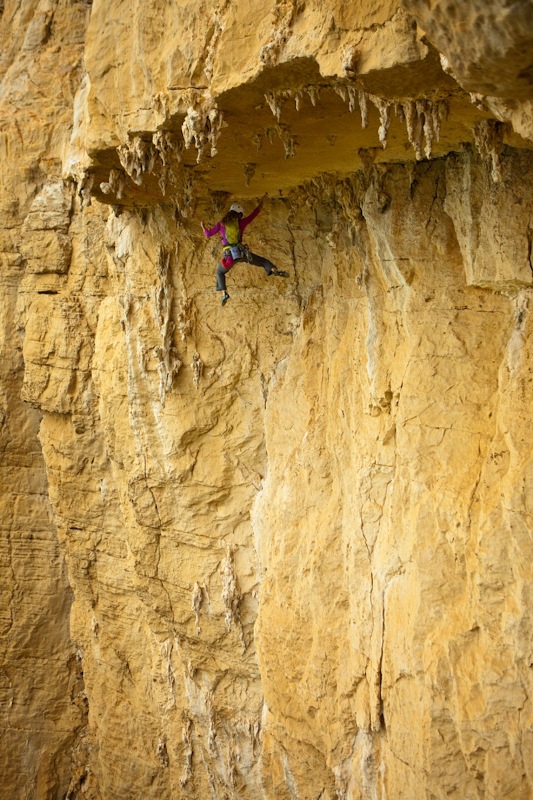 I lost the toss and had to follow this 7c roof pitch. Unfortunately, I broke a tufa dangler while kneebarringand ended up iron-cross clinging to the draw I was just about to clean, with Whitney out-of-sight at the belay 80-feet above wondering what the hell was going on. Photo: Andrew Burr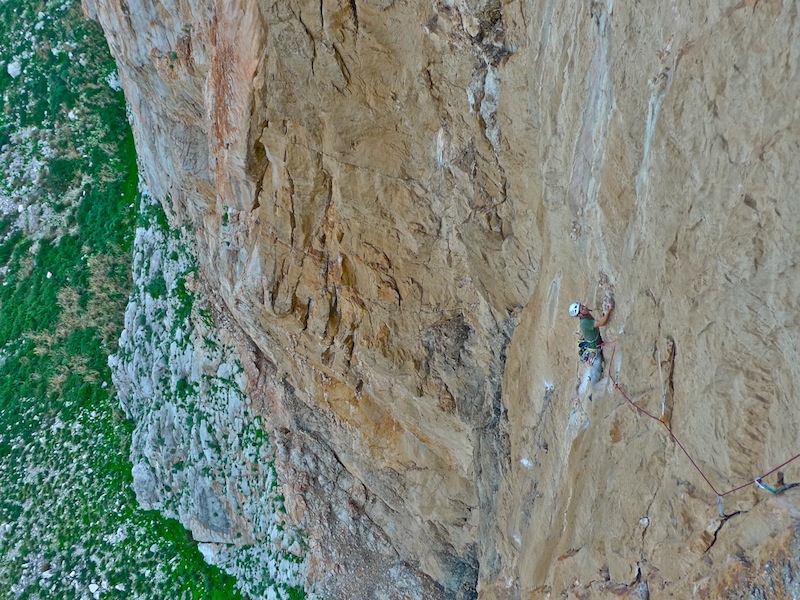 After three days of equipping and four redpoint tries on the route's crux final pitch, JT and Kalous established the 650-foot Blow It Up On The Internet (7b+). Photo: JT
Since it was off-season, not only were the crags empty, the tourist attractions were, too.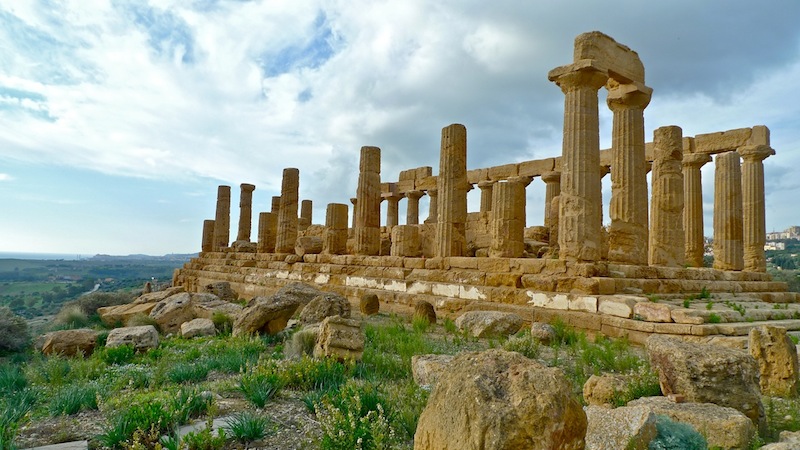 In SLC, "old" is 120 years. In Sicily, "old" is 2000 years. We were captivated by several 2000-plus year old Greekruins and spent our rest days exploring the sites. Photo: JT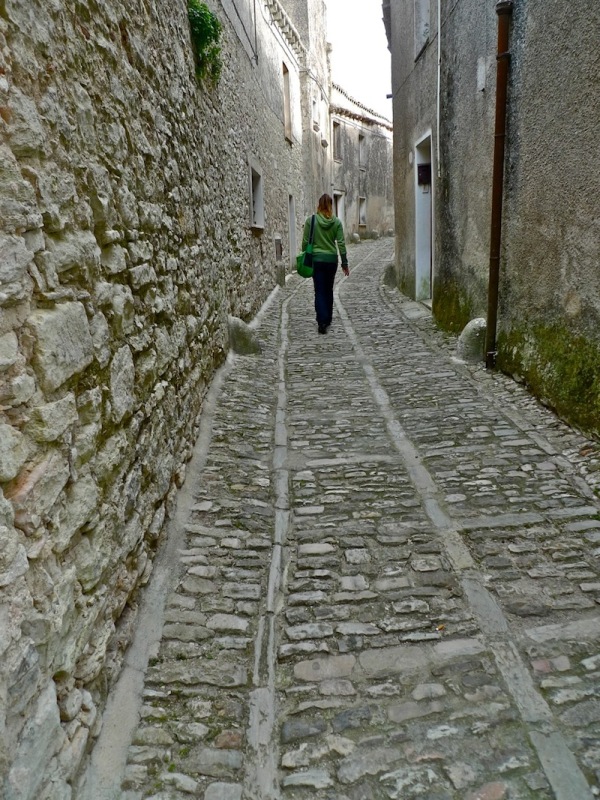 The Town of Erice was empty. Narrow cobblestone streets were pleasantly empty since we were there in the offseason. Photo: JT
Along with all the great rock and culture, we, unknowingly beforehand, had the added benefit of experiencing what we would call, "Internet-Free Sicily". (Seriously, I had better Internet access in Cuba.) In the end, the lack of Internet was nice. Just like the good old days, we interacted without our machines (well, except for Kalous, who after dinner would entertain us with music from his Kaossilator, a slick little synth-beat music machine). Without "The Google", debates about the legitimacy of certain Scrabble words or Scarlett Johansson's nude photos lasted minutes instead of seconds, we read to each other, and the boys even helped chop carrots and garlic.
Which brings me to food. But that will have to wait until next time. Until then, be on the look out for some good sardines, splurge on some saffron threads and chill a nice (but cheap!) bottle of Tasca d'Almerita Regaleali Bianco get ready for my upcoming dirtbag recipe, Pasta con le Sarde, in a future Cleanest Line post. Prego!