Sonnie Trotter Repeats Rhapsody in Scotland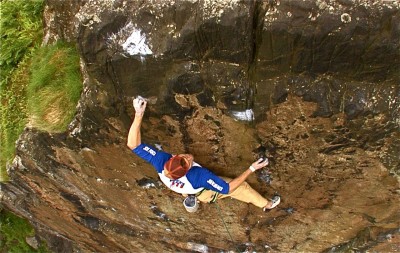 We received some stellar news from Patagonia ambassador Sonnie Trotter this morning:
Well, I don't have much time right now, but I just wanted to say thanks to all ya'll over there in Ventura, working hard to spread the Patagonia name, product and love. Yesterday I sent the original Rhapsody, the world's first E11 (5.14b/c R). Because of weather, it took longer than I expected, but I am glad the struggle is over. It's a mixed bag of emotions. We came here and climbed and waited, and waited and climbed, we ate food, drank, and waited some more, then climbed a little less. It felt more like an alpine expedition rather than a rock climbing trip. Yesterday the conditions were absolutely perfect, cool and very, very windy. Steve House "loaned" me his pair of lucky SENDER pants and I wore them for the ascent. I owe him for that. I needed every advantage I could get my scrappy fingers on.
Sonnie spent four weeks in Scotland to complete the climb. Fourteen of those days were on the rock where he took 24 fifty-foot falls during the process. This is the first repeat of the route which was established by Dave MacLeod in 2006. Head on over to Sonnie's blog Roadlife to read all about his time in Scotland and his incredible perseverance on Rhapsody.