Spring Climbing in Verdon Gorge with Jasmin Caton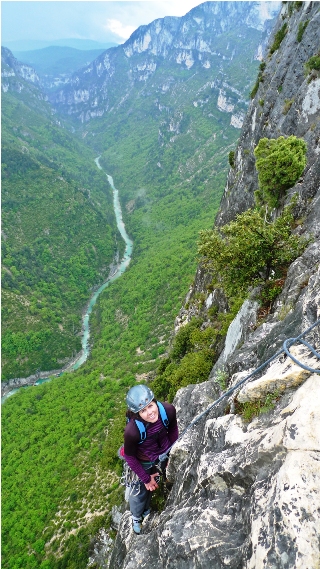 Editor's Note: When Americans tell stories about climbing in France, their tales usually include a mention of the food, the wine, or an encounter with a crazy Frenchman. Patagonia Climbing Ambassador Jasmin Caton recently returned from a climbing trip to France's Verdon Gorge, where, it seems, she enjoyed close encounters with all three. 
 
Prior to coming to France on a climbing trip, the Verdon Gorge held mythical status in my climbing imagination. Friends who had climbed there spoke of long, rad, sparsely-bolted or mixed routes that could only be accessed by long, steep, intimidating rappels. If you weren't able to get yourself back up and out via your chosen route, you could expect an all-night hike in your rock shoes just to exit the gaping maw of the gorge.

The good thing about having the Verdon Gorge built up to mythical proportions by these stories was that when I finally got a chance to climb here it wasn't nearly as intimidating as I expected. Don't get me wrong, the week I just spent climbing in the Verdon Gorge was anything but mellow; as different from last year's Kalymnos club-med bolt clipping vacation as an Indian Creek offwidth is from a Ceuse pocket ladder.
We started off the trip on La Demande, the popular moderate classic of the area, featuring 10-11 pitches up to 6a (5.10b). Really fun climbing, but I wouldn't recommend it if 5.10 is your limit, some of the pitches only have one or two bolts in 50m. I appreciated my trad background on the final several pitches which are full on back-and-foot chimneys. Don't forget to dangle your pack and move your gear to the front gear loops; my lucky leaver biner with my Houdini, knife and prussik loop did the old magical unclip as I writhed my way up. The saddest part was Evan actually caught it while belaying but then fumbled it as he tried to clip it to his harness and it did the full 400m plummet into the scrubby bushes at the base of the route. Unfortunately, this wasn't the only item we sent into the abyss….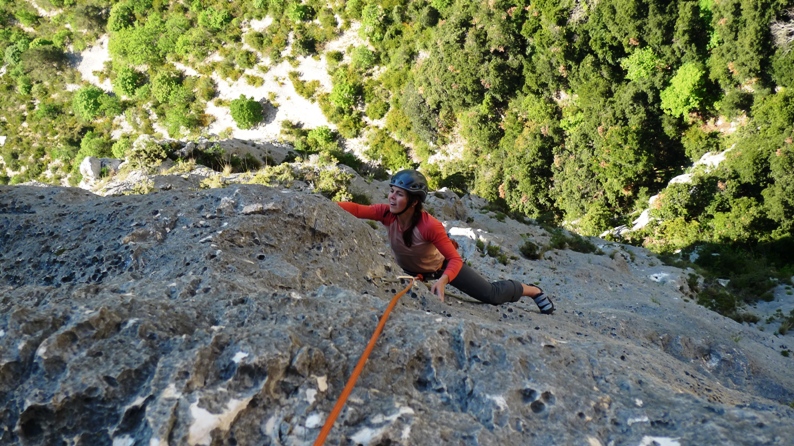 Next we decided to climb Pichenbule, a slightly more difficult and highly recommended route. Half way up we got slammed by a storm. Lightning, thunder, slashing rain, and we were still 150m from the rim. We were able to traverse into a neighboring easier route and race upwards as the limestone got wetter and slipperier. Lucky for us the easier route was a bolted crack; slimy hand and foot jams between pulling on bolts on provided an exit that the slick crimps on our original route never would have. The next morning we returned to Pichenbule to complete the route. Evan was climbing an easy, traversing pitch with our 7mm static rappel line coiled and strapped to his pack. The rope caught on a scruffy tree and was wrenched from his pack and fell 300m to the bottom of the gorge. All we could do was laugh and be grateful that there was no one anywhere near the base of the route that day. After completing the climb, we drove to the trailhead for the Sentier Martel, the highly popular hiking route that travels through the bottom of the gorge, beginning with several km of pitch black tunnels blasted out of the solid limestone where the gorge is too narrow to provide a trail. The tunnels were ankle deep in water, increasing the fun factor exponentially. We bushwacked up steep crumbling scree and after an hour we were incredulous to actually find our tag line within 20m of the base of the route. We also went looking for my Houdini at the base of La Demande, but couldn't find it. We did find a locker, a nut, a quickdraw and a broken camera though!
The best fauna viewing of the trip – besides the ripped Frenchmen in Spandex™ at Ceuse, of course – has been the birds. Beautiful melodious birdsong is what woke me early on our first morning in France and we have seen many interesting colourful birds at the crags and while driving. The Griffin vultures that inhabit the Verdon Gorge are one of the most majestic birds I have ever seen while climbing, topped only by the California Condors in Zion. These birds have a 2.5m wingspan, and have a beautiful brown and white pattern on their back that you can see when they soar below you.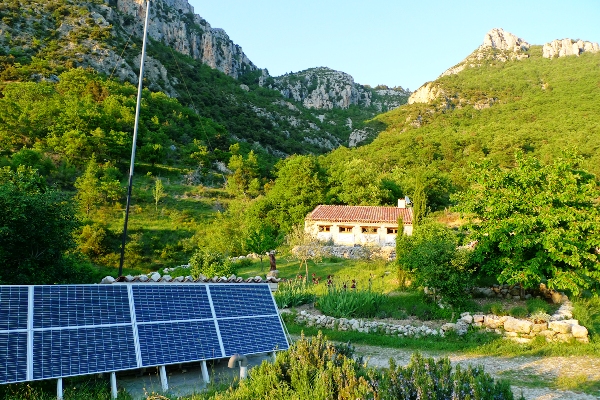 Maybe it's just me getting soft as 30 stares me in the face, but these days, a big part of the enjoyment factor on climbing trips is the quality of accommodation. I'm not talking about king-size, pillow-top room-service, jacuzzi-tub stuff here, but a bivi with a great view, a nice little shop to get some good groceries and cook up a tasty meal after a long day, a grassy spot to do some stretching on rest days will go a long way towards making a good trip great. The Verdon wins the top prize for amazing accommodation within my price range. We stayed in the Mayreste Gite (gite is the name for self-catered apartment-style rentals in France) owned by Anita and Jean-Francois Monier, a couple in their 70s. The gite is a 4X10m rectangle with a sloping roof built onto the side of the couple's stone farmhouse on a small plateau of land looking down into the western end of the Verdon Gorge. Studio style, with a fold out bed, tiny stove and fridge but really well thought out for comfort and efficiency, right down to the roomy tiled shower and uncluttered main room with plenty of space for stretching on the floor. The full window door has an amazing view, and there is a flagstone patio for outdoor eating or reading in the chaise-lounge. A 100m walk takes you to the spring where you can collect delicious drinking water on-site, and the property is covered in a progressive combination of vegetable gardens and solar panels that provide all of the power for the house and gite. Jean-Francois is a very friendly gentleman. He stopped over several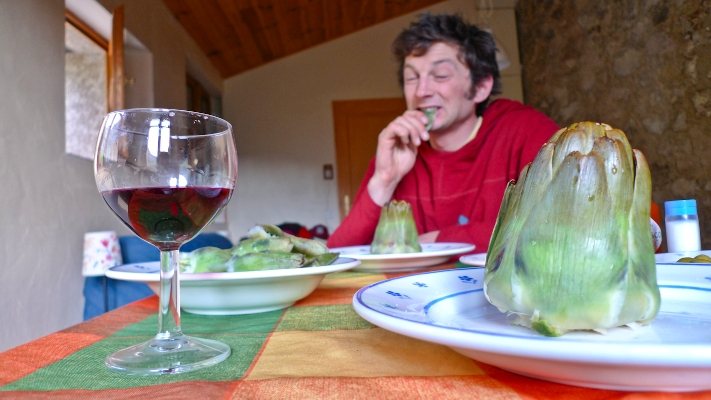 times to share wine or a special prune liquor made by his friend, educating me on how to pick a good bottle of Cote du Rhone for under 5 euros – apparently it's all about the vielle vigne (old vine). He's an avid skier and sailor, and may even come and visit us at Valhalla Mountain Touring next winter. Apparently the Mayreste gite is not very popular because it's 8 km from town, meaning you have to drive or do without the morning dose of baguette or croissant that the French seem fairly dependent on. For us, the peace and quiet of being out of town was relaxing; we cooked simple but delicious meals from groceries we stocked up on after climbing. Staying out of town kept us from spending too much money and spending time on the Internet – the climber's pub has free wi-fi. The most unbelievable part was that the studio was costing us 24 euros per night (less than $30 CAD).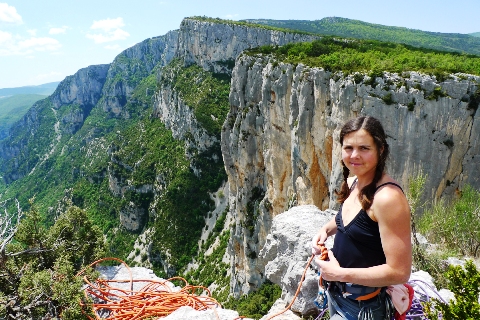 The high point of our climbing time at the Verdon Gorge was the route La Fete des Nerfs, which we did on our last day there. The climbing on the 10 pitches of the route is difficult and technical, engaging but reasonably safe. The day we did it was especially entertaining because a posse of young French climbers had strung up a slackline and gigantic rope swing across a 60m wide, 200m deep span near the route and spent the day walking to the middle of the span on the slackline, then swinging with unbelievable abandon through the void.
I am excited to be climbing in Ceuse, but already I am scheming for my return to the Verdon Gorge for more epics, adventures and limestone schooling, and especially for the comfortable, peaceful and unique accommodation of Mayreste to return to at the end of the day.
–Jasmine Caton
For more from Jasmine, check out her field report about climbing Squamish's well-known Zap Crack.