Summer Reading: "Chasing Waves: A Surfer's Tale of Obsessive Wandering"; Win a Signed Copy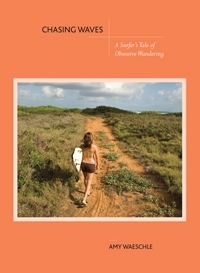 Amy Waeschle is the author of the field report "WAP #96" and a former Patagonia catalog copy writer. She's one of the friendliest, most surf-stoked women I've ever met, especially for someone who lives in a place where conditions are finicky and 5mil wetsuits are the norm. It was a pleasure working with Amy and a joy to introduce her and Kurt (her husband) to the waves at Rincon during one of their visits from the Northwest a few years back.
Today I'd like to share news of Amy's first book, Chasing Waves: A Surfer's Tale of Obsessive Wandering. In it she chronicles her evolution from nervous newbie to self-confident and skillful surfer, and how she learned to balance love and family with her overwhelming surf lust. Says Patagonia surf ambassador Mary Osborne, "A sense of freedom, overcoming fears, discovering new cultures, dealing with love, the exciting, unexplainable feeling of riding a wave – this is what Chasing Waves is all about."
Hit the jump for an excerpt from Chasing Waves and a chance to win a copy of the book.
Excerpt from chapter 7, "Postcards from the Edge: Beauty and Solitude in the Northwest"
"Adventure is not in the guidebook and beauty is not on the map. Seek and ye shall find." – So say Terry and Renny Russell in their 1960s ode to the American West, On the Loose. But I'm sure Terry and Renny never went to Trash Pile, the most unnerving, foul-smelling, and ugliest access point I have ever experienced. It's definitely not in any guidebook, though, and it certainly qualifies as an adventure just to find it, so they got that part right.

Growing crowds and a need for breathing room had pushed us deeper into such territories in search of surf. On first look, the muddy gravel road we'd stumbled onto didn't appear to connect with the coast we sought. Team Creep crested a steep hill and I saw a towering, mishmashed pile of used appliances, broken toys, bald tires, all blended with acres of household trash. Our narrow road skirted the two-story-high mass and disappeared into a dark and woodsy dead-end. We were really just looking to turn around somehow, and quick—get the heck outta there before a half-crazed local came after us with a shotgun. Then we saw it, a faint trail heading into a thick patch of alders. Maybe it was worth a look.

I stepped out of the van into a pile of dog crap and almost gagged at the stink of rotting garbage. We were quick to grab our boards and suits and head down the trail. I knew we were on to something good when we passed a disquieting bit of voodoo—a molding cloth doll with fraying yellow yarn hair and no eyes nailed through the head to a baby fir tree. The path was lined with salal shrubs, ferns, the occasional spiky devil's club, salmon berries, and a mixed canopy of alder, fir, and huge cedar.

When I first heard the surf, filtering through the thicket, my heartbeat quickened. Even without a pack on my back and a nine-foot longboard wedged beneath my arm, the hike would have been challenging: tight switchbacks, steep drop-offs, rocky, uneven footing slick with goopy mud. Wearing a wool hat, Gore Tex coat, flannel-lined jeans, polypro socks, and rubber Wellies, I was drenched in sweat by the time we stepped onto the beach. The view, though, was worth it: brown-sugar sand pockmarked with gumdrop-shaped rocks edged by slivers of tide water, sea-glass green water laced with bright-white foam. All a perfect backdrop for a gorgeous wave, if slightly sketchy due to some rocks and ominous-looking boils, but beyond, the open sea expanded into forever. It felt like the edge of the world.

Kurt looked at me and I looked at Rick and simultaneously, we began laughing.

"Is this for real?" I asked.

Kurt had already turned his wetsuit right-side out. "I think we're in Hawaii," he said.

"Except for the cold water," I added, unpacking my suit and towel onto a drift log.

Rick's eyes twinkled. "Well, there's that," he said.
Chasing Waves is available now through Mountaineers Books and Amazon.com. Proceeds from the sales of this book benefit the Surfrider Foundation.
Win a signed copy of Chasing Waves
Amy kindly sent us a copy of her book to give away to one lucky Cleanest Line reader. To enter, simply leave a comment on this post before midnight on September 21, 2009. Facebook readers click here; only entries on The Cleanest Line are eligible. One entry per person. Be sure and include your email address in the email field so we can contact you if you win (email addresses are not displayed). The winner will be determined by a random time generator — the comment with the closest time-stamp wins. In the unlikely event of a tie, we'll place the finalists in order and generate another random number to determine the winner. See official rules for details.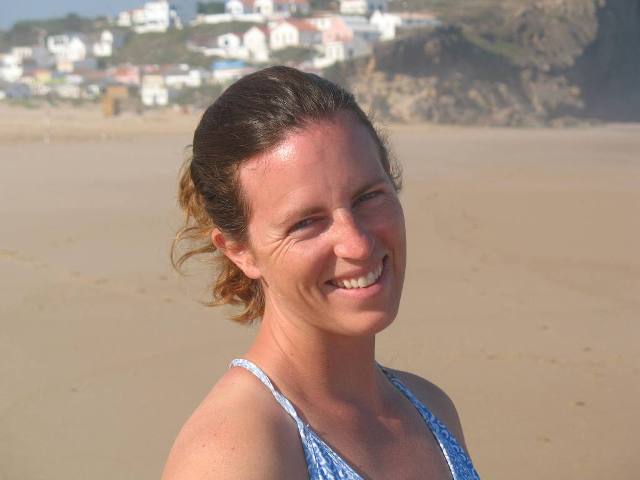 The author in Portugal. Photos courtesy of Amy Waeschle.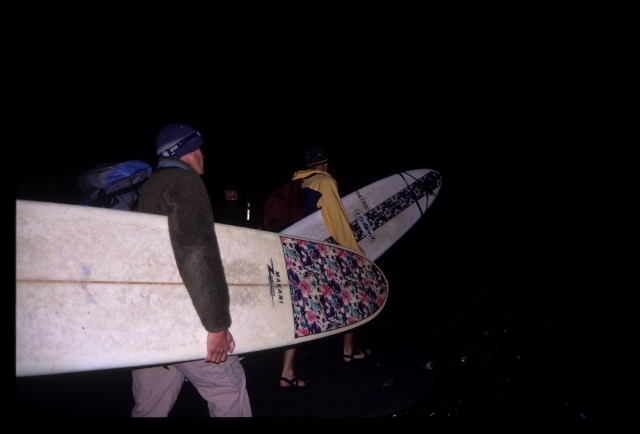 Dawn patrol.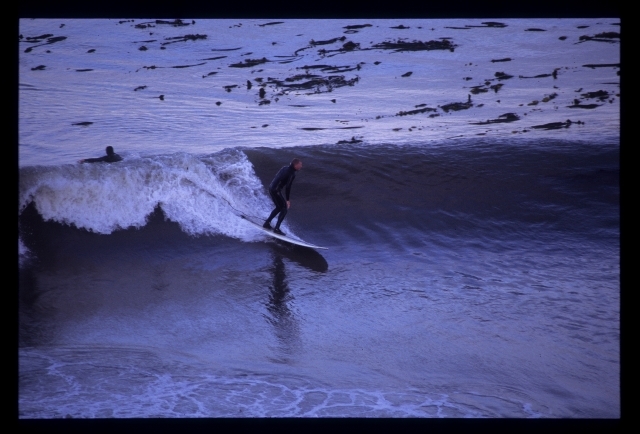 Kurt somewhere in the northern latitudes.