Tales from a Recovering Dirtbag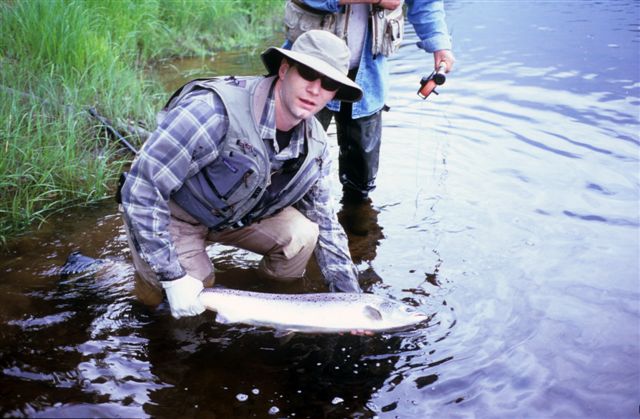 This submission came to us from Topher Browne, a Patagonia Ambassador and recovering dirtbag.
I have not really been a dirtbag for several years now. I recently traded in the last in a long line of Toyota trucks for an efficient but less than capacious Honda Civic. If I tried to spend the night in my new ride I would require an on-site osteopath to remove the kinks from my middle-aged body. I confess that I don't mind a warm cabin and a hot meal after standing in a forty-five-degree river all day long. If this makes me less of a person, so be it.

I knew the truck was not long for this world when I noticed that it wasbeginning to spend more nights in front of motels than in parking lotsnext to good salmon pools. I still get up pretty early, at least when Ifish, but I'm seldom the first one through the pool anymore. It was notalways this way. I never bought into that "last shall be first"nonsense (I still don't) and I could usually count on my boots gettingwet before any others. Lately, though, I find myself second, third oreven fourth through a pool. It doesn't happen all the time—I still havemy moments in the sun—but when it does, it bothers me less than it oncedid.
[Photo: Topher Browne Collection]
I wish that I could unequivocally state that once a dirtbag always a dirtbag. I am quite sure that I cannot defend that statement at least as it applies to me. As far as the term "dirtbag" is concerned, I am equally certain that I could not define the word without devolving into cliché. We could certainly go round and round attempting to define such an elusive concept until some pointy-headed arbiter of judicious word use made us move our collective bowels or get off the pot. I'm a big fan of anything that passes for mental Metamucil, so I prefer to get on with it.

I once had time but no money. I was, by dint of economic necessity, a dirtbag. I now have money but no time. I am no longer a dirtbag for reasons that are not wholly clear to me. When I figure out how to offset this time/money continuum, I will let you know. I have learned that a hot shower will work wonders on your low back but can do mean things to your soul. It is an easy skip from a hot shower to a prepared meal, an hour or two of HBO, or an electronic connection with a world that you would just as soon forget. If you're dirtbagging it down by the river in the back of the pick-up truck, your chief concern will be the death of the last mosquito that threatens the tranquility of your sleep. As an added bonus to the spiritual purity of your accommodations and the head net that you store in the back of your camper, you will be first through the pool.

I remember my dirtbag days with great fondness. My personal record without a shower is five weeks. I know that record pales in comparison to the dirtbags who hang out at altitude in the Himalayas. My record, however, was set before the advent of breathable waders. If you fail to shower and your waders are coated with polyurethane, I do not recommend a wading belt. You may die an early death, but drowning is certainly preferable to death by toxic shock when you remove your wading belt at the end of the day. I think about this every time I take off my fancy breathable waders. It sure would be hard to go back to those old sweat bags.
Bio: Topher Browne is no longer a member of Team Dirtbag, but don't count him out just yet.