Texas Tower Soul Crush
Jonathan Thesenga
/
Mar 01, 2012
/
4 Min Read
/
Climbing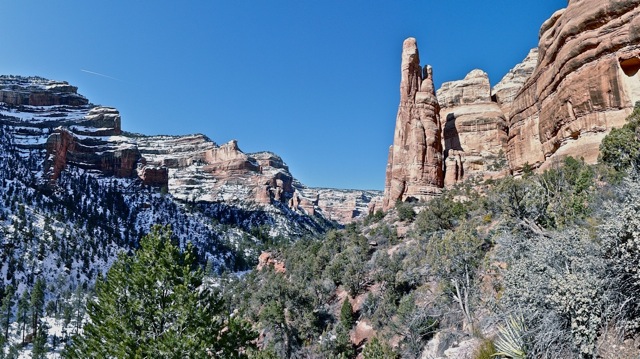 My college friend Chris Kalous and I had an epic weekend climbing Texas Tower, which is down between Blanding and Hanksville in southern Utah. Two-hours of aggro, axle-smashing 4×4, then two hours of heinous post-holing up to our knees through breakable-crust snow just to get to the base at 11:30am. Shoes soaked. Pants soaked. 600 feet of stout offwidths and chimneys — no time to waste. We did not free the 5.11+ crux OW — not even close. I linked the final two pitches into one and topped out just as the sun was setting. Out of food and water, knees and shoulders throbbing in pain from all the unrelenting OW action, but who cares… I was on the summit of one of the biggest, baddest and burliest towers in the desert. So psyched! Then realized I couldn't find the summit anchor, that it was buried under the 18 inches of snow blanketing the sloping north side of the summit — WTF? Desert alpine?
I brought Chris up in the dark. I tensioned him into the snow and he dug and dug and dug with his feet, hands and a #6 Camalot. After 20 minutes he finally kicked a pin — he'd found the anchor. I checked the clock on my camera: 7:20pm. He rapped first (down the rap route, which is on the opposite, snowy side of the tower) and couldn't find the next anchor. About 45 meters off the summit it was a confusing series of snow-covered spires and ledges (especially in the dark). Chris searched and searched for the next rap station. Nothing. 20 more minutes passed. Nothing. He had to figure something out soon and get off rappel because I was soaked and frozen from kneeing at the slabby summit anchor in the snow. A minute later he's off the ropes and I rapped down. Found Chris on a small ledge with his shoes off. His shoes got soaked from all the digging in the summit snow. His feet were frozen. The temps were plunging. Not good. A forced bivy on this tower in our wet condition was not an option. I rapped and swung all over the place looking for the anchor. Nothing. Nothing. Nothing. F*** it. It was cold and pitch black — we needed to get down asap.  I rapped down a steep crack system. Built an anchor. Chris quickly followed. We pulled the ropes. After 15 feet… stuck. Sonofabitch. Chris up-rap/prussiked back to his little ledge. Got the ropes to pull. He built an anchor there and rapped to me. Rigging the next rap we discovered two major core shots to the tag line. Damnit. Taped over them so they don't get any worse. Rapped off single-cam anchors to get to the ground (if anyone wants to booty two #4 and a #5 Camalots, I know where you can find them…). Back at the packs I slammed our two PBRs straight away, put on all my clothes and massaged my frozen feet. One of Chris' socks had blown away. He had to fashion a VBL sock out of a plastic bag. Jingus, but better than a bare foot in a wet shoe. We spent the next two hours stumbling and post-holing through that evil f***ing snow. Fell down over and over again, yelling "f***" at the top of my lungs. It was way beyond frustrating. We were way beyond exhausted. Got back to the truck at 1am. Tossed out my bag and open bivied. Woke up at 9:30am to a snowstorm. Lovely. Two hours of back-rattling 4×4 later and we were back on pavement, totally thrashed, worked and roached.
Not the best tower I've ever climbed, but definitely one that I'll remember.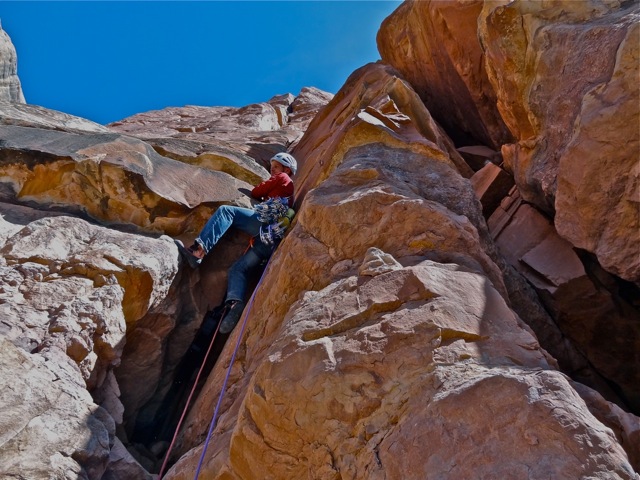 Chris Kalous wrestling through a typical 5.10 squeeze on Pitch 3.
Photo: JT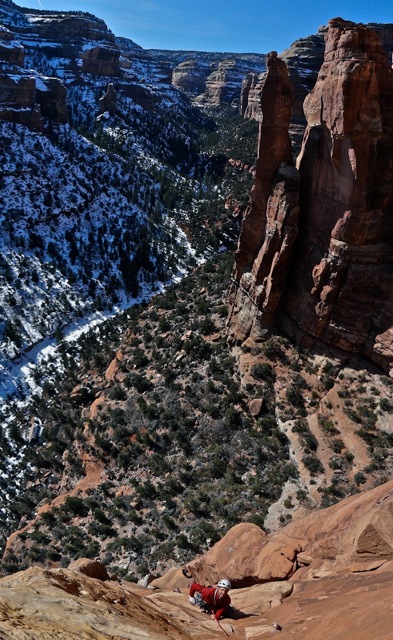 Kalous following the "Death Flake" pitch. Photo: JT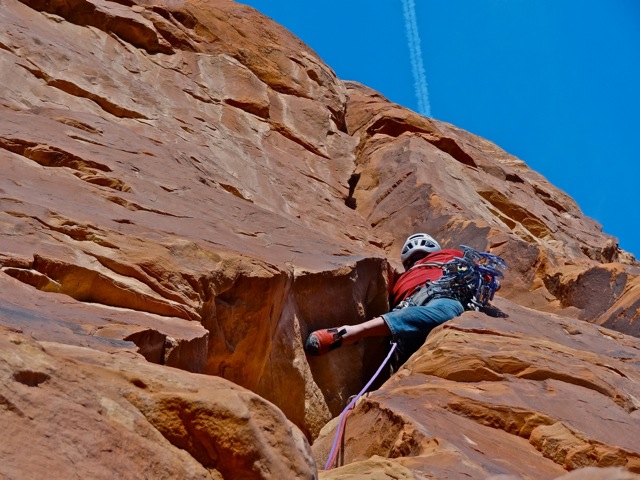 Kalous armed for battle on Pitch 6. Photo: JT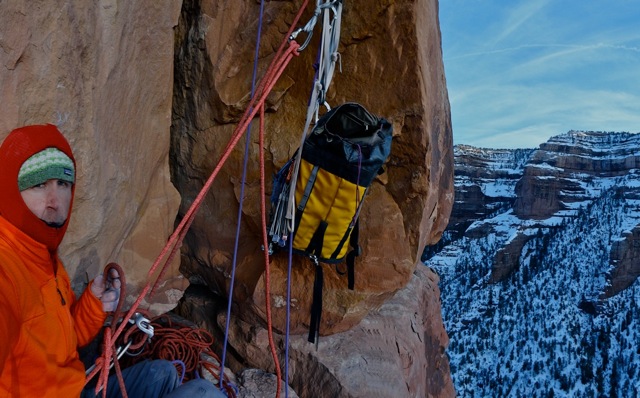 Once the sun began to set, the temps stared to drop dramatically.
Photo: JT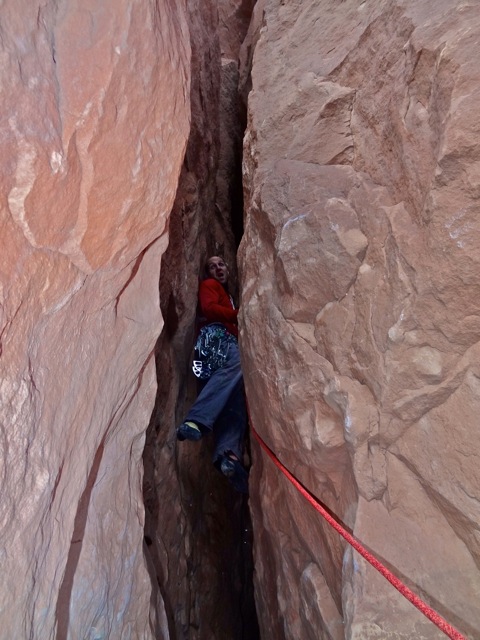 Fun times in the final chimney of Pitch 7. Photo: Chris Kalous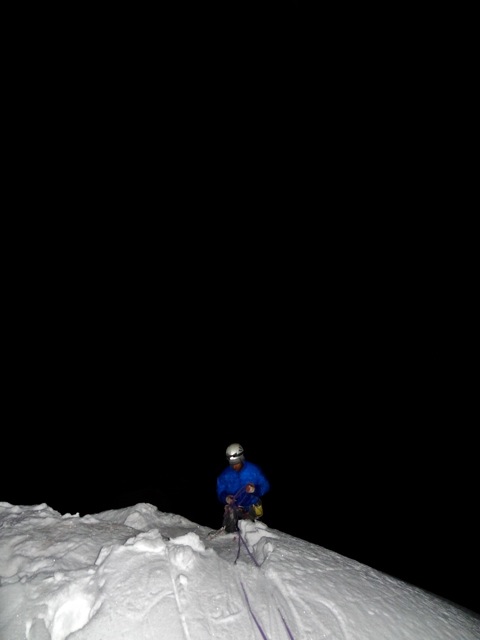 Summit of Texas Tower or Cerro Torre? Kalous digs out the summit anchor in the dark. Photo: JT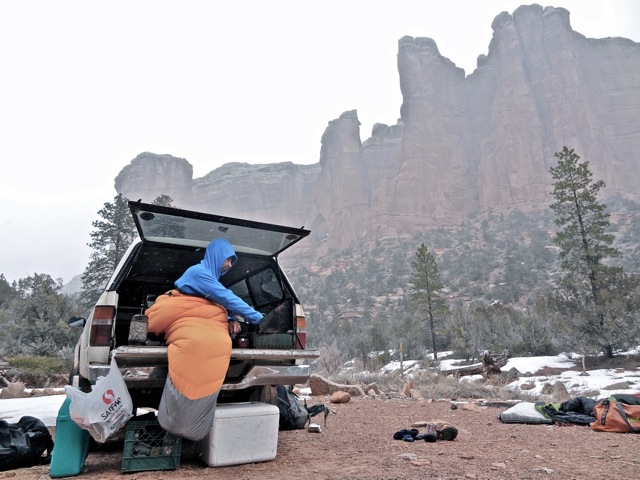 Kalous brews up in the morning snowstorm before tackling the two-hour, nut-buster 4×4 out of the canyon. Packs and shoes laying in the dirt right where we dropped them at 1am. Photo: JT