Solutions Series, Part 1: The Babies in the River
Annie Leonard
/
Jun 28, 2013
/
4 Min Read
/
Activism
Once upon a time in a riverside village, a woman noticed a shocking sight: a drowning baby, crying its lungs out, being washed downriver. She rushed to save it, rescuing the baby just before it went over the falls at the edge of town.
The next day there were two babies in the river; the day after, three more, then four. With the help of her neighbors, the woman saved them, too. When babies kept washing downstream, the village banded together, setting up a 24-hour rescue watch. Still the babies kept coming. So the community installed an elaborate alarm system and strung safety nets across the river but was still overwhelmed trying to save them the babies.
Finally they asked the village wise man, who had the solution: "Let's go upstream and see
who's throwing the babies in the river. If we stop them from being thrown in up there, we won't have to rescue them down here."
Here in the real world, there's no shortage of people who care about a clean environment and a just society and are motivated to work for change. We recycle. We drive a Prius or ride our bikes. We "like" online campaigns. We sign petitions. We write checks to environmental groups, human rights organizations and worker unions. We pass laws to make corporations reduce pollution, use safer chemicals and disclose their fair trade policies.
These are all worthwhile and commendable things to do. But they're the equivalent of saving drowning babies downriver. To figure out solutions for the entrenched, complex and interconnected problems that are trashing the planet, harming our health and threatening our communities – not just slow down the rate at which things are getting worse – we have to look upstream for the real sources of our crises.
What are those root causes? Simply put, they're the rules of the game – the economic, social and political assumptions that define the way our world works. As it is currently played, the object of the game is to get more people to spend more money on more things – on anything. That's what we call growth. That's how most economists and governments worldwide measure the health and progress of a society – Gross National Product, the total of all goods and services bought and paid for. Who's against that? Growth is good, right?
Depends on what's growing. Would you rather have growth in prisons or schools? Guns or health care? Technology to clean up oil spills or safe renewable energy?
The Holy Grail of GNP doesn't distinguish between the growth of things that make life better and the growth of those that make life worse. This is a problem, since it ends up rewarding practices that trash people and the planet.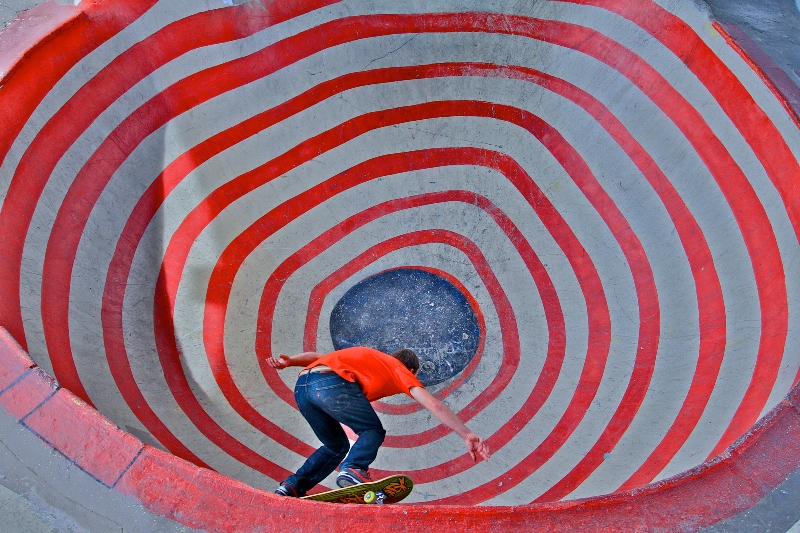 So rather than frantically trying to solve problems that result from the system at the downstream end, let's go upstream and  change the rules of the game. We could start by replacing GNP with a different metric that measures not just buying and selling, but also the health of our environment, the happiness of our children, the strength of our communities. There are lots of examples on how to do this, from the Genuine Progress Indicator to the Himalayan kingdom of Bhutan's national happiness index.
Stay with me while I get a bit wonky. There are at least two kinds of solutions to any problem: transactional and transformational. Transactional solutions are efforts that address some problem but don't change the underlying system that led to the problem. Some transactional solutions are major improvements – like banning lead from gasoline or switching to organic cotton – but they don't change the rules of the game. Transformational solutions, such as measuring national happiness instead of economic activity, fundamentally change all the parts of the system – the way companies do business, the way government sets policy and the way communities function. The cool thing about transformational solutions is that once achieved, many of the downstream problems just disappear.
There's an almost endless list of things we could do better: safer chemicals, more efficient cars, a higher minimum wage. We're all encouraged by any progress on these issues. But they won't be enough if we don't also work to change the larger system to make it easier to implement solutions available for safe products, happy people and a healthy environment. As Vermont law professor Gus Speth says, to deal successfully with the multiple challenges we face, efforts at reform must be matched with at least equal efforts "to create a new operating system that routinely delivers good results for people and the planet."
Over the next two years, The Story of Stuff Project will be sharing ideas on solutions with the Patagonia community. We'll look at solutions in the three places we need them most: in our communities, in our companies and in our government. It's a dialogue, so please chime in and share your ideas and feedback. What solutions are you most excited about?
Read the entire Solutions Series:
Part 1: Babies in the River
Part 2: Solutions in Our Communities
Part 3: Dive In
Part 4: Solutions in Business
Part 5: Taking Action
Part 6: Resist giving in to disillusionment
Part 7: Vote!