Photos from Bog Work with Hakai Luxvbalis Conservancy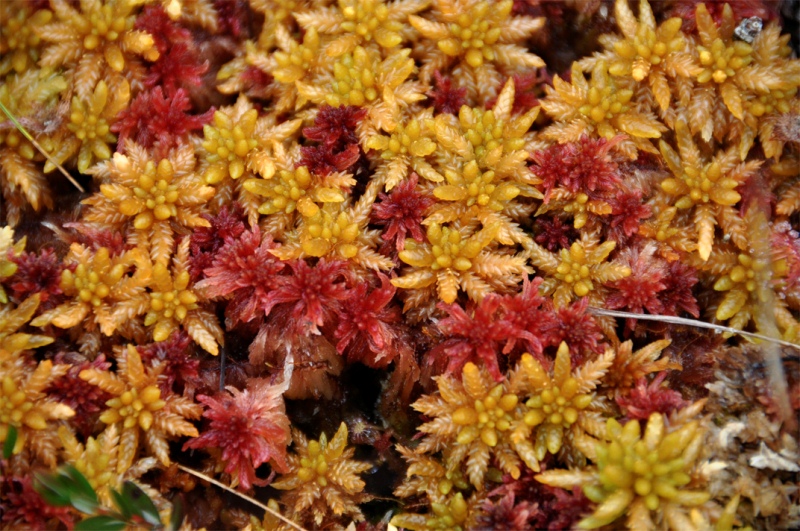 As I paddle out into the morning fog of Pruth Bay, I can't imagine a better way to commute to work. Alongside me are my two research assistants, Julia and Owen, with big smiles on their faces. On days like this, work and fun are interchangeable, and we're thankful for the one-hour kayak before a sweaty, bug-suited bushwhack up the side of a mountain to get to our office: The Bog.
The three of us are working in the Hakai Luxvbalis Conservancy, located on Calvert Island in the heart of British Columbia's Great Bear Rainforest. (You may have seen the Great Bear in Groundswell – it's one of the areas threatened by the Enbridge Northern Gateway pipeline project.) Established as a reserve almost twenty years ago, the Great Bear is home to wolves, grizzly and spirit bears, an amazing array of marine life and one of the largest remaining tracts of temperate rainforest in the world. The reserve extends from the northern tip of Vancouver Island to the Alaska Panhandle, and we're right in the center of it.
The studies I do are based out of the Hakai Beach Institute, a privately run research station on Calvert Island owned by Eric Peterson and Christina Munck. Born and raised on the B.C. coast, Eric was originally a research scientist, then, for many years, a technology entrepreneur, most notably in the field of medical imaging. In 2001, Eric and Christina formed the self-funded, non-profit Tula Foundation. One of the Foundation's ventures was to turn a failing sportfishing lodge into the Hakai Beach Institute, molding it into a center for research, teaching and community leadership. The many scientists who work here now survey everything from the seafloor to the mountaintops, attempting to understand what's happened here in the last 15,000 years and what might happen in the future as our coast faces a rapidly changing climate.
The thick fog blankets the bay and we hug the shore, knowing there isn't much stopping us from making a wrong turn and ending up in Japan. We pass several eagles perched in cedar trees, watching and waiting for the fish to jump. The fog is cool and we hope it burns off so we get to experience a few hours of sun, a rare thing on this wet coast.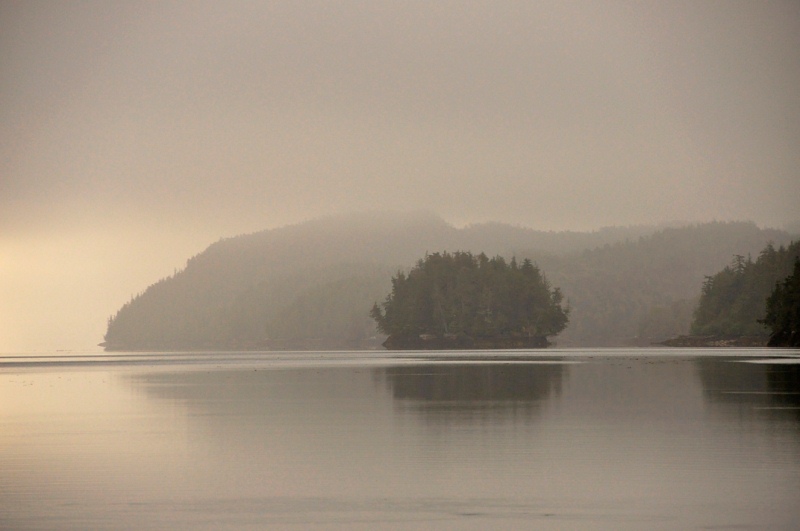 Foggy morning in Pruth Bay.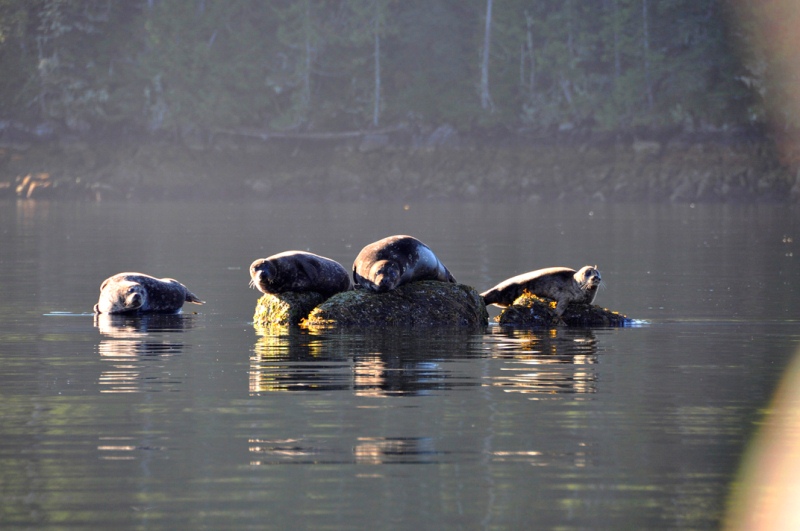 Rush hour traffic.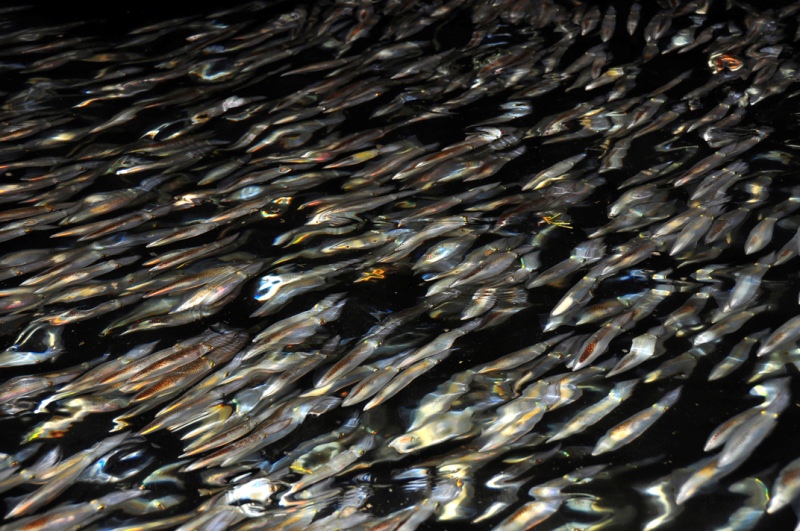 This rare event was captured in late July of 2013. Opalescent squid (Doryteuthis opalescens) have not been recorded spawning here since 1996.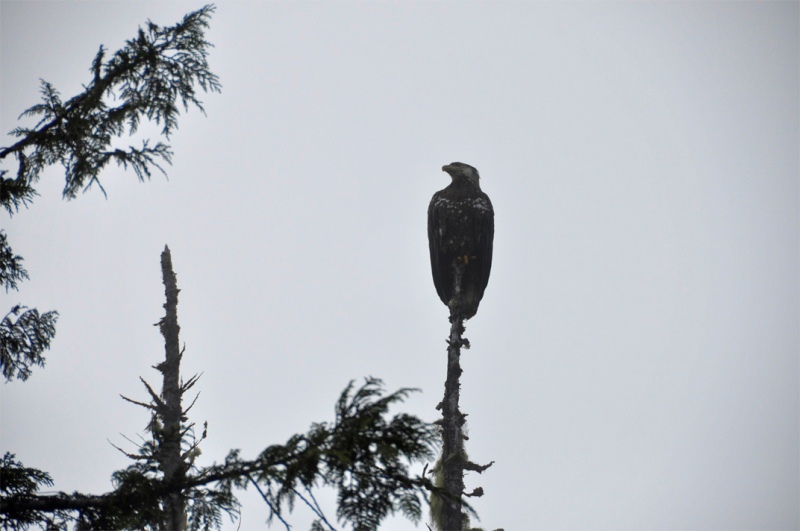 Juvenile baldy on the lookout as we come ashore.
We arrive at a place called Wolf Beach, come ashore and store our kayaks for the day. It takes the three of us some time to carry our kayaks above the high tide line – the tides in this region average about 15 feet and you don't want to a) see your kayak floating out to sea or, b) have to drag your kayak a mile across the mud of a drained-out bay.
With the boats safely stowed, we spend the better part of an hour hiking – and sometimes crawling – through deep ravines and scrub forest before breaking into an open bog up high. The bogs in this region are a mosaic of rolling marshy topography intermingled with bonsai-like trees and large, mossy hummocks. They're generally not considered glamorous places – quite often the beauty is lost to swarming blackflies, the smell of rotting plants, and the threat of waist-deep soakers.
Despite the cold weather, we're drenched in sweat from hiking in gumboots, rain pants and bug suits. We've almost perfected navigating with thin black veils covering our faces, but someone usually falls victim to a misjudged step, which means either slipping back down the hill or getting stuck in quicksand-like mud until one of your friends hauls you out. Or, even worse, walking into a branch that tears your bug suit – something I imagine is comparable to a leak in your spacesuit. Bad news.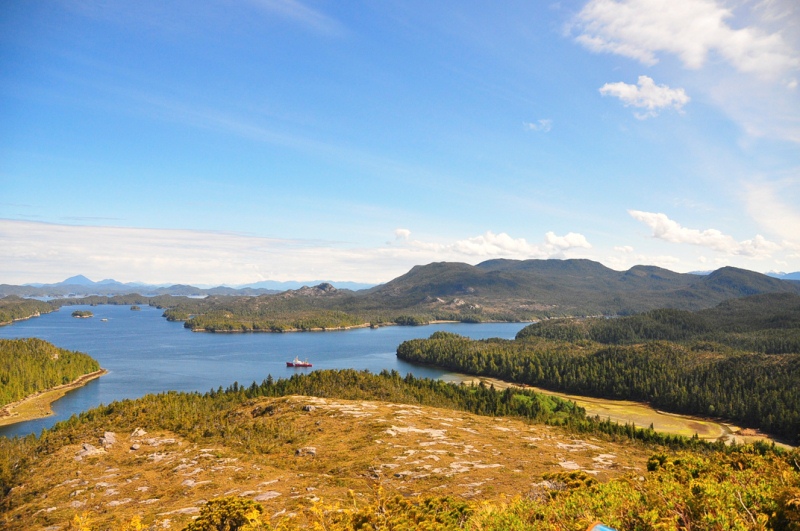 The view from high on Calvert Island, with one of our study sites in the foreground.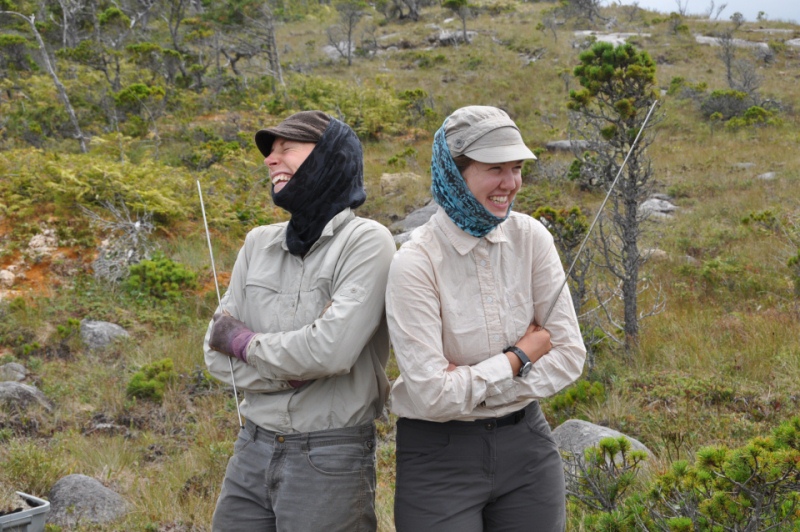 No we don't ride horses in the bog. Although it appears we are dressed like equestrian riders, the outfit functions to protect us from the bugs and our sticks help us measure plants. This one goes out to one great field assistant (Julia, right) and all our fun 2013 adventures in the Great Bear Rainforest!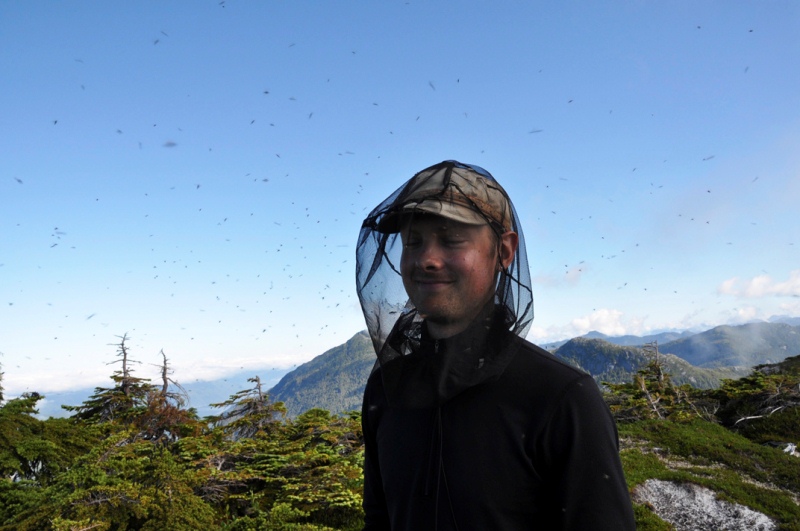 Field assistant Owen taking it all in stride. If it's not clouds of rain, it's clouds of bugs.
Once we're on site, we settle down to work after going through the morning checks: weather station still running (survived the 80 mph winds the night before), experiments still intact (we're in a constant battle with the wolves who love pulling out our temperature sensors), and everyone accounted for (nobody fell in the quicksand, got lost in the featureless landscape or got distracted by salmonberry patches along the way).
Bogs are common in our area, but they're globally rare and at-risk ecosystems, and our work involves trying to learn more about them and how they'll respond to future climate change scenarios. They filter water, store carbon and are important habitats for birds and animals, and they're at risk of disappearing before we know much about them. My fieldwork is based on manipulating drought in the bog to understand if plants that have adapted to living year-round in water can survive without it. The three-year experiments involve cutting out pieces of the bog and raising them above the water table, where they are not saturated throughout the year, and then observing how soils and plants adapt to different precipitation regimes. We also painstakingly measure every plant in the twenty separate plots, and analyze the soil to see how nutrients are used.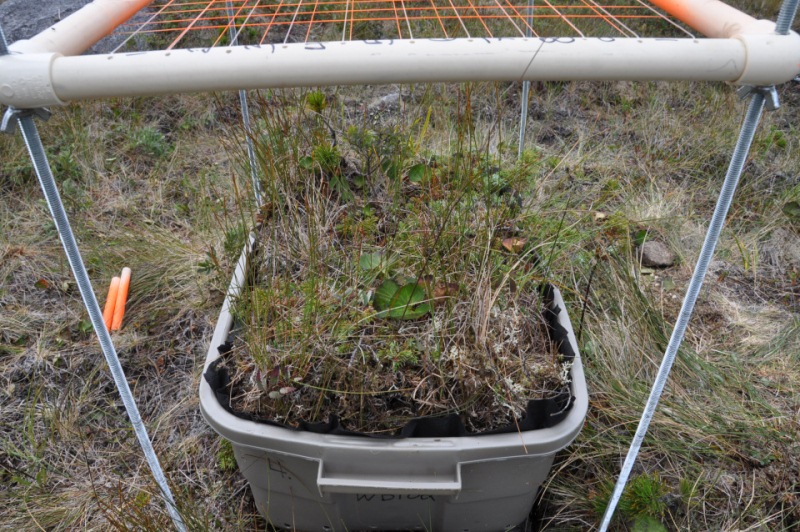 Blanket bog microcosm at Wolf Beach bog, Calvert Island.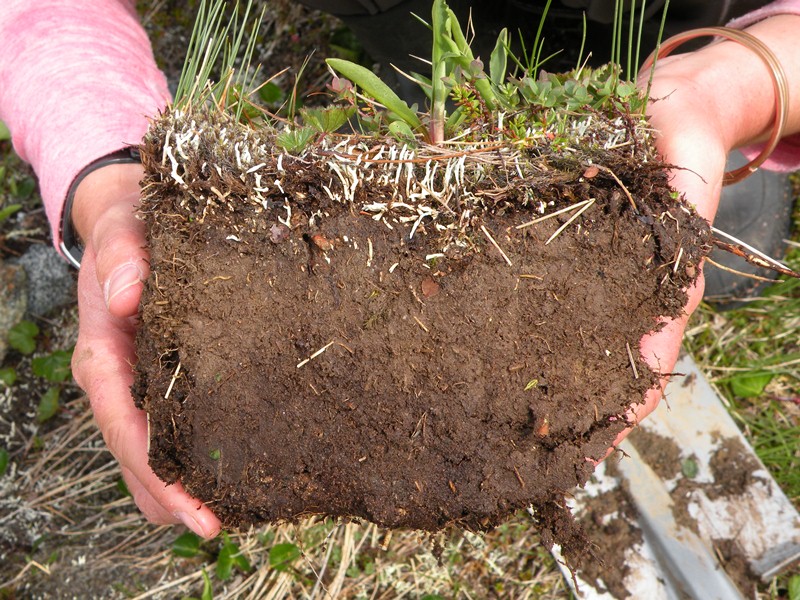 Soil pit on Mt. Buxton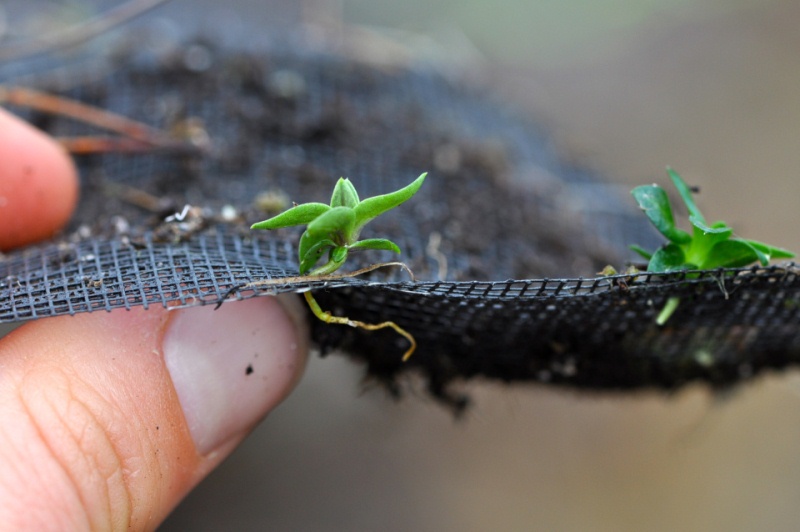 Measuring decomposition rates in the bog.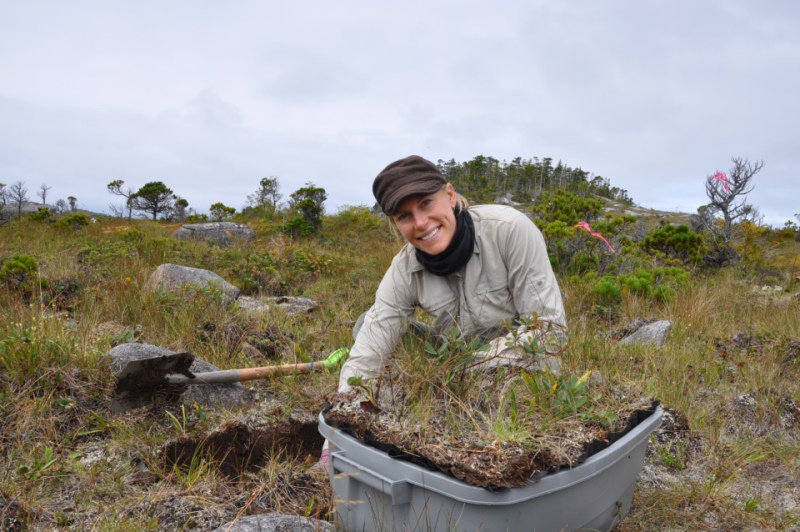 Twenty more transplants to go!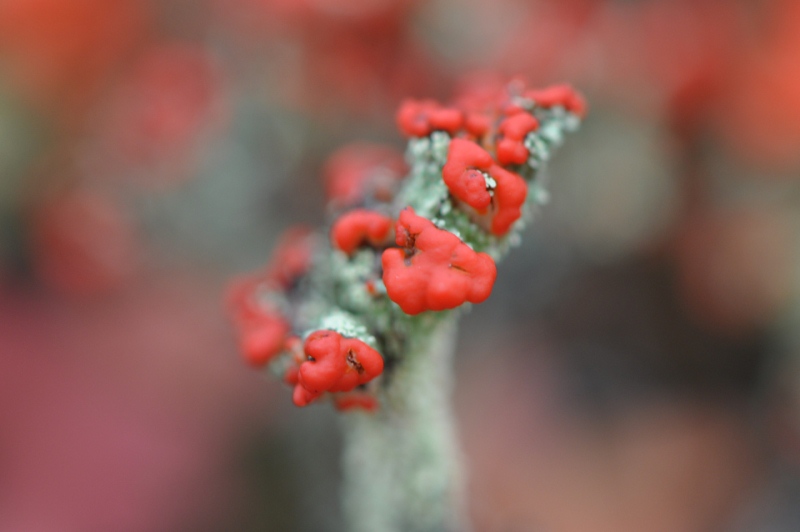 Lipstick lichen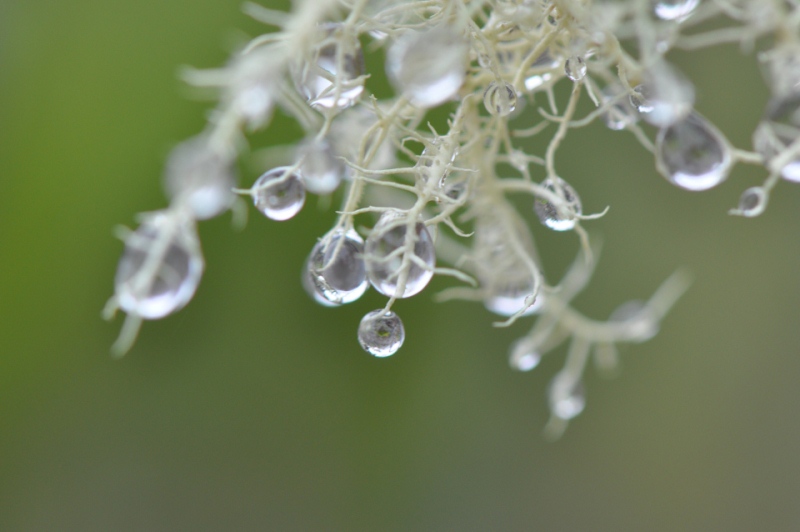 Reindeer lichen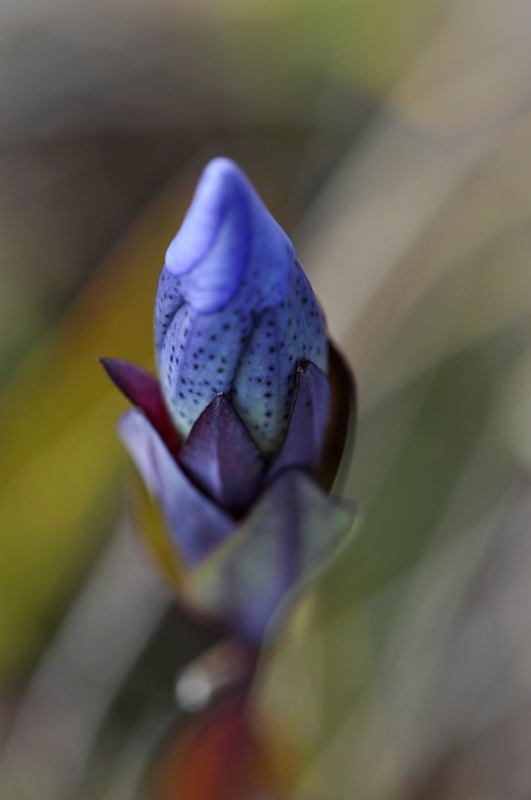 The king gentian, a blue beauty of the bog.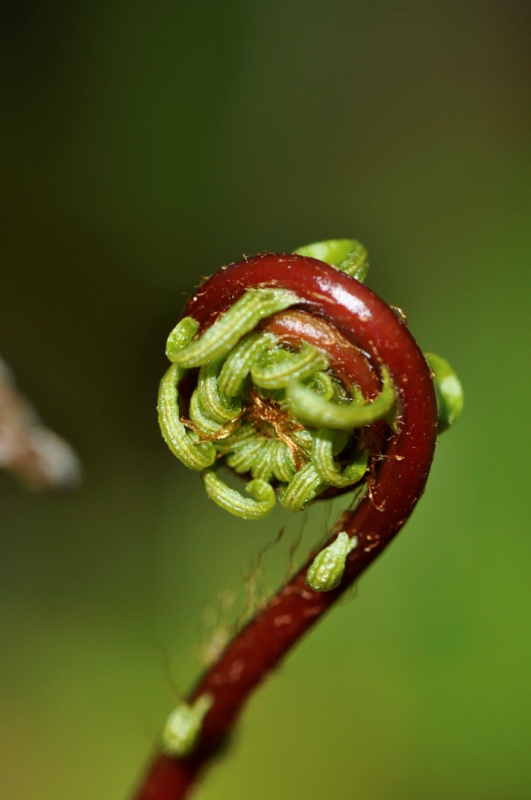 The fiddlehead fern, one of my favorite bog species.
As we break for lunch, we feel the wind pick up and the sun finally breaks through the fog. We all sigh a bit of relief as we're able to take the bug suits off long enough for a drink of water and a few bites of food. Just before we settle back in to work, we hear the sound of two humpback whales feeding in the bay – it's such a quiet place here that we can hear them blowing even though they're half a mile away. A few hours later, after an afternoon of measuring plants, we retreat downhill to the kayaks. The tide is high, and we're happy to find that we don't have to hike the kayaks far. By this time our stomachs are rumbling, and we've already started wagers on what will be for dinner tonight.
I've only been working here for two years, and at first I was out of my element on the coast – I didn't know how to drive a boat, and couldn't ever seem to find the right gear for day after day of endless torrential rain. Nevertheless, I'm learning, and I feel more and more that I've found a home. After a long day of tramping through the bog, it's always nice to get time to reflect on the paddle home before I share my thoughts of the day at the big dinner table. Mostly I think about how grateful I am for each day I get to spend in this place – and for all the wild places that still exist and the people who work to protect them.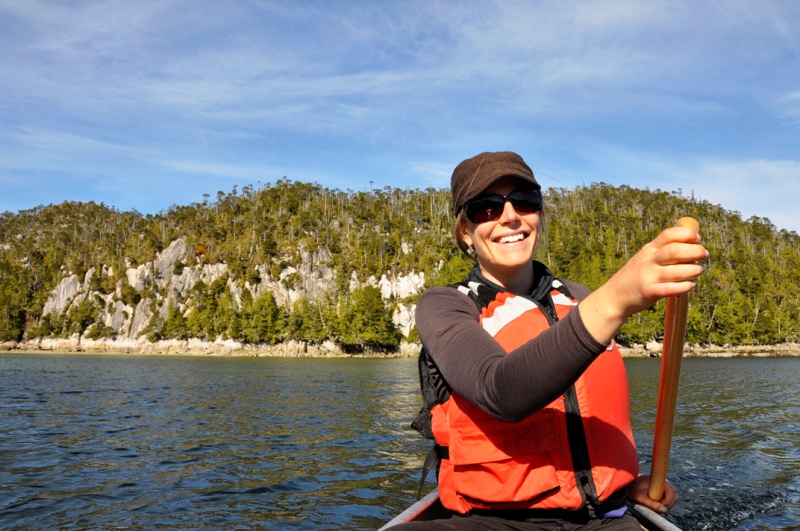 Looking forward to dinner after a successful day of sciencing.