The Dog House
Zack Smith shares a story about losing track of time while climbing with friends—and how precious memories become down the road.
In most places, late fall and winter bring real ice. In places like Rocky Mountain National Park, however, the ice sublimates and we typically grovel up snow-plastered rock. It's an odd obsession. It also leaves lasting memories. Here, Zack Smith, a friend of Patagonia and a talented all-around climber, shares some of those memories. Thanks to Zack for a great story that reminds us of the things we have to be thankful for. Happy Thanksgiving.
---
It is winter and I have plans to climb with Jonny Copp. Over a hurried phone call he tells me we'll hike "a ways in" and check out this "thing I've been thinking about." I list off a few classic Rocky Mountain National Park mixed routes that I would like to do but he firmly tells me that this will be good; this will be better.
A few hours later I'm sitting in my truck in an empty parking lot on the outskirts of Boulder. It's the middle of the night and every fiber of my body tells me that I should be asleep. Twenty minutes later a mini-van pulls in. There are two outlines in the van and I can tell the other one is Steve Su. Winter climbing in RMNP usually means steep, snow-covered rock with very little actual ice and Steve is an unknown master of this strange pursuit. All I can think is Good. Maybe I won't have to lead anything. Jonny jumps out of the van; all teeth, thick limbs, and big hair. He tells me to load my gear. He never mentions that he's late or that he invited another person last minute. I join the show and we drive north.
A few miles out of town Steve declares that we are almost out of gas. We turn around. All the stations are closed. They're closed because it's the middle of the night. People don't buy gas at this time because they're supposed to be sleeping. I should be sleeping. After a lengthy search we find an open station. Jonny and Steve haven't had any breakfast or coffee so we venture inside. The clerk has long stringy hair in random patches and looks more dead than alive. We stand outside under the bright fluorescent lights talking. The gas pump clicks off telling us the tank is full. The stories go on and the three of us face each other holding our scalding, weak coffee and sugary muffins. Jonny laughs the loudest and his eyes gather in the overhead light and reflect it back at us. He tells us about the last time he went into the Park this time of year. The day was too short and a late start resulted in an epic retreat in the dark and storm. Together, we laugh at the story. I look out to the eastern horizon, toward the flat nothing of the Midwest and see a sliver of light. I mention that maybe we should get going, but there is no other place in the world I'd rather be.
We continue driving with the slurping of coffee and constant babble. Jonny goes silent for a moment and I can tell he's fallen asleep. His head is a few inches from the blaring stereo speakers. The windy, lonesome road finally ends at the trailhead. It is light now and we start walking into the snowy forest. I have no idea where we are or where we are going and just concentrate on keeping up. Miles pass and we trade breaking trail and chat about the routes above.
Jonny leads us toward his imagination. It's an unclimbed wall split by a snow-choked chimney. The line angles right and terminates at the top of a slender spire. It's hard to tell if it will be climbable in these snowed up, barely-iced conditions and we discuss an easier line to the left. We kick steps to the base of the route on the right. It looks harder up close. A giant chockstone draped in pillows of snow guards the exit of the vertical chimney. We play rock, paper, scissors for the first lead. I am thankful to lose and Jonny, the winner, starts climbing. He scratches upward with a combination of dry-tooling and body wedging. The chockstone forms a massive roof and he takes his time. He swings methodically into powder snow and patiently waits for his ice tools to find purchase before he commits to the next move. The ropes dangle down through empty space to gear well below his feet.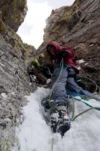 The day moves on in a steady rhythm. We equally share leading, belaying and seconding as the route unfolds. Every time the climb feels like it might end an edge appears to allow another few feet of progress. The daylight moves faster than we are and it's obvious the second-to-last pitch will be the crux. It's Jonny's lead again and he moves into the steepness with steady confidence. Never fast but never stopping. Over the next couple of hours the ropes move upward through my hands. We can't see Jonny so we listen carefully and observe a cycle. "Watch me," he says. The ropes go up a foot and a small stream of snow comes down. Then we hear laughter. This process of tension and release repeats itself until he reaches a ledge and builds a belay.
We finish the last pitch in complete darkness and take a few minutes to absorb the starlit view from the small summit. I reach into the pack for sustenance but only find empty wrappers and frozen water. My cheekbones ache and it takes me a moment to realize I haven't smiled this much in a long time. We rappel our creation and relive the cruxes as we pass them. The east is lit-up again with the glow of distant suburbs and we use it to navigate through the darkness toward home.
Hours later we are back to the world. We make phone calls to our worried lovers. We are late and they are mad at us. The voices on the phones are angry because they care. They want us back safe, nothing more. The three of us joke that we've been bad, having this much fun. The new route names itself. We're in the Dog House tonight, and it was worth it.
It's been a year and a half since Jonny Copp, Micah Dash and Wade Johnson went away. When your closest friends live a vagabond existence it's normal to go many months without seeing each other. But this is different. This is starting to feel permanent.
Winter is here again and I feel the familiar rush of excitement and anxiety. My climbing partners and I talk about plans for the Park but my focus wanders and I can't help but think, Please come home, guys, you're very late.