The Dread Pirate Andy
Sakeus Bankson
/
Mar 10, 2021
/
5 Min Read
/
Community
Genetics is a powerful thing.
Disturbing the peace is a Billipp family trait. It's what got farmer, blacksmith, skateboard-maker and hunter Andy Billipp into his first Patagonia publication, the 1992 Kids' Summer Catalog. Dressed in rubber boots and oversized Baggies, a 5-year-old Andy is poised with slingshot fully drawn and one eye closed as he aims into the forests near Oakland, Maine.
"I don't remember that exact photo," he says, "but I do remember having the slingshot and being a menace."
Being a menace is what also got him into our 2001 Kids' Summer Catalog as the grimacing, 8-year-old "Dread Pirate Andy," bouldering a doorjamb with a knife strapped to his belt. Patagonia catalogs, it turns out, are also a thing for the family. Both shots were taken by his father, Jim, and were just two of five Billipp images we've featured over the years. The third appeared in the 1994 Kids' Fall Catalog and depicted Andy's older sister, Kaete. With a doll tucked down the front of her Synchilla fleece, she's pulling a sled packed with ice-fishing gear. The fourth was in our 1995 Kids' Fall Catalog, of Kaete (dressed in the same Synchilla) playing ice hockey with Andy. Jim, a professional videographer and photographer, shot those as well.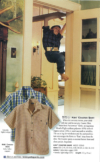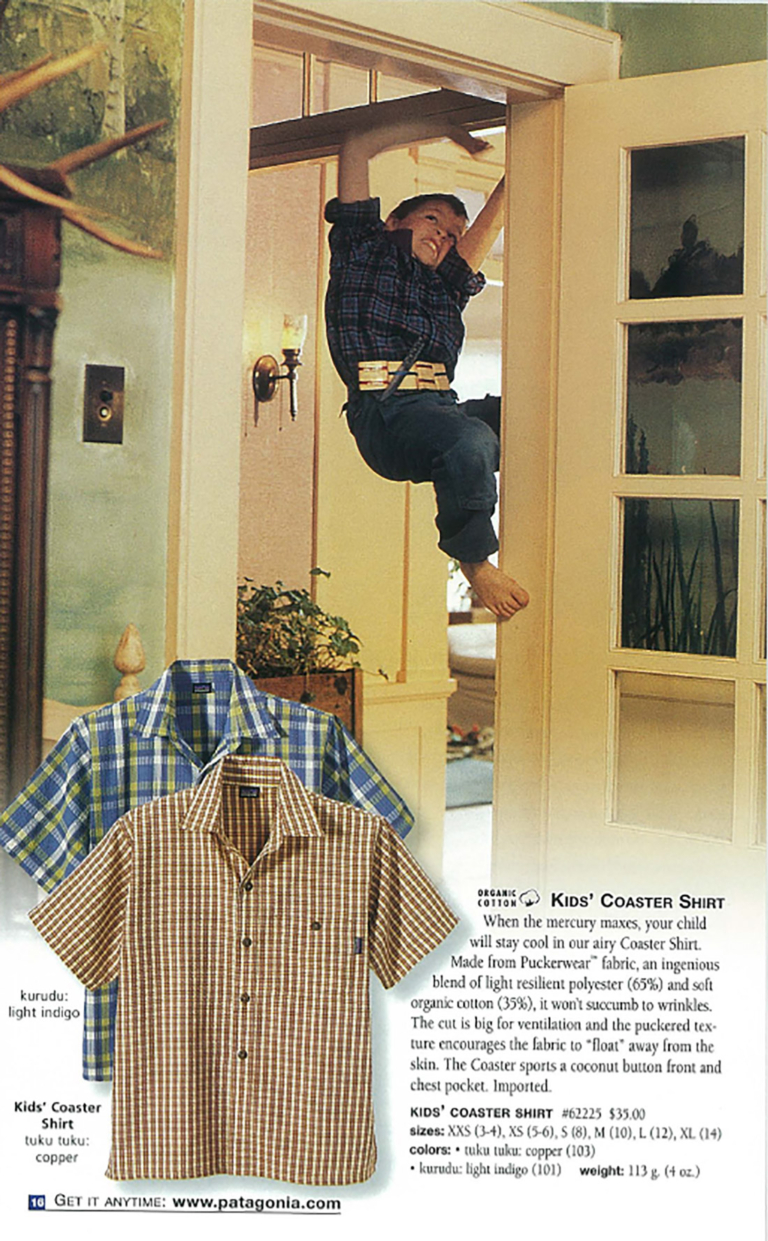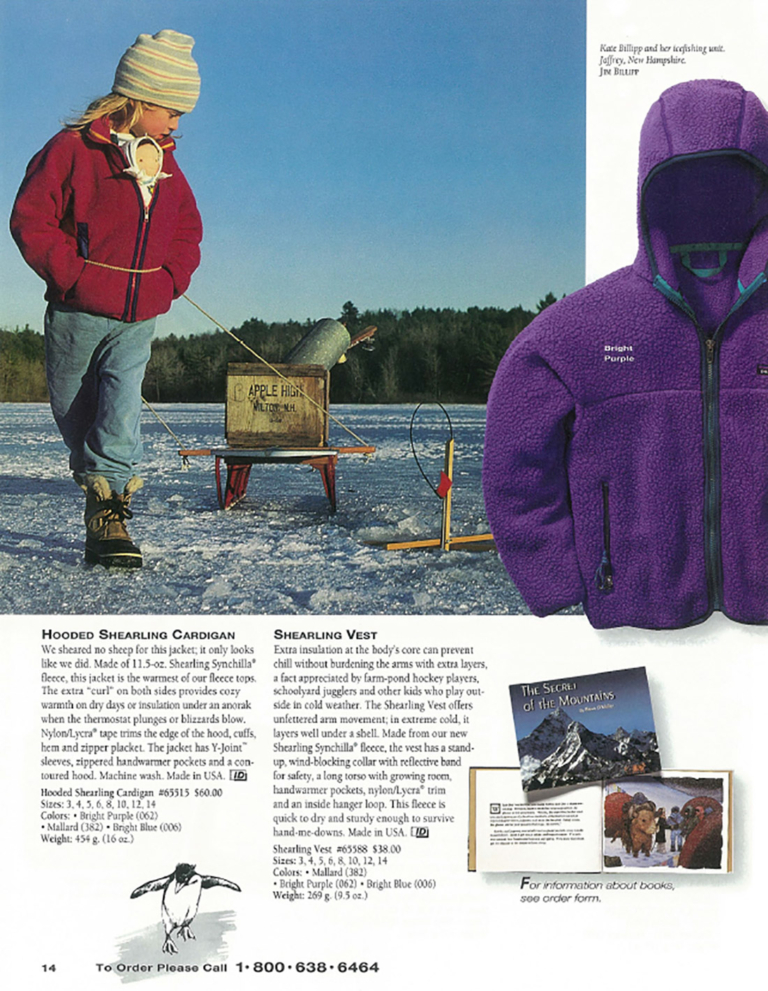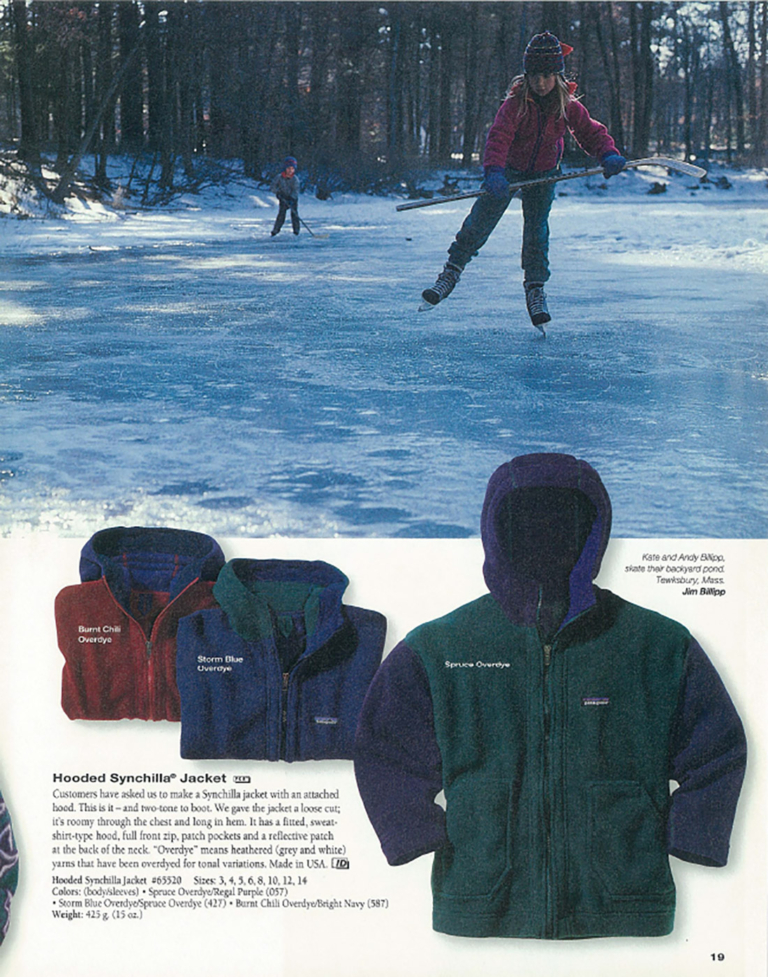 "It seemed normal that your dad would be setting stuff up for you to go climbing or take you backpacking to go fly fishing," Andy says. "That's just what we did. Fingertip pull-ups on doorjambs in our house was a thing. Crimp pull-ups were valued as far back as I can remember."
It makes sense, considering the first Billipp family photo to run in a Patagonia catalog was an image of Jim illegally climbing a 500-foot tower on the Manhattan Municipal Building. Taken in 1982 while he was working for the television station WYNC-TV, the climb was actually a follow-up to his 1981 summit of one of the Brooklyn Bridge's 276-foot-tall suspension towers. While that stunt got him arrested by the New York City SWAT team, the Municipal Building ascent earned him a segment on a local television show—and a spot in our 1985 Spring Catalog, after Jennifer Ridgeway, Patagonia's first art director and photo editor, saw a photo of the climb during an American Alpine Club gathering in New York.
Now 36, Andy and his wife, Haley, run Eddy Farm, a 60-acre, fourth-generation farm in Newington, Connecticut. The couple grow and sell chemical-free flowers and vegetables, raise free-range chickens and heritage pigs and make their own knives and wood kitchenware. Andy is also an avid hunter—the only meat the family eats is either wild game or from the farm.
"We're a really food-centered family," Andy says. "We always tell people that our house is 'kitchen-centric.' That's where we hang out. When people come to visit, that's where we are."
Andy and Haley have known each other since childhood, but it wasn't until Andy moved to Boulder, Colorado, in 2008 that they became anything more than friends. Freshly graduated from the University of Massachusetts, he knew only two people in the state: a climbing buddy and Haley, who'd also moved to Colorado after graduating from Yale. Like Andy, she was an avid outdoor and crafts person, having spent a year in Sweden learning traditional Scandinavian woodworking.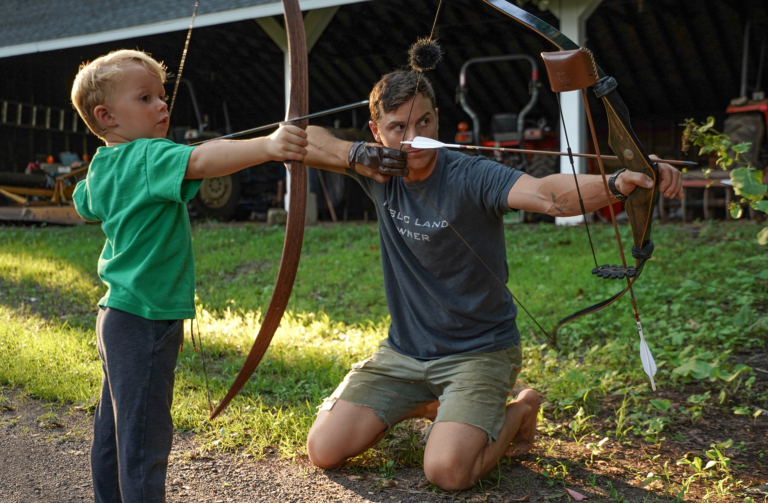 The two hit it off, and their house in Colorado became as much a workshop and kitchen as a living space. On top of his job at a recycled building supply company, Andy picked up blacksmithing while Haley worked at a local culinary school. It was also in Colorado that Andy started bow and rifle hunting and, in the process, became involved in public land access issues. He joined the organization Backcountry Hunters & Anglers soon after.
"There are some public areas on the East Coast," he says. "But go out West, and you're surrounded by thousands of acres of National Forest. That's a place where you can truly feel your freedom."
The West may have offered freedom, but it was kin—and flowers—that drew the couple back East. Eddy Farm has been in Haley's family since her grandfather, Roger W. Eddy, started it shortly after returning from World War II. Roger—a state representative, state senator, US Senate candidate, inventor of the iconic Audubon Bird Call and author—passed away in 2003. Haley's mom had been running it ever since but, in 2011, she passed it on to Haley and Andy, who were married on the steps of the sheep barn two years later.
On top of the farm work, Andy creates high-­performance chef knives by hand using traditional blacksmithing techniques (that he taught himself) and era-specific equipment (most of which he bought on Craigslist). Each knife takes five days to craft and sells for hundreds of dollars. He's now on the board of the southern New England Backcountry Hunters & Anglers group and has produced his own food, farming and hunting podcast called "Living in Pursuit." It ran for 10 episodes but, like the handmade skateboard company he cofounded with some friends, there wasn't time for everything. It fell by the wayside as he and Haley focused on their most intensive craft: parenting their two children, 5-year-old Karl and 6-year-old Marian. And while the kids may not be climbing civic buildings, they do plenty of peace disturbing of their own on the farm, usually with their parents' help. The kids shoot bows, rock climb and take "giant whippers" on the pendulum rope swing Andy built in their front yard.
"We're definitely not the most risk-averse ­parents. I wanted to raise fearless children, and I feel like it might have worked too well because they will do things that are terrifying to other parents," Andy says. "But learning and development happen right in that space between control and chaos. That's where they get better at things. But it's also where they fall and blast their teeth. It's how you end up in the emergency room."
As for the infamous slingshot photo? After nearly 30 years of knives, arrows, buildering and doorjamb bouldering, it serves as a reminder that disturbing the peace is still a Billipp thing.
"Now it's kind of family lore," he says. "It's framed and up in the house, and I see it any time I go home. It's just so perfectly who I was. And probably still am."