Listen to "The Earth Throne" Dirtbag Diaries Podcast Episode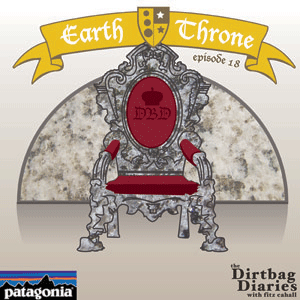 Fitz Cahall taps SNEWS Live podcaster James Mills on the shoulder for today's episode of The Dirtbag Diaries, which features Patagonia ambassador Timmy O'Neill and his brother Sean. From Fitz:
What defines you? Is it your past? How you look? I doubt it. It's the course we chart from dawn to dusk that makes us who we are. Seventeen years ago, Sean O'Neill – artist athlete and big brother to pro climber Timmy O'Neill – lost the use of his legs after jumping from a bridge into the Mississippi River. After the accident, Timmy dreamed about helping his older brother climb El Capitan. In 2005, the brothers decided it was time to act.

Reporter and podcaster James Mills brings us a story about two brothers, one very big cliff face and a 17-year-old dream. Sometimes climbs don't end with summits. They can extend on into our lives.
Listen to The Dirtbag Diaries:
Episode 18 – The Earth Throne (mp3)
Like what you heard? The RSS feed, subscription link to iTunes, and contact information for future story ideas are all available at www.dirtbagdiaries.com.
Paradox Sports provides inspiration, opportunities and adaptive equipment to the disabled community, empowering their pursuit of a life of excellence through human-powered outdoor sports. To learn more, visit paradoxsports.org.
For more from James Mills, visit SNEWS Live. James recently spoke with Patagonia ambassador Kitty Calhoun about great ice climbs being lost to climate change. Listen to that interview