Listen to "The First Time: Part 1" Dirtbag Diaries Podcast Episode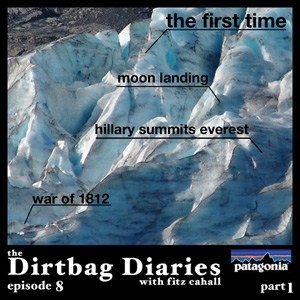 Getting started on Monday morning is always rough. Sometimes it's best to just put on the headphones, drown out the rest of the world, and get lost in a good podcast. From Dirtbag Diaries creator, Fitz Cahall:
I want you to think back to the first time you touched granite, rolled a kayak or linked ski turns. Whether you're pushing your sport to new heights or daydream about first tracks during your rush hour commute, those first experiences are something we all have in common. It probably felt a little daring, slightly awkward, but absolutely wonderful, and while the waves may get bigger, the routes bolder, they never get rawer. 

This week the Dirtbag Diaries brings you The First Time – stories about people's initial experiences in the outdoors. Instead of one big episode, we've gone ahead and split this week's broadcast into five parts. We've got some very special guests. Some you may recognize. Others, we are proud to introduce. Today we're going to start with the story of a 22-year-old coast guard ensign who finds his inner child in the Alaskan mountains and barely escapes.
Listen to the MP3:
The First Time – Part 1 (right-click to download)
Stay tuned for a week's worth of first-time stories from Fitz and his guests. Hopefully, one of the episodes will inspire you to share a first-time tale of your own in the comments section.