The Making of the Hoverboard Surfboard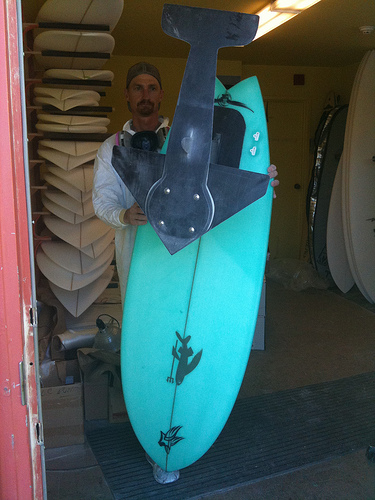 We posted some pictures on Flickr a few weeks back of a surfboard that Stru built during some of his off hours. We got such a reaction to the pics that we decided a Q&A with Dr. Strukenstein was in order. This interview was conducted over a three-week period, during which there were some highs and lows in the development and deployment of this magical board.
What was the inspiration behind the hover board?
Laird Hamilton was the inspiration for my project. I first saw the foil used in the movie "Laird" where he was towing into large waves at Jaws on Maui. It instantly reminded me of how pelicans glide inches above waves and I wanted to do it too.
The foil that Laird uses was taken from an air chair. Check YouTube under "air chair" and a guy named Geno to see what these things can really do.
Did you want to use the board for towing into waves?
No, I wanted to see if it was possible to paddle one of these things into a wave versus towing and I didn't want to use straps.
Why did you decide to build your own and how did you go about it?
The air chair costs $1,200-$1,500 which was too expensive for me, so I decided to build one by hand.
Sammy brought in an 18″ wedge fin built by True Ames. They no longer make this fin and it had a weird kind of box that I couldn't find so I made a box out of wood and then molded the fin to fit the box. From there, I glassed the box into the board.
Tell me about how you fabricated the foil.
The wing part of the foil is actually a hydro foil that is suppossed to be mounted onto the back of an outboard engine. I layed up a fin panel with the direction of Sam and cut out the body and tail wing of the plane. Then I foiled the body and tail wing to be aerodynamic. The wedge fin pierces the body and are glassed and reinforced with carbon fiber. The main wing was then bolted to the body with its original hardware.
How long did it take for this to go from concept to prototype?
It took me a long time to make (~8 months) because I'm really busy crafting Fletch's boards. I was working on it a little bit at a time but then we had a baby so I had to put it down for a few. I finally took it out for the first time last weekend. (November 2010)
So when you finally got it out, how did it ride?
After several horrible wipe outs, I started to get it figured out. It is kind of like walking a tight rope and riding a wave at the same time. It's super sensitive, so minor movements must be made to keep it in control.
So my initial design actually did work but I am in the process of glassing some stability fins onto the tail wing so that it won't spin out.
And you're able to paddle into waves on it and get it to plane? No straps?
Yeah, it is possible to paddle in and to surf it with no foot straps.
Can you control when it planes?
Yeah! I start out by driving a straight line, then by gently putting pressure on the back foot, it causes the air plane to take off just like a real plane does. Shifting my weight forward lands the plane. Again, I need to stress that the whole thing is really sensitive and not easy. If you add too much pressure, the board will fly out of the water.
I do believe that surfers will be able to try those crazy airs like Geno but first I have to practice more on just flying in a straight line. I caught a few waves on it before dark today and I'm getting more used to it. People are really tripping out on what I'm doing.
What's been peoples' reaction to this thing?
The main reason I'm doing this is to find out if it is possible to paddle-in and fly instead of using stinky jet skis to tow-in and not to use foot straps. I'm pretty excited because it's working even though no one thought that it would and it's cool to think I might be the first one to succeed at man-powered, hydrofoil surfing. A guy in the water said I looked like the second coming of Jesus Christ levitating like that. Pretty funny.
**Editor's Note: At this point in the interview I'd gotten word that there had been an "accident" with the hoverboard.
Tell me a little bit about the day that you lost the foil…
OK. Well, the surf the day before was pretty good. I had been attempting to ride the board in hollow surf but the plane would lift me up into the lip and cause me to get pitched everytime. I learned that these things cannot be ridden in the tube. They want to fly out on the open face. So, the night before the tragic "plane crash" I had glassed on two more little fins on the under side of the tail wing so that the plane wouldn't spin out of control. Needless to say I was excited to try it out again and feel what it would do.
The next morning, the surf had dropped but the crowd had grown because everyone heard about how fun it was the day before. So I was just sitting out there wondering why I was there. I came close to just paddling back in and going back to work without even catching any but I finally got a good one, angled down the line and lifted off.
Usually I would levitate a little too high and the plane would drop the board back to the surface, but on this wave I found the perfect elevation and just held it there, just like walking a tight rope, and flew almost the whole length of the wave. On the inside there's a lot of pesky ribbon kelp that I rode right into and then flew head over heels. I have done that a few other times and nothing happened to the plane. I didn't know anything had happened, so I paddled back out.
So when did you realize that something wasn't right?
Once I paddled back out. I was feeling under the board for any kelp caught on the plane – but the plane wasn't there. The plane weighs at least six pounds so it sank, along with my heart. Eight months of fiddling – gone. I told my friend next to me about it and he said that it's probably on the beach because it floats, right? Nope. It sank and it was still high tide. I told him to keep an eye out for it and then I ran back to work all panicked and told Robin and Sam that it was gone and that I was going to start a search party.
A search party? Awesome!
Yeah. I called the foam side and told Cyrus to rally everybody to go down there on their lunch at low tide. Obviously I wanted to find it before anybody else did and I was pretty confident that one of us would. The thing is heavy and it should just be laying there in the low tide exposed rocks. Back at the glass shop Sam said that he would go home to get his mask and snorkle. (Coolest. Boss. Ever.) I told him where I thought it would be in the rocks and he went down there and swam around for an hour and a half but he didnt find it.
While Sam was down there Josh calls and says he's at Point and that he heard that I lost the plane and asks me where he should look for it. It was starting to get pretty comical. Next, my wife and kids show up at the shop – "We heard you lost it…" – so they go down there too.
I finished up my hot coats and timed it just right to be down there at dead low tide. I suited up at the shop then ran down there. I started way down from the point just in case it had drifted down. I worked my way up to the rock out crop of the pipe where it was lost and then did a full-on grid pattern through the rocks but with no success. A few other guys showed up for another quick search but we all failed.
I went down there the following day and did the same search but didn't find it. Then I went again over the weekend in the rain and did a high and low-tide search with my son but we turned up nothing.
What should somebody do if they find the plane?
If anyone finds it, I hope that they bring it back to the glass shop. I should have written on the plane to return it to Patagonia if found but its all black with nothing to identify where it came from.
It could be anywhere from the pier to the top of the point at C-Street.
Is this the end of the hover board?
No. On the bright side, I have another foil coming in the mail that is made out of thin aluminum. It is also a different shape than the last one. All I have to do is make another body and tail wing, put it all together and then I should be flying again.