Nicolas Favresse's First On-Sight Ascent of "The Mad Brown"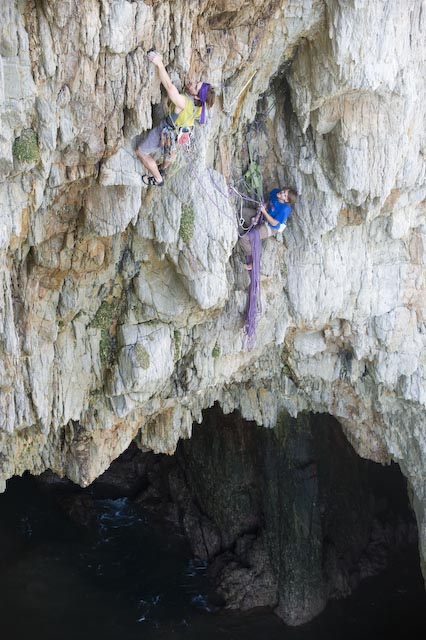 Down with The Mad Brown! Exciting news from Patagonia Europe Rock Climbing ambassador Nicolas Favresse*. Nicolas and partner Sean Villanueva O'Driscoll spent the month of May in Wales, and while there, completed the first on sight ascent of "The Mad Brown" (E7 6b [5.12- X], 4 pitches). In Nicolas' words:
I just wanted to share with you the super nice experience I had climbing in the UK. I spent 3 weeks with my friend Sean mostly in Wales and trying to learn as much as possible of their unique vision and ethic with climbing. We mostly trad climbed in Wales trying things ground up and on sight. It's quite a mind game with lots of time no room for mistakes but the mind process is unique and teaches you how to stay zen in any situations. It's a good skill to sharpen for the future [sic] projects!
The route, located in Gogarth, North Wales, is a choss-beast of stern proportions and is characterized by its exposure, angle, and loose flakes resembling–in Favresse's words–"overhanging cheese."
*Ed Note: Nicolas' complete Patagonia Ambassador information is available on our Patagonia Europe website. To view, select the European country and language of your choice from the drop-down menus that will appear after clicking this link to the Patagonia Europe Ambassador Page. Photos courtesy of Nicolas Favresse and Adam Wainwright.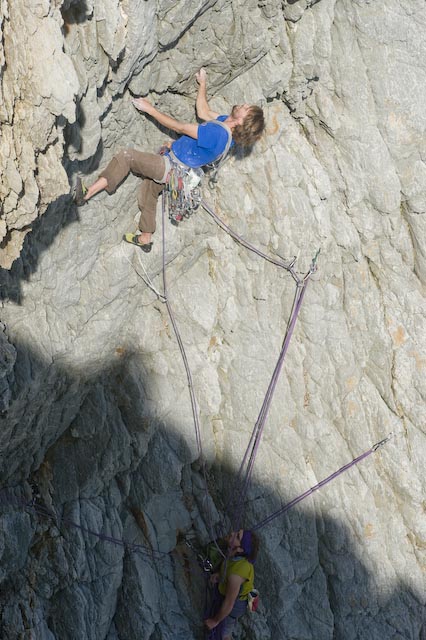 The route's difficulty has prevented a complete ground-up repeat since its first ascent in 1996 by Adam Wainwright and George Smith. Its proximity to the ocean, the long period of dormancy, and highly suspect rock presented the Belgians with some unique challenges. According to Alpinists' online newswire:
"The Belgians carried two full racks of cams and nuts to place as much gear as possible, knowing the poor rock would offer suspect protection throughout. Due to the proximity of the ocean, the carabiners left by Leo Houlding [second ascent attempt] in the pitons of the first anchor could not be removed. The Belgians, therefore, were forced to trust their lives to that rusting anchor. The second anchor was no better: two old, rusty ice pins pounded into mud."
Complete climb details and additional photos can be found on Nicolas' website, as well as these online climbing outlets:
http://www.planetmountain.com/english/News/shownews.lasso?l=2&keyid=36179
http://www.ukclimbing.com/news/older.html?month=6&year=2008#n44600
http://www.ukclimbing.com/news/older.html?month=05&year=2008#n44259