The Nose Wipe – Removing Trash from The Nose of El Capitan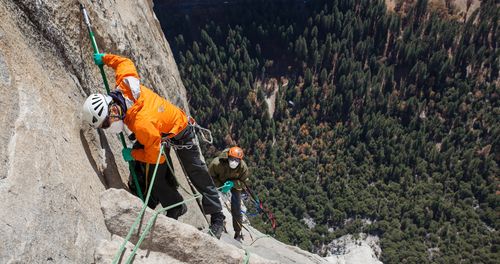 The yellow bag had been clipped in poorly and detached once I began hauling our supplies to the next station. (In climbing terms: the dry bag buckle was mistakenly clipped into the taut docking line and thus came loose when my partner lowered out the bags.) It was March and, fortunately, we had the wall to ourselves, otherwise the error could have killed someone. Our team was relatively inexperienced and also greatly relieved that we did not drop something vital, like a sleeping bag. Dark clouds lurked and when we finally reached the top we were pounded by a violent storm. We fought our way down the slippery descent in the dark, and somehow found our way to the Ahwahnee Hotel, where we slept on the floor next to a crackling fireplace. In the morning, we exited quickly, forgetting about the yellow bag debacle, and drove back to school without cleaning up our mess.
Yvon Chouinard sums it up well in the movie 180° South: "The whole purpose of climbing something like Everest is to effect some sort of spiritual and physical gain. But if you compromise the process you're an asshole when you start out and an asshole when you get back." Abandoning garbage on or around El Capitan tarnishes a coveted process and displays weakness in both character and style. I was an asshole for leaving a mess at the base of the sacred Big Stone.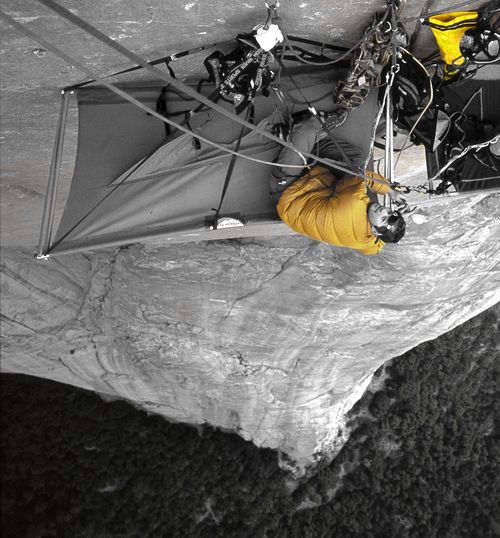 A few hours before our yellow trash bag fell off of The Shield. ©Dave N. Campbell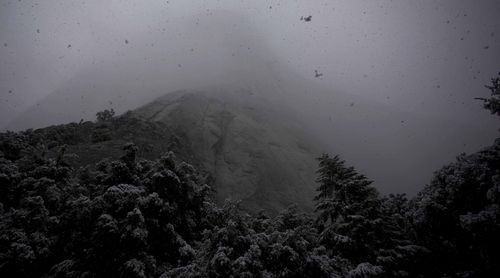 ©Dave N. Campbell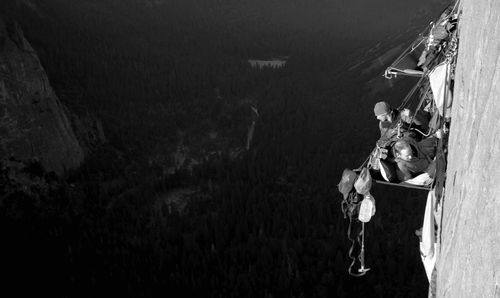 Autumn 2013
I've returned almost every year since those days on The Shield to climb a different route up the monolith, and this fall I teamed up with three National Park Service (NPS) climbing rangers to do something unique.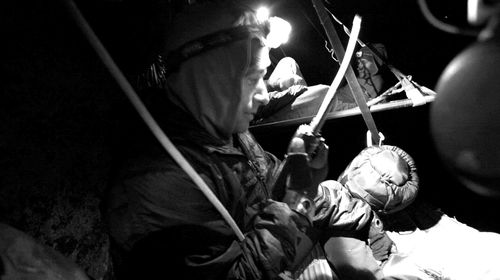 We climbed the Tribal Rite route and afterwards, instead of rushing down to hot food and warm showers, met with climbing stewards Cheyne Lempe and Buck Yedor on the top. Then we removed 120 pounds of waste from the upper corners of The Nose route and summit.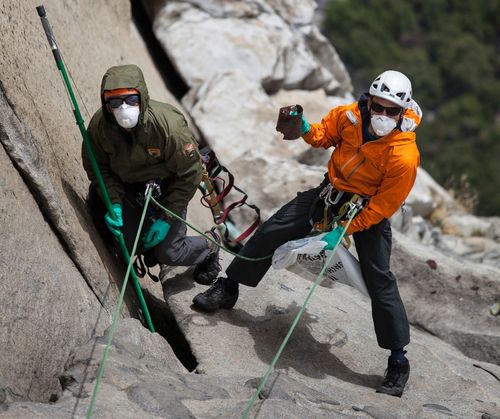 The Nose is the most famous climbing route in the world, and the most popular path up the 3,000-foot face of El Capitan. Each year, hundreds of advanced climbers travel to Yosemite from all corners of the world to give it their best – and many fail. The average ascent time is four days, and teams are often mentally and physically spent by the time they navigate the route's upper sections. Much like they do on Mt. Everest, a percentage of people compromise the purity of their journey by leaving garbage on the route.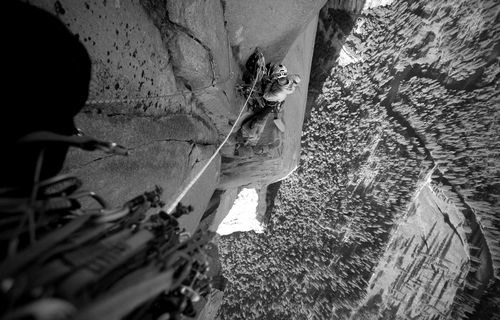 NPS climbing rangers and volunteers have been doing the annual Nose Wipe since 2006 to address this issue. This was my second year volunteering. We rappel in from the top with large empty bags and use a twelve-foot retractable pole to remove waste. It's clear that a lot of the debris was not intentionally abandoned. We found a Gore-Tex glove, sections of climbing rope, and last year pulled a $60 Black Diamond helmet from a deep slot 600 feet from the top.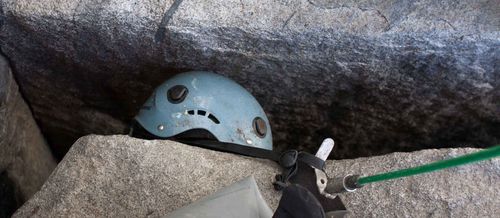 Anyone who's climbed The Nose will also confirm that there's plenty of valuable climbing equipment residing just out of arm's reach within the wide cracks on the first third of the route. However, most often we remove empty plastic bottles and aluminum cans. Some of the stuff smells like piss so we wear rubber gloves and face masks. Since the Nose Wipe began, hundreds of pounds of garbage have been extracted from cracks on The Nose, and we estimate that somewhere between 300 and 500 pounds remain.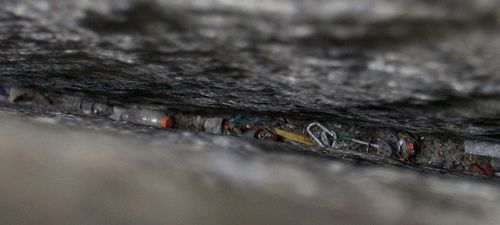 Ranger Ben Doyle spends a good portion of his work week doing operations in vertical environments. He patrols routes like The Nose regularly and heroically rescues injured climbers from difficult to reach places. In June, Ben climbed/patrolled both The Nose and the face of Half Dome in twenty-one hours. This required climbing more than a vertical mile of highly technical terrain, and is a feat beyond most people's comprehension. This was Ben's fifth consecutive year doing a Nose Wipe.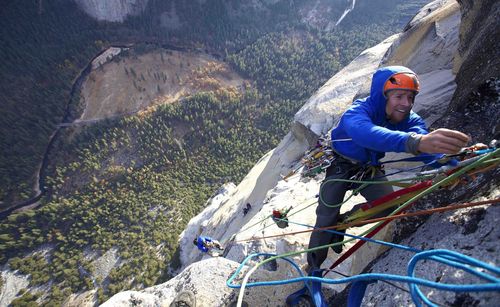 Ben refers to the Nose Wipe as a Sisyphean task, a reference to the Greek myth of a king condemned by Zeus for his misdeeds. According to the myth, the king is compelled to roll a giant boulder up a hill, only for it to roll back to the bottom once he reaches the top, thus requiring him to repeat the process for eternity. Every year, climbers leave behind garbage, and it's hard to stay on top of the problem.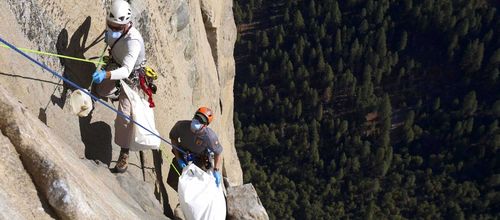 However, we are curious to see what will happen if we remove 100% of the garbage from The Nose in one go. The most problematic area is the slot behind the Camp 6 ledge, 600 feet from the top. It's like an archeological dig up there because we're uncovering garbage from different generations as we hit the different layers of compact waste. This season we removed several bleach bottles – apparently climbers used them for storing water during the '70s, before you could buy water and soda in two-liter plastic bottles. If we restore The Nose back to a pristine condition, maybe future climbers will be more inclined to give it the respect it deserves.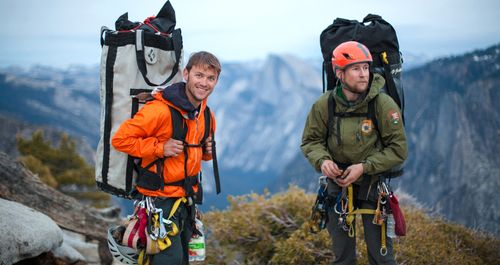 I find myself circling back to Yvon Chouinard's quote. Although climbers are physically ascending something tangible, there's also a metaphysical transformation taking place, leading toward spiritual growth. However, this process is compromised if we disregard our environment. Perhaps YC's words show us the true Sisyphean task, because there isn't much difference between perpetually rolling a rock up a hill and climbing a mountain if neither produces the desired result: to not come home the same asshole we were when we started.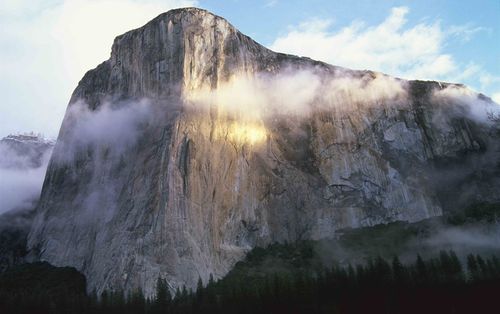 ©Dave N. Campbell
Our sport is rapidly changing, with a huge new demographic of urban climbers emerging from gym to crag. We must continue to step it up as environmental stewards if we wish to maintain access to these majestic places. Otherwise, we may as well glue feathers to our backs and head towards the sun with Icarus.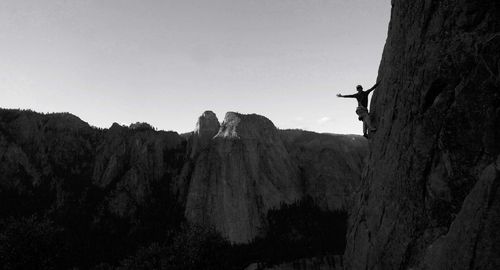 Dave N. Campbell is a Pro Sales rep for Patagonia and teaches wilderness survival classes at Truckee Meadows Community College in the evenings. He holds a BA in Chinese and has spent extensive time in the mountain ranges of China. In 2011, Dave worked on a Panda restoration project in Sichuan with The Nature Conservancy and last summer he led a ski/snowboard mountaineering trip in the Tianshan Range of Xinjiang. Earlier this year Dave worked with Sean O'Neill on the first parapalegic lead climb.