Nico Favresse on the One Move He Couldn't Do
Nico Favresse
/
Jun 03, 2010
/
5 Min Read
/
Climbing
Patagonia Climbing ambassador Nico Favresse headed to Baffin last year with fellow ambassador Sean Villanueva O'Driscoll to see what they could see – maybe climb a few things. They returned with killer images and a sack full of first ascents and notable repeats of huge granite lines in a landscape seldom visited and even more rarely climbed (original post here).

As a follow-up to the trip, Nico dropped this nugget in our inbox – an account of his attempts to free one of the more rugged climbs: The Belgarian (5.13 A1, 850m) on the west face of Mount Asgard's South Tower. The climb was completed in 11 days, big wall style, with one aid move. Our palms are already sweaty after checking out this trailer for their movie, "Asgard Jamming." Nico's essay gives us a better idea of the wrestling match that went into that one move standing between him and freeing the route. Read on for the report and pick up a copy of the full film online at www.nicolasfavresse.com or www.xpedition.be
Here's Nico
____________________________
I have been blocked here already for at least one hour, hanging on the very tip of the sharp end at more than 600 meters from the glacier. I am looking for any weakness of the rock. Maybe it will go here, and if not maybe I can lower and join another crack system by traversing on the face. Here where I am it's hard, that's for sure! But my instinct tells me there is something; a possibility is hiding behind these microscopic crimps. I analyze the sequence, imagine a solution and here I am going for it again. My fingers crimp with all its strength and I throw myself again at it hoping to have some kind of new sensation… GGGRRRRR!! I dyno, I see the hold, it's getting closer then… It's going away again, I fall… the nut holds.
Oufff! Now I feel that I am getting really close to succeeding. Here it goes. Now I am sure of it. I am motivated, I love this research, the unknown, a problem to solve but at the same time I couldn't describe exactly why. It's a very powerful feeling a bit like if I was getting in contact with the elements, like if the rock had been created for the unique reason that someone would come one day and free it. It's like giving birth to the rock. If I can witness this, I have the feeling to receive a huge privilege from the earth.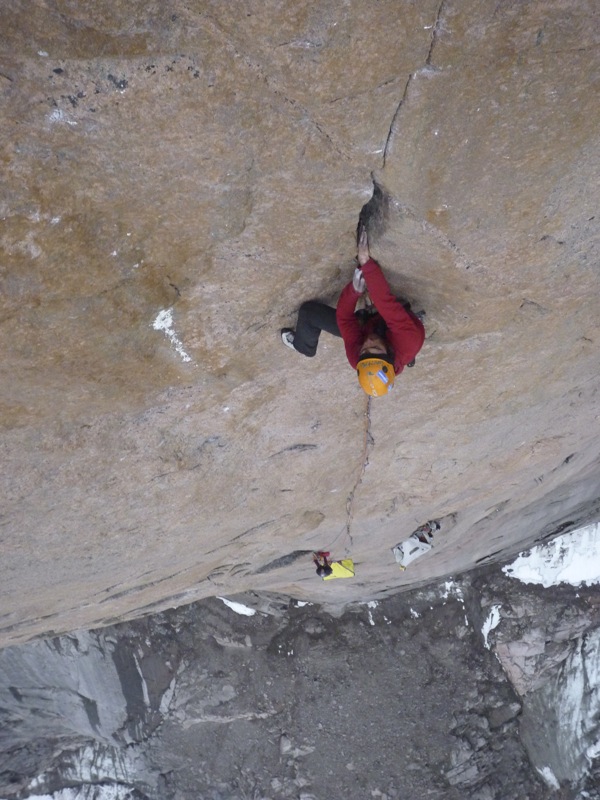 But with fatigue and the perspective of failure, my head has a hard time fighting against getting trembled by existential questions. " What am I doing here?" I look for some logic but in the hardest moments I can see so little of a rational answer to justify my action. " Does it have any sense to spend so much energy in something that brings nothing to the society, my family, friends, etc…?" " Am I egoist?" " Does the world need me?" I think it's important for me to listen to these questions because it's what I feel. Or… "Are they only there, just like the voice of the devil that takes advantage of my weakness and destabilize me?" "Are they a sign of my mental weakness?" Fortunately, when I take a look around me all these questions disappear in front of the beauty of the landscape. I would never want to be anywhere else in this world right now. I love this. That's it. I feel it. It's in my skin.

I could "simply" pull on my protection and keep going to reach the summit now, instead of waiting for me to do this move. But we decided to play with our own rules. We are trying to free this line and it's in this exact moment that I absolutely need to resist from this temptation. If we weaken now, our ascent would lose in me a great share of its value. This move holds for me now all the mystery of this route. I want it so bad. It weighs so much. And when I will get it, I know, it will give an even greater satisfaction.

We worked so hard to be climbing all the way here. We hiked non-stop for 3 weeks ferrying loads over the 60 km that separate Mont Asgard from the entry of the Weasel Valley, plus all the logistic preparation for 45 days in total autonomy. We have dreamt of this wall for so long. We have dreamt of being in these exact moments. So now our faith has to stay strong.

After 3 hours of intense research of rock weaknesses, the tips of my fingers completely trashed by the micro crimpers, a solution appeared to me. Just like if god finally opened a door, I finally discover the secret of "the move" which is at the very limit of my strength. But that is just "the move." After a few attempts to redpoint the whole pitch , I realize that executing this move with a bit of stamina is even way more difficult. It's the last link missing in order to succeed the ascent all free of the West face of Mont Asgard South tower. I want to go beyond my limits, give everything and even more. If I did it, it would be so perfect! Despite all my efforts and a tons of optimism, I have to face reality: This pitch is too hard for me now. I am obliged to kneel down in front of nature and admire its strength.

Up to now, it already offered us a few miracles. Almost in each pitch, it was the question mark whether it would be freeable or not. Many times, the possibilities were very subtle providing us a bunch of very sustain pitches and plenty of emotions. Plus the best thing now is that I know it's possible. I just need a bit more strength. Now I have a good reason for dreaming about getting stronger.
Happy climbs
Nico
[Above – Sean taking a rest in the hand jams of the incredible pitch 6 of The Belgarian. Photo : Nicolas Favresse.]