The Princess Cruise – Kate Rutherford and Madaleine Sorkin Free El Cap's Freerider
Kate Rutherford
/
Jul 08, 2010
/
2 Min Read
/
Climbing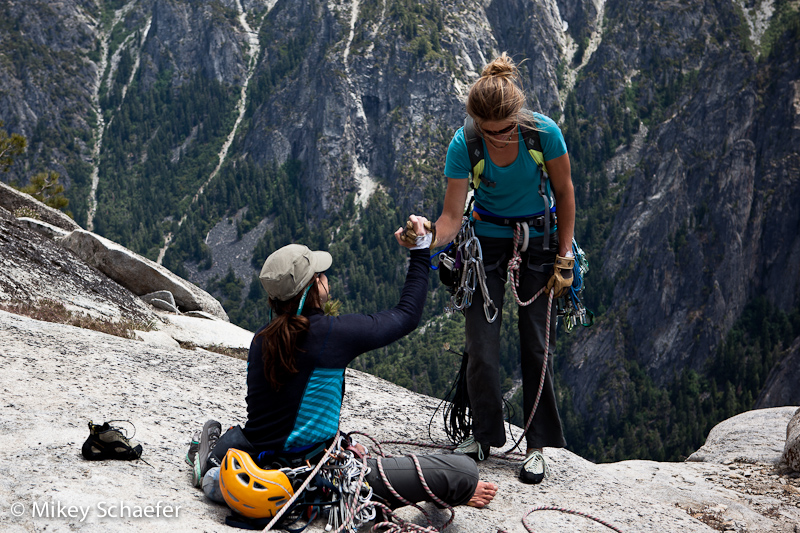 I have approximately 30 bruises, I tried to count them but some blend together, and five gobbles (cuts or abrasions from the rock): one on the ankle, one on each shoulder, a small one on my hand, and a tiny one on my wrist. I feel like I fared pretty well on that huge physical endeavor called Free Rider.
Editor's note: Patagonia ambassador Kate Rutherford and Madaleine Sorkin recently spent five days climbing The Freerider (VI 5.12+), a 3,000ft. route on the Southwest face of El Capitan. Kate shares her take on the climb here with photographs by haul bag maestro, Mikey Schaefer.
Five years ago, I thought freeing El Cap was an impossible goal. The huge scale, logistics, and physicality of freeing a big wall seemed beyond me. Over the years climbing started feeling easier, I spent more time on big routes, and Madaleine and I built up our endurance together on long routes like Moonlight and the Northwest Face of Half Dome. Alpine climbing in Patagonia helped me understand huge objectives, and I learned to break down my intimidation by just focusing on one pitch at a time, just doing the task at hand.
We started up the Free Blast early on a Monday morning, planning to spend the five-day work week on the Captain. That's a long time, but even though we had rapped in from the top to figure out the harder pitches we knew we would need time to rest our bodies and use the shady parts of the day. The first day's Free Blast went pretty smooth, the slabs a bit slow, but soon we were down-climbing and then it was up the Hollow Flake and home for the night on Hollow Flake ledge.
Waking up on day 2 we were stiff already. We crawled into the Monster Crack, successfully wiggling our bodies up the seven-inch fissure (take two #6's for this one). Photographer Mikey Schaefer met us at the Alcove and helped haul our bags to El Cap Spire for a beautiful bivi.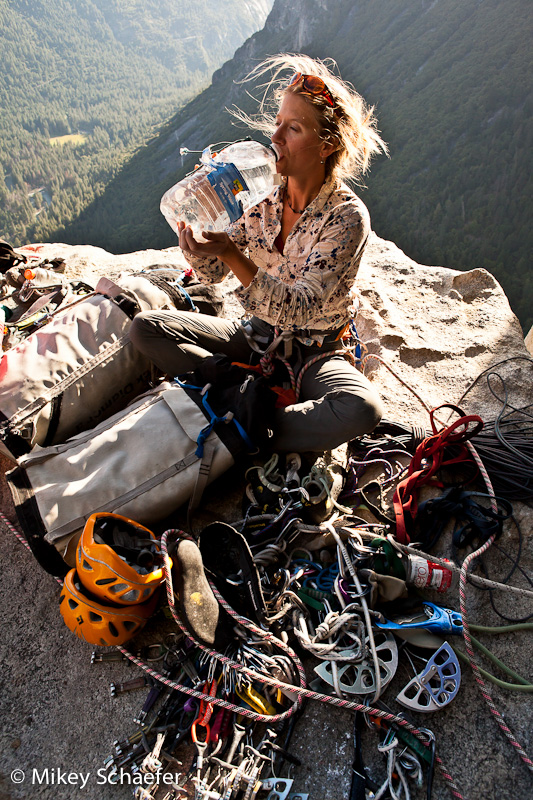 ———————————————————————————————
For more posts from Kate, plus links to her artwork and beautiful suspended stone jewelry, visit KateRutherford.com. Mikey has more photos from the climb at Mikey Schaefer Photography and you can read Madaleine's side of the story over at her blog Mad's Adventures. Cheers to Kate and Madaleine for a great climb.