Listen to "The Shorts: Balance" Dirtbag Diaries Podcast Episode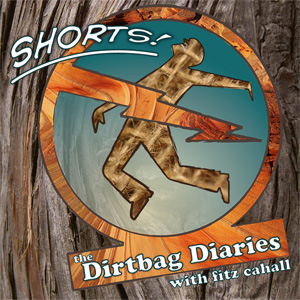 The Dirtbag Diaries is on the air with another Shorts episode this week. Host, Fitz Cahall, also wants to hear your scary campfire tales for a special Halloween episode — details below. From Fitz:
The Bohrer clan isn't your average Idaho Falls family. "Our neighbors have trampolines to break neighborhood children's ankles and wrists. We've installed a slack line for that purpose," writes father of five, Steve Bohrer. Juggling goals in the mountain with parenting is no simple task. Sometimes balancing competing passions requires combining them into a lifestyle. After all, whether you're old or young, everyone likes to play hooky if there is snow on the hill.
Listen to The Dirtbag Diaries:
The Shorts – Balance (MP3 – right-click to download)
Call for submissions: Know a story that will leave me quaking in my sleeping bag? This Halloween, the Dirtbag Diaries presents "The Night of the Living Dirtbag." We'll take your tales of terror and horror and produce them into a blood-chilling fright fest. Campfire ghost stories? Creatures that go bump in the night? Urban Myths? Scare me. I dare you.

If your story is selected for the show, you'll win a hand-printed, one-of-a-kind sweatshirt from our resident artist — Walker Cahall. Submissions must be received by Monday, October 20th. Click Here to send us your submission.