The Writing on the Wall: The Fragility of Cave Paintings and Nature
Amy Irvine McHarg
/
Sep 29, 2011
/
4 Min Read
/
Activism
Amy Irvine McHarg is a beautiful writer. We asked her to write a post about what she cares about and to remind the readers of the Patagonia catalog to look for her essay "Seeing Red" in your mail soon. "Seeing Red" is one of a series of essays written by fine writers as part of Patagonia's current environmental campaign, Our Common Waters.
From Le Midi-Pyrenees region of France, September 2011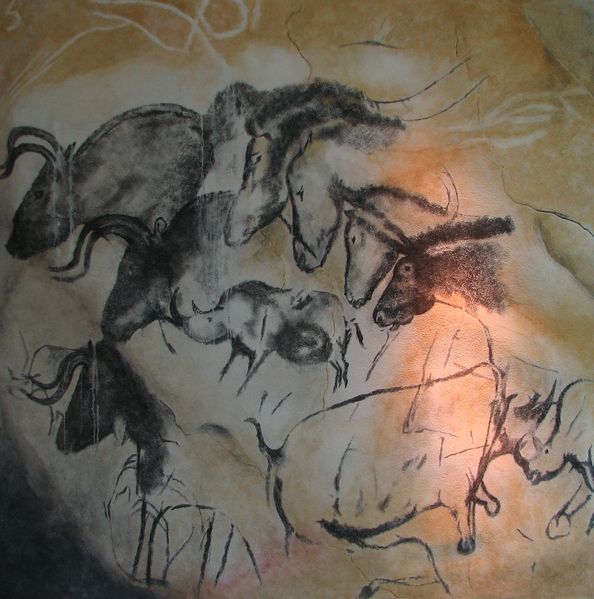 [Painting from the Chauvet cave. Photo: HTO, via Wikipedia, used under Creative Commons license.]
I am standing in a cave that one enters from a steep and riotously lush hillside in the southwest of France. I have been to this region before, then as a nomad climber, to scale (or flail on) its steep and sublime walls of limestone. This time I am here to explore beyond the surface – a kind of descent in place of ascent – into subterranean concavities opened up over millenia by the persistent passage of water. Come to think of it, the process is not unlike how the finest one-finger pockets, or mono doigts, were created on the exterior walls – that is, if you don't count the ones drilled out by climbers who fancied themselves, debatably, as great sculptors of stone. 
Here in Grotte de Niaux, there are paintings of animals that undulate on walls, shimmer in shadows. Horses, bison, and ibex move as if they are emerging from some other, even more interior, kind of realm. About the master craftsmanship of such ancient paintings, dated back to the Upper Paleolithic, Picasso said something to this effect:
Since then, we have learned nothing. 
In Les Grottes des Gargas, there are the same animals, some of which are partially obscured by the more recent seepage of mineralized water. These white shrouds of calcite deposit intensify the beasts' otherworldly effect; it's as if half their bodies are still behind the veil of which mystics have spoken. Later that evening, fueled perhaps by the vin de blanquette that accompanied a late dinner, I will dream of hooved animals and it will indeed feel as if the creatures have come from another place – far more foreign to me than the Old World of Europe.
The French caves of the Paleolithic are endangered. The simple presence of admiring humans – our mere breath, and the lights we shine to see our way – has greatly jeopardized both the calcite formations as well as the prehistoric artwork. In order to preserve what remains, many of them have been closed to the public or offer access only under very restricted conditions. 
We know now: It is the nature of dealing with a very fragile environment. 
In every way, this place seems nothing like the Desert Southwest in the U.S., the red, raw, and aridly barren topography that is my homeland. There, everything is exposed. Nothing feels verdant. And yet the principle architect of it, too, is water – which has carved many of the sinuous, sensual landforms. And without the rare rivulets of melted snow that flow from the region's island mountain ranges, into the Colorado River and its tributaries, here there would be no life at all. 
In this desert one also encounters the idea of emergence: Early people carved on the burnished sandstone walls both animals and humans coming through a sipapu, the Hopi word for a passage leading from one realm to another. In particular, one petroglyph scene in southeastern Utah shows many beings – deer, birds, bighorn sheep, and people – coming into this world, the Fourth World, from the Third. To gaze at this panel is to grasp the spectacular sense of interplay and connectivity between all living things.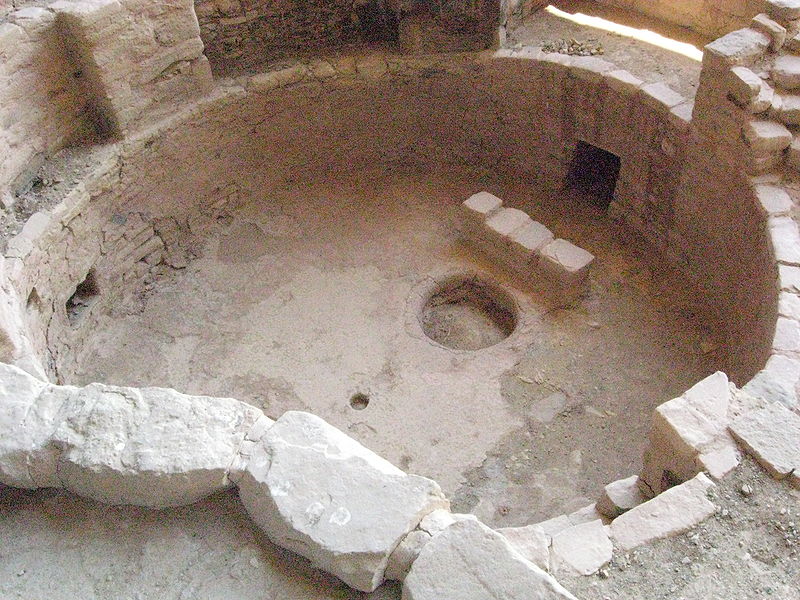 [A sipapu. Mesa Verde National Park. Photo: Wvbailey via Wikipedia, used under Creative Commons license.]
We must begin to think about the Desert Southwest in the same way we have come to think of the les grottes francaises. At this point, it may be pointless to point the finger at those people whose activities we deem the most harmful to it. It may well be that it is simply our presence, in such numbers, that is causing the delicate red soils to blow up and away – only to land on and smother the very mountain snowfields that water the desert and its inhabitants.   
At home and abroad, we are in the thralls of our own emergence, stumbling forward into a time of climatological uncertainty. We are many, most likely too many, for the more delicate landscapes to sustain.  
Let's hope we have learned something: That we must move into this new realm, defining our watersheds not only as snowpack and reservoir levels, but also as a lack thereof. 
The writing is on the wall. How then, shall we interpret the signs?
Amy Irvine McHarg is a sixth-generation Utahn, wilderness advocate, and former climbing bum who has exchanged her crag sack for a kid-toting backpack. Her last book, Trespass: Living at the Edge of the Promised Land, won the 2008 Orion Book Award. Her forthcoming work, Terra Firma, will be published by Counterpoint Press in 2012.