There's More Than One Way to Give: How We're Taking Action
Jeff McElroy
/
Nov 21, 2018
/
8 Min Read
/
Activism
For almost 40 years, Patagonia has supported grassroots efforts aimed at defending our air, water, soil and wild places. But in this time of unprecedented threats, it's often hard to know where to start. We launched Patagonia Action Works in 2017 to connect individuals directly with our grassroots grantees—to make it that much easier to get involved on the most pressing conservation issues facing the world today. Already, the platform has helped facilitate over 9,000 hours of skilled volunteering and more than 160,000 petition signatures, event RSVPs and other actions on behalf of grantees. We reached out to four grantees to learn more about how they've used this tool to be more effective and do more good.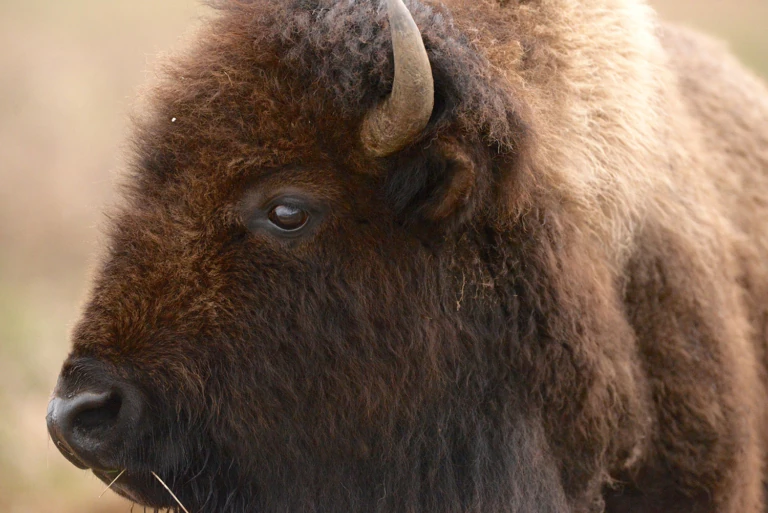 Defending the Last Wild Buffalo—Skilled Volunteers Answer the Call
In the particularly brutal winter of 1996-97, the Montana Department of Livestock killed 1,100 Yellowstone buffalo as they migrated out of the park in search of food. Their stated motive: to prevent the transmission of brucellosis from bison to cattle. Even though the disease has not spread from buffalo to cattle in over a century, the killings continue each year the buffalo step outside park boundaries. One ironic fact: Brucellosis was introduced to North America by European cattle.
In response to that 1996-97 massacre, Lakota Elder Rosalie Little Thunder and video activist Mike Mease formed Buffalo Nations (now Buffalo Field Campaign, BFC) to stop the slaughter and harassment of Yellowstone's wild buffalo herds, and to protect the natural habitat of wild free-roaming buffalo and native wildlife while working with people of all Nations to honor the sacredness of wild buffalo. For 22 years, volunteers like Justine and Roman Sanchez have not only used policy and advocacy to help protect the buffalo, they have also lived in tepees in the Greater Yellowstone bioregion through "50-cord" winters, waking each morning to watch over the only herds of genetically intact, nondomesticated and continually free buffalo on the planet.
This kind of frontline work means that BFC doesn't always have the proximity to or resources for the capacity-building help they need. Through Patagonia Action Works, however, they were able to connect with skilled volunteers to create two powerful billboards in the Greater Yellowstone area, an educational slideshow for anyone to share on any device and multiple new graphic designs for the Buffalo Wild Certified program and Protect Our National Mammal materials.
Catchafire, a platform designed to link talented folks looking for meaningful pro-bono experiences with social good organizations, has helped BFC find strategic and specialized help, which allows them to spend more time in the field–where they can most effectively protect the buffalo.
"We put out a call for graphic design and matched with Steven from Los Angeles, who had done executive summaries for corporations," says BFC's president of the board of directors, Justine Sanchez. "He took his skills and made our scientific and legal paper look exciting … we got thousands of individuals and organizations to sign on. In-house, we didn't know how to do this. We're out in the field and Catchafire gives you the ability to network with folks in this realm. Fifty-nine thousand dollars saved, it's really incredible."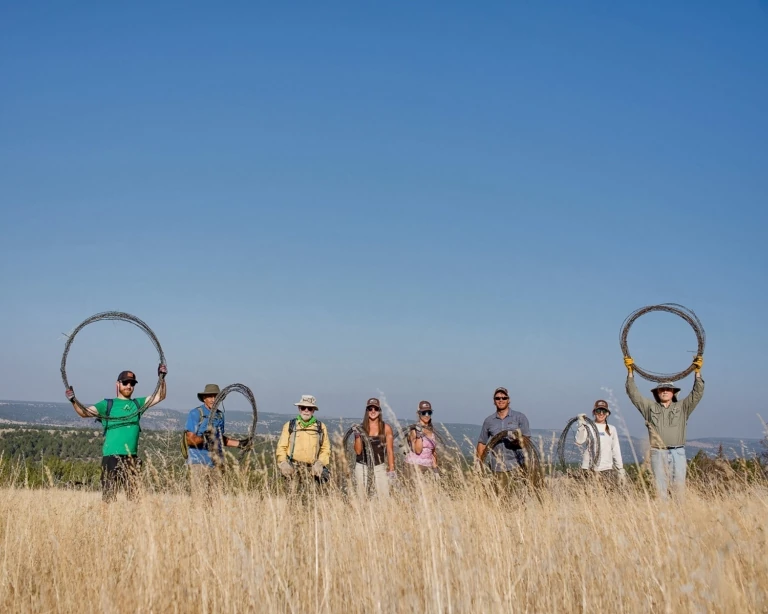 Defenders of the High Desert–Driving Attendance at Events
 Around the turn of the nineteenth century, legions of homesteaders and stockmen spilled blood and sweat putting up many thousands of miles of barbed wire–the devil's rope–across the West to keep cattle from trampling crops or else wandering off into the sunset. Today, many of these fences still fragment Oregon's high desert, no longer serving their original purpose of fencing cattle out of private property or other sensitive areas. Rather, they obstruct the seasonal migration routes and divide the habitat of bighorn sheep, pronghorn antelope, elk and the greater sage-grouse. In 2017, the sage-scented plains on Steens Mountain saw a new legion of folks armed with post pullers and fence tools fan out upon the land. These members and volunteers of Oregon Natural Desert Association (ONDA) also spilled blood and sweat, but their mission was different: to remove the final miles of obsolete barbed-wire fences from the only wilderness area in the country where livestock are not permitted.
 Oregon Natural Desert Association is the only conservation organization dedicated exclusively to preserving Oregon's high desert. With public lands squarely in the crosshairs of those who would tarnish these wild and scenic places for industrial-scale energy-development profits, ONDA's mission is more important than ever. Their boots-on-the-ground fieldwork, combined with legal efforts and public lands advocacy (ONDA advocates sent more than 3,400 messages in support of public lands protection policies to their elected officials in 2018), can only be sustained by a large volunteer base, which is why ONDA has connected with Patagonia Action Works.
"Like most nonprofits, we're always working on reaching new audiences," says ONDA's outreach coordinator, Corinne Handelman. "Patagonia Action Works gives us access to an ever-growing pool of potential desert advocates."
ONDA first used Patagonia Action Works to spread the word about an event supporting the Owyhee Canyonlands. "The room was literally packed," says Owyhee Canyonlands coordinator, Corie Harlan. "The exciting part was that it was tons of fresh faces, people we'd never seen at an event before." ONDA stewardship director, Ben Gordon, says they are looking forward to using this tool to reach new fieldwork volunteers when they announce their next slate of stewardship trips in 2019.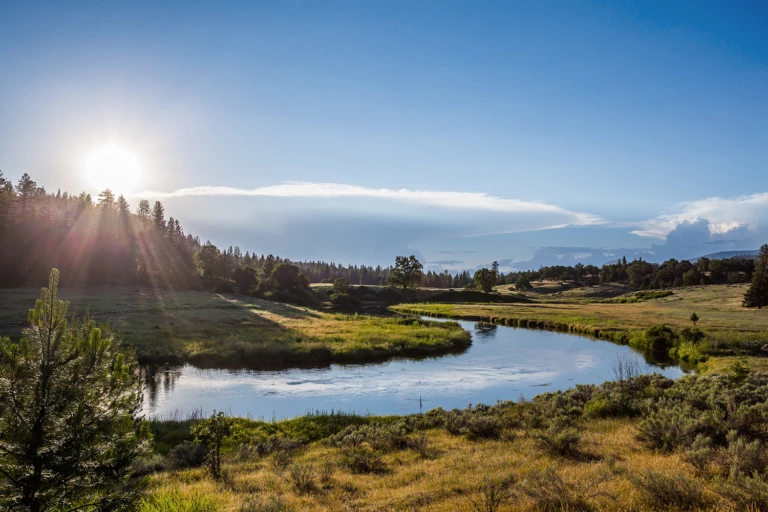 Last Stand for the Salmonids–Signing Up to Take Action
Not so long ago, an angler's paramount concern was whether the beer cache had floated away. But in 2017, California Trout Inc. and UC Davis published a scientific report together entitled State of the Salmonids II: Fish in Hot Water. Its findings: 45 percent of our native salmon, steelhead trout and trout will be extinct in 50 years if present trends continue. The report identifies climate change as the major, overarching human-caused threat affecting salmonids in California. Another key contributor to this sobering statistic is migration blockage by California's thousands of dams that impedes the access of salmon and steelhead to their native upstream spawning habitats.
For 48 years, CalTrout has stayed true to its core belief that abundant wild fish indicate healthy waters and that healthy waters make for a better California. While balancing the needs of wild fish and people, CalTrout works to solve the state's complex resource issues through scientific credibility. As a strong and respected voice on statewide water and fish policy, CalTrout has developed an enduring legacy of on-the-ground projects and measurable outcomes.
Through Patagonia Action Works, CalTrout has generated 424 letters signed in opposition to raising the height of the Shasta Dam and 232 letters signed to prevent rolling back regulations to the Endangered Species Act. In the next few months, CalTrout plans to use Patagonia Action Works in seeking volunteers to gather California Department of Fish and Wildlife surveys in their efforts to help designate Pescadero Creek, a major steelhead spawning stream, as a Wild Trout Water under the Heritage and Wild Trout Program.
Major barrier-removal projects to reconnect habitat on the horizon include: four dams on the Klamath River, Potter Valley Project's Scott Dam on the Eel River, the Matilija Dam on the Ventura River, and a barrier on Trabuco Creek under Interstate 5 in San Diego.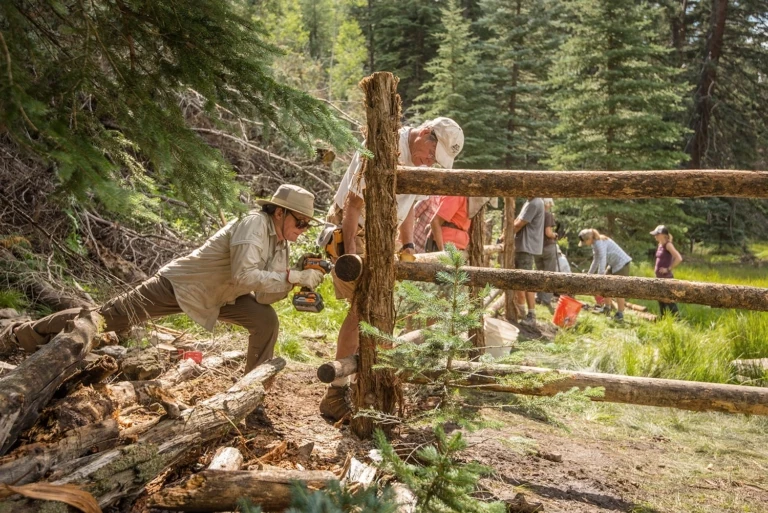 Preserving the Wild Heart of the West–Reaching a Larger Digital Audience
Forty million people and 4 million acres of farmland in the Lower Colorado River Basin depend on water from the Colorado River. In the Grand Canyon, at least one uranium mine has likely contaminated a tributary creek with uranium concentrations in excess of EPA drinking water standards. Uranium is toxic to humans and accumulates in bone, liver, kidney and reproductive tissues. On March 9, 2018, mining industry trade groups petitioned the U.S. Supreme Court to review the Department of the Interior's 20-year ban on new uranium mining claims on 1 million acres of public land adjacent to the Grand Canyon. The Grand Canyon Trust joined forces with Earthjustice and other partners to fight this, and on October 1st, the Supreme Court denied the National Mining Association's request to hear its appeal–the Grand Canyon mining ban has a right to exist.
Founded in 1985, the Grand Canyon Trust (GCT) quickly came to understand that protecting the Grand Canyon required protecting everything around it. Over the years, the Trust has expanded its work to include the entire Colorado Plateau and to recognize the importance of working with Native communities as one-third of the plateau is tribal land and one-fourth of the plateau's population is indigenous.
"We operate as leanly as possible," says Grand Canyon Trust's communications director, Ashley Davidson. "We only very rarely boost our content online, so Patagonia Action Works has … allowed us to reach new and much larger audiences while keeping our dollars in program work for maximum impact." Of the 245 volunteers who joined GCT in the field in 2018, 60 percent were fresh faces.
Patagonia Action Works puts grantees' messages in front of our large and active digital audience. This can mean featuring calls to action on social media, but it can also mean highlighting our grantees' work directly in our audience's inbox.
"Patagonia Action Works helped us mobilize people across the country to defend the Grand Canyon from uranium mining," says GCT executive director, Ethan Aumack. A Patagonia Action Works email rider brought in 958 new petition signatures from 43 states and three countries during a week in August, bringing them 10 percent closer to their 10,000-signature goal. The rider also brought six first-time donors to the trust, including one new Turquoise Circle member ($1,000-plus).
We are humbled by the generosity and selflessness of each volunteer, each person who has answered a grantee's call to help protect a place they love. Watching hundreds of thousands of folks connect and take action on the most important issues of our time has confirmed our belief that people are ready to stand up for social and environmental justice. Sometimes it's just a matter of knowing where to dig in.
Patagonia Action Works
For almost 40 years, Patagonia has supported grassroots activists working to find solutions to the environmental crisis. But in this time of unprecedented threats, it's often hard to know the best way to get involved. That's why we're connecting individuals with our grantees, to take action on the most pressing issues facing the world today.
Act Now