This Music is For the Birds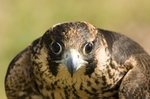 The outdoor bowl in beautiful Ojai, CA was the perfect setting on October 7 for Jackson Browne, The Household Gods, and many other friends to pledge their musical support for the Ojai Raptor Center.
The sun shone, volunteers worked the crowd with a raptor on their arm, and the music flowed over the packed house. I've worked at Patagonia long enough to remember when my colleague, Kim Stroud, now the organization's Executive Director and still an integral member of Team Patagonia, started pursuing this "prey passion:" first a perch attached to her desk, then boxes of chirping baby birds appearing in our bathrooms, and soon our receptionist was fielding calls and drop-offs from concerned community members who had come across injured feathered friends. What started as what some might describe as an "obsession," soon blossomed into a legitimate 501(c)(3), all fueled by Kim's drive and commitment.
Isn't that what grassroots success is, after all? It needs a leader, who lights a fire under others, and soon the momentum carries forward into the mainstream, inspiring the masses to celebrate an afternoon such as what I just experienced. I sat in my seat, so filled with pride for what Kim had accomplished, and so thrilled at the success of it all. It gave me hope for all the environmental activists we fund and support day after day, year after year. Their dedication truly makes a difference – it's not just "for the birds," except in this case.
[One of the rehabilitating raptors at the Ojai Raptor Center. Photo: Eric Rosen]