Tin Shed: Filled to the Rafters with Stories and Videos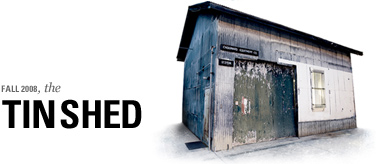 I hinted at a treat for you last week and now it's live. Today Patagonia launched the Tin Shed, a multimedia mini-site (à la the Footprint Chronicles) that's loaded with dispatches from our friends and ambassadors traveling the wilder world — in high-quality video, audio and the written word.
Head over to the Tin Shed at Patagonia.com, or hit the jump for a glimpse at what's inside.
With thanks to everyone involved, especially Betsy, Bill, Stuart, Alyssa, Mr. Tim, Kristo and the Royal Order
Some of what you'll find inside the Tin Shed:
K7 West (video) – Experience the first ascent of K7 West in Pakistan's Charakusa Valley with Steve House, Vince Anderson and Marko Prezelj.
Towards Rhapsody (video) – Follow Sonnie Trotter from his training in Smith Rocks to his attempt at one of the hardest trad lines in the world – Rhapsody.
Torre Traverse (narrated slide show) – Rolando Garibotti chronicles his long-held passion for completing the much-coveted Torre Traverse in Patagonia.
Surf is Where You Find It (audio) – Listen to Gerry Lopez read an excerpt from his book Surf is Where You Find It.
I Just Want to be Held (field report) – Kelly Cordes talks about spooning with some of the world's finest alpinists in this hilarious field report.
Henry Barber (video) – Watch rare footage of one of America's most prolific first ascensionists climbing Wheat Thin in Yosemite, c. 1977.
Operation Oman (video) – Brittany Griffith, Zoe Hart, Jonathan Thesenga and John Dickey travel to the Arabian Peninsula to climb the desert big wall, Jebel Misht.
Fly Fishing Films (video) – Preview three new fly fishing films from the genre's finest filmmakers: Burl Productions, Rollcast Productions and AEG Media.
Steve's Gear (video) – Patagonia ambassador Steve House walks us through his ice tool collection and the weight-saving sleeping-bag-for-two he built himself.
Hand Cut (video) – Preview the new backcountry ski and snowboard film from Sweetgrass Productions that looks at the rugged, callused-hand history of North America's mountains.
Vote the Environment (video) – Watch a short video about the importance of voting for the environment.
Tools of the Trade (video) – A chance for Patagonia ambassadors to offer their opinions about our products: Steve House reviews the Ascensionist Jacket and Alpine Guide Pants.
History of the Tin Shed (slide show) – The Tin Shed was once home to the whole company, when we were a small band of friends who made great climbing gear. Learn about the origins of Patagonia's obsession with making quality gear and our concern for the environment.
and more …
Head over to the Tin Shed.
The shorthand URL is patagonia.com/tinshed if you'd like to help us spread the word.