When we move through the forest in winter, we're often left wonderstruck by snow-shrouded trees bent and morphed from years of wear in silent solitude. Their depth of character becomes evident as we weave ourselves into their lives and ecosystems. But we often tell our stories and not theirs. Our new film Treeline follows skiers and snowboarders as they move through three extraordinary forest landscapes across Japan, British Columbia and Nevada, exploring the connection between humans and our oldest living companions. Below is an essay by Leah Evans as she moves through British Columbia, connecting with the indigenous trees of the area. This essay is part two of a four part series. 
I grew up tree skiing in Rossland, British Columbia. When I was still pretty young, I remember skiing with a girl visiting from Tahoe and losing her in the forest. "We don't really ski the trees at home," she said when we were reunited. And I just thought, isn't that what skiing is? The forest is my safe place.
I've been lucky to ski in incredible places around the world, but there is something about my new home ranges near Revelstoke—the Monashees and Selkirks—that keeps me connected, glued, rooted. You'd think I'd get tired of going to the same places, but by touring through the local treescapes, I've woken up to the dynamic details of the forest. The way the moss hangs or the light shimmers in certain patches—the silver shine on the bark of a massive cedar that makes it look like it's glowing from the inside out. I see something new every day.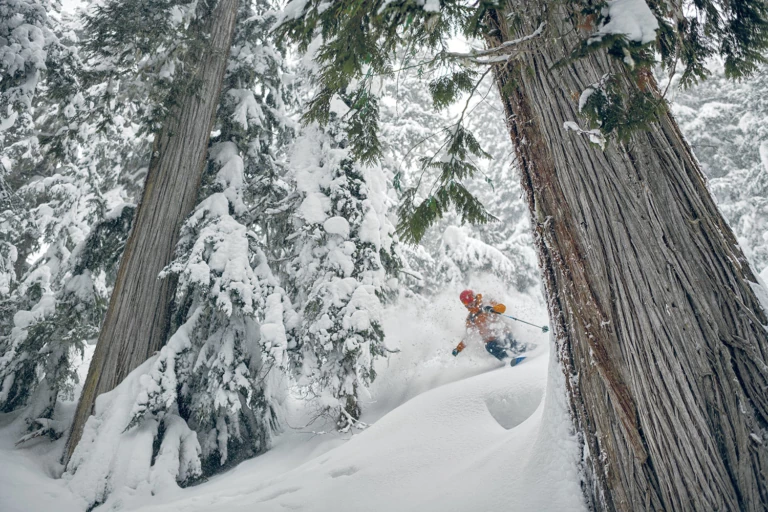 Revelstoke was basically snowed in for four months last winter, which pulled folks into the mountains to the low, shadowy band of cedars that don't often keep good snow. Normally, because the old-growth live at such a low elevation, we only pass through them on our way up the mountain. When it does snow enough down low, the carpet of white around them easily melts. Or the snow doesn't pile up to make it ski-worthy because of the forest canopy.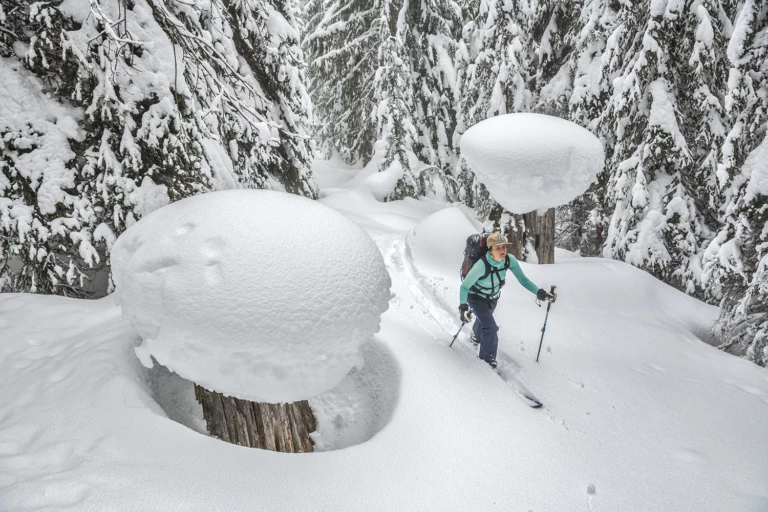 Last winter was special. We got to converse with the wise old-growth while navigating up on skins and weaving our way down through them. They create such a beautiful pattern for skiing because not much else grows right next to them—you can flow and dance because they give you the space. Like an artful pause in a powerful public speech, skiing through these cedars provides a split second to reflect, but then calls you to engage again. You actually have time between turns to notice the trees.
If you plant a tree, you want to watch it grow. You create a kinship with it. I didn't plant the old-growth, but I feel we're kin; they remind me of my own history and where I come from. Life as a skier in British Columbia can connect you to trees because you spend so much time in the mountains, but I don't think that automatically makes you able to understand them. I believe the trees need people to protect them. The ones who truly want to grasp their presence. The ones who feel like when they're together, they're at home.
This essay was featured in the November 2018 Patagonia Catalog.