Trevor Gordon's Artful Life
Michael Kew
/
Jun 12, 2012
/
2 Min Read
/
Surfing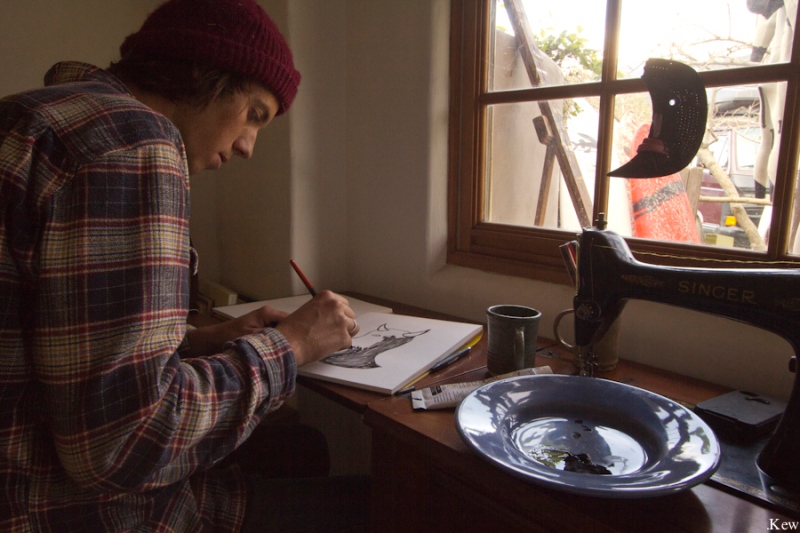 Patagonia Surf ambassador Trevor Gordon, 22, is not just a guy who, in the words of Dan Malloy, "surfs just like Curren." Here we take a closer look at Trevor's land-based talents.
Michael Kew: How would you describe your art?
Trevor Gordon: A bit folksy. Colorful, textured, simple. I try to paint or draw people in ordinary moments and natural situations, like a man sitting on a porch, playing guitar, or a lady stoking a campfire.
What's your process like when you create art? Do you ever sketch stuff and then make it, or do you work more spontaneously and build as you go? How does it happen for you?
I usually start painting spontaneously. Sometimes I'll wake up in the night and have to start a painting so I don't forget it by morning. Other times I will be listening to a song and something will pop into my head, and if I can, I will start painting something right then. More often than not, I'll end up painting over the original idea, but it's the initial moment of starting the painting that is hardest. My style is very quick — I can't stand waiting for the paint to dry or washing the brushes, so I end up painting with my fingers on top of wet paint. I guess that can add to it, sometimes, but it can also screw it up.