"Unexpected" from Patagonia Books Wins Prestigious Banff Award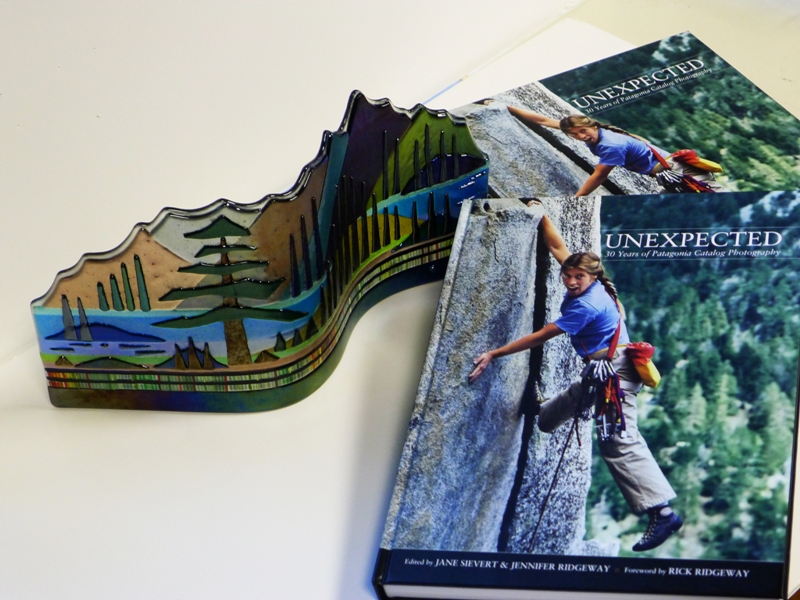 We're honored to report that The Banff Mountain Film and Book Festival has awarded Unexpected: Thirty Years of Patagonia Catalog Photography its "Best Book – Mountain Image" award for 2011. Unusual for a business enterprise, Patagonia's catalog devotes half its space to editorial content — environmental and sport essays and extraordinary photographs of wild places and active pursuits. Jane Sievert and Jennifer Ridgeway, Patagonia's current and founding photo editor, respectively, have been calling, and culling, the shots for three decades. Unexpected is their compendium of most compelling photos the company has published, and a celebration of wilderness and outdoor-sport photography as an art and a practice. On behalf of the company, Jane, Jennifer and designer Annette Scheid accepted the award in Banff on November 3.
Make the jump for more on the book from the Banff judges and to hear an interview with Bernadette McDonald whose book, Freedom Climbers, won the Grand Prize.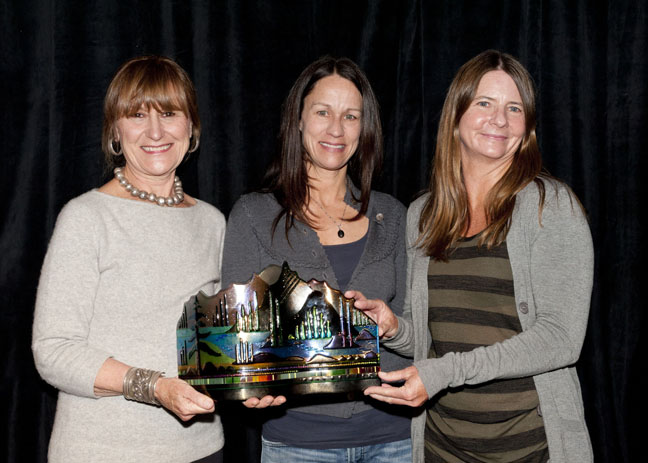 [L to R: Photo editors Jennifer Ridgeway and Jane Sievert, and designer Annette Scheid, pose with the Banff Award for Best Book Mountain Image. Photo courtesy of The Banff Centre (updated 12/2/11)]
In granting the award, Banff's judges noted:
"Unexpected: Thirty Years of Patagonia Catalog Photography stood out for its wide-ranging collection of well-prepared and well-edited images. Images from numerous photographers, times, and places are finely integrated and not over-processed, as is now so common. The result is a compelling collection of mountain and adventure photography that invites repeated readings. Instead of the expected images of pretty people modeling Patagonia clothing, these are the 'unexpected' images of what people do and how they live in the mountains. For those who live or spend time in the mountains, these people are our friends, our neighbours, or the guy or gal we run into on the trail or the climb or the ski hill. They are us. Living their philosophy more than most, Patagonia opened up their catalogues to outside submissions, rather than commissioned images, and allowed some of these wilder photos to be published; a testament to the fact that they have their finger on the pulse of the outdoors community. It only took a few pages to get hooked on the images and stories of adventure and a solid connection to nature that they tell. This is the kind of book that you would want to have on your coffee table. The images are funny, beautifully printed, inspiring, wacky and wild."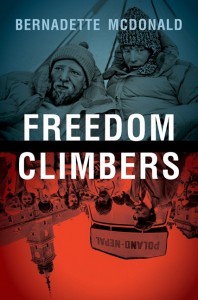 Also attending Banff was James Mills, host of The Joy Trip Project. James sat down for an interview with writer Bernadette McDonald, winner of the festival's Grand Prize for her book Freedom Climbers. James writes:
"From the mid 1970s through the 1980s, Polish climbers dominated the Himalayan mountaineering scene. This generation of adventurers rose up from the horrific occupation by Nazi Germany during World War II only to be subjugated afterward by the Soviet Union during the Cold War. For thousands of young people at that time, the mountains were their only escape and many of them ventured far away from Poland into the high of places of Central Asia where they distinguished themselves among the best alpinists in the world. In her book Freedom Climbers Bernadette McDonald tells their story."

Listen to "Freedom Climbers" interview with Bernadette McDonald
(14:20 – right-click to download)
For more coverage from the 2011 Banff Mountain and Film Festival, visit The Joy Trip Project. Then, head over to to Patagonia.com to see the entire Patagonia Books Collection.