A Chaotic Big-Wall Trip to Patagonia
Austin Siadak
/
Jan 12, 2016
/
5 Min Read
/
Climbing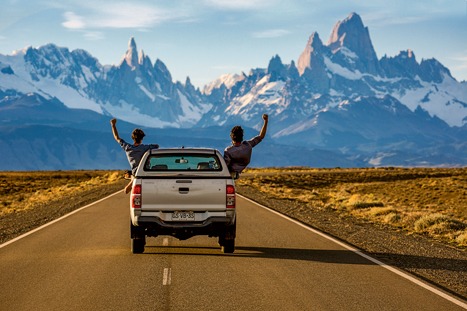 The pig squeals and groans in protest as I wrestle it back onto my sweaty body. I groan even louder. Seventy pounds of ropes, cams, pins, beaks, portaledges, tents, food, fuel and everything else for a month-long big-wall expedition bulge from my haul bag, digging deep into my spine. I've already carried two of these loads more than 15 miles into our base camp. All of us wobble around granite blocks, exhausted, knees buckling under the loads on our backs.
"Look at this place!" someone shouts excitedly. The Patagonian big walls of Torres del Paine thrust upward from rocky moraines into a cloudless blue, a skyline as jagged as shark's teeth. Three thousand feet of granite and snow loom steeply on all sides, beckoning in the bright sun. We whoop in joy and disbelief. These walls have consumed our thoughts for more than a year, and to finally stand beneath them is a dream made real. Now we get to climb.
The next morning we awake to storm. Snow falls thick and deep, wind roars like a jet engine across summits hidden high above, icicles drip long from the boulders around camp. We hope it will stop, but it doesn't. One day. Two days. Three. The cave is our solace, dry and sheltered. We sip hot drinks, sing songs, talk about girls, fill out crossword puzzles. We smoke cigarettes, crack jokes, dream aloud about the climbing we'll do when the storm stops.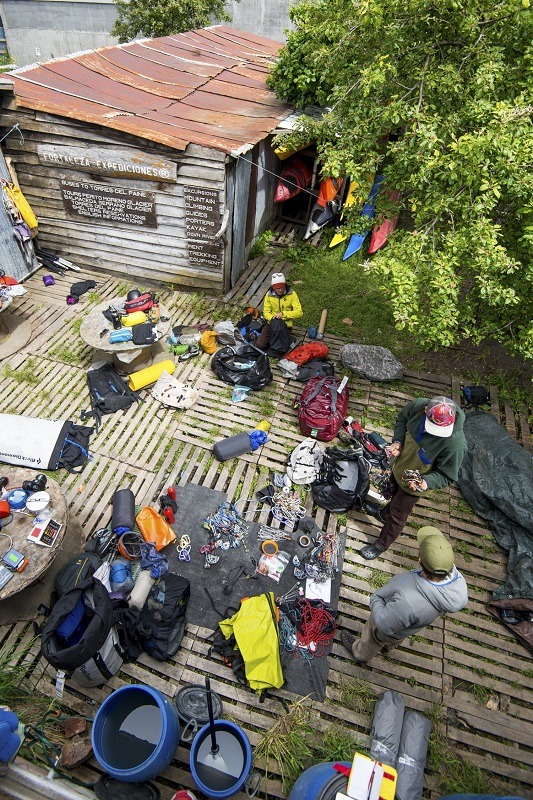 Pig packing in Puerto Natales, Chile, the jumping-off spot for expeditions into Torres del Paine. Photo: Austin Siadak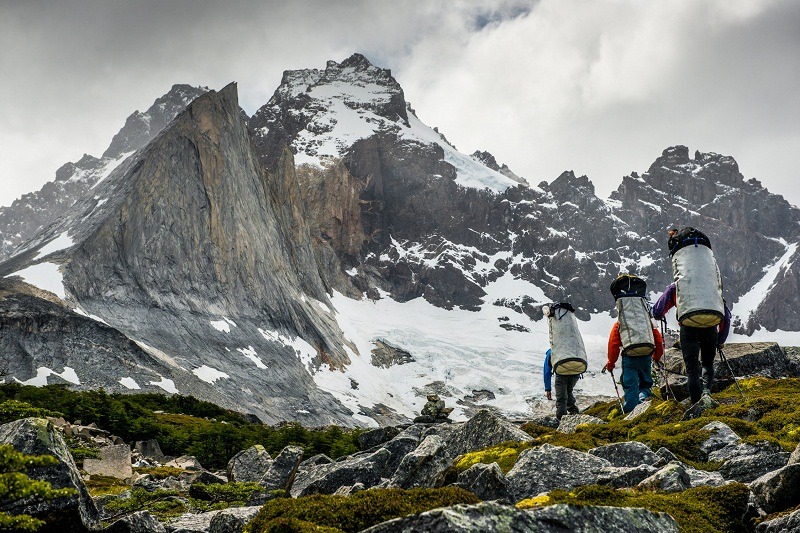 A three-day approach, 700 pounds of gear and good conditions that didn't hold. Photo: Austin Siadak
Drip. Drip. Drip. Snow melts and echoes monotonously inside our granite home. After awhile we talk less and less. We read books in silence and turn pages. Flip. Flip. Flip. The roar of the stove rips through the quiet. Dinnertime, finally. A gust of wind blasts into the cave, covering my pasta in a thick layer of spindrift parmesan. I eat it anyway.
The weather breaks and we rush out to scout lines. We're finally moving! Psych is high and we scramble across the glacier toward the walls. But the feature we came to climb looks less promising than hoped. Few cracks, poor rock. We hike over to another wall for a look, but the wind roars in over the ridge, knocks us face first into the talus, blows us back to camp. The storm rages again.
The cave stinks of wet socks and white gas. I try to keep my spirits positive, but finally, perhaps inevitably, it starts. Patience erodes, habits and mannerisms become intolerable. Suggestions seem like orders, questions like demands. We're rarely more than an arm's length from each other, but at times it feels like we're on separate planets. We bicker and snap. We fight over salt. Salt. I lie inside my tent, watching condensation collect and drip onto my sleeping bag. Everything is wet. Souring. I listen to the wind whip and howl, bending the poles, pulling at the seams, close to tearing the whole thing apart.
The storm lasts four more days, some of the worst weather I've ever seen. Three feet of snow blankets the landscape, and my feet go numb in the cave despite thick socks and insulated boots. We hardly move, but we're drifting apart. Maybe we weren't that close to begin with? Sure, we were friends when we left the States, but I'd only climbed extensively before with one of them. I didn't really know half of the team, didn't know how we'd handle weeks together in close quarters. We'd had a few arguments at the beginning of the trip and I had doubts about the dynamic, but I was so excited by the opportunity to come here, to finally fulfill my own dreams of climbing big, new routes in a remote range, that I was confident we'd make it work. If I'd been more aware, I would have recognized that confidence for the selfish hubris it was.

A war of attrition with the weather, waged with crossword puzzles and endless hot drinks. Photo: Austin Siadak

Clearing the tents of dangerous snow load as storms pound both the French Valley and the group dynamic. Photo: Austin Siadak
I push on. I still want to attempt a big-wall first ascent. The others are ambivalent, think it's too risky, that we should climb alpine-style on smaller objectives. I think they're wrong and like an asshole, I let them know it. We've put in too much work to just completely change our plans. I think more about the walls a mile away than about my partners at my side, pay less attention to their feelings than to my own desires. Incredibly, stupidly, I still hope the weather will clear, and we'll be able to put this behind us and climb.
But I won't be climbing anything. A few days later, standing in the swirling snow, we're done. All the others want to leave. They look me in the eyes and tell me they don't want to climb with me. Staring back I see nothing but disappointment and anger. I stammer an apology and walk away. Back in my tent I relive every moment that led us here, every self-centered moment that has led me here, and I cry. The others call me to dinner, but I tell them I'm not hungry and hope they can't hear my stomach growling. We'd dreamt of climbing these walls for so long, but it sinks in that it's not happening and the fault is as much mine as anyone's. Probably more so. I feel absolutely gutted, in part because I won't get to climb, but mostly because I realize how much I've neglected the feelings of my friends in pursuit of summits.
I wake in the morning to silence. No wind. I stick my head outside and feel hot rays of sun on my face, smell the scent of earth melting out from the storm. It's a perfect day, and the forecast calls for a week of splitter weather. I fill a haul bag with untouched climbing gear, pull it onto my back and slowly walk down the trail.
It's a long hike out.
This story first appeared in the 2016 Patagonia Mountain Catalog. Support for the trip came from the American Alpine Club's Copp-Dash Inspire Award.