Walking Some Talk: A Thru-Hiker Gets Involved in Trail Cleanup
Adam Bradley
/
Nov 20, 2007
/
5 Min Read
/
Activism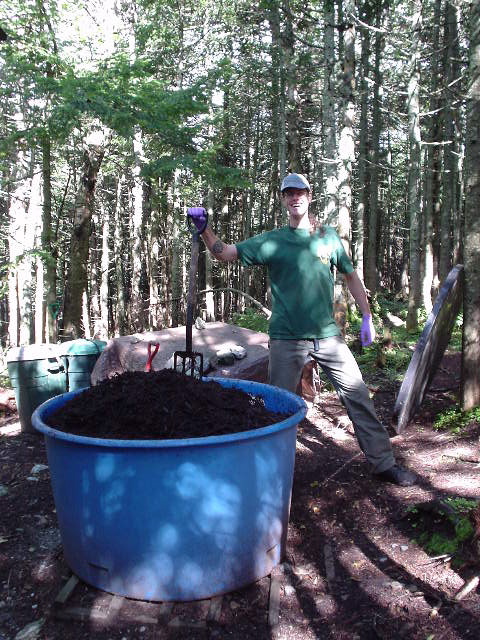 After my Long Trail thru-hike, I made a commitment to get involved with the GreenMountain Club (a non-profit organization that works to protect and maintain trails in Vermont) and give back to the Long Trail. Fulfilling this promise, I become a "summit steward" and "ridge runner" in the fall of 2003. One of my assignments was to work with students from a local college to clear a "blue blaze trail"–a side trail to or from a long-distance trail, such as the Long Trail–in the Mount Abe area. In this instance, the blue blaze trail led down from the Long Trail, across private land, and to a trailhead with road access. Because the blue-blaze trail had become overgrown, the owner of the private land parcel which it crossed felt that it wasn't being used. And if the trail wasn't being used, the landowner could revoke its right-of-way. This is when I first became aware of land acquisition issues affecting America's long-distance trails.

[Top: On the PCTA in the heart of Washington's Goat Rocks Wilderness, August 2006.  Upper right: Selflessly maintaining the products of a self-composting toilet at the Battell Shelter, Mount Abe area, Vermont. Photos: Adam Bradley]
In the spring of 2006 I began to prepare for a thru-hike of the
Katie Smith, Development Director for the PCTA, then provided me with all theinformation that I needed to work with the Association on my benefit. Liz Bergeron, Executive Director of the PCTA, gave me a glossy copy of the Fiscal Year 2007 Appropriations Request that the PCTA had presented to Congress. This provided the concrete figures I needed to make my case and to convince potential donors that land acquisition along the PCT's corridor is a timely issue.  I put as much of this information as possible on my Hike4Trails Web site and made business cards with my contact info and URL on them in hopes of making connections with folks during my journey. I e-mailed friends and family to encourage them to get involved, and I stayed in touch with my donors by posting a travelogue on TrailJournals.com.

On May 15, 2006, I set out from the international border between California and Baja Calafornia del Norte to walk to Canada. I had $0.64-per-mile in pledges from donors. These pledges gave me the opportunity to earn $4,153.45 for the PCTA's Trail Protection program. On September 24, 2006, I stepped into British Columbia, Canada. By then I was certain that whatever extra effort had been required of me to fulfill the commitments of my benefit, had been small in comparison to the intangible gifts that the PCT gave me. I was happy to be returning a small monetary amount to the trail that had given me so much.

Following up with donors was easy: most were eager to send in their donations and to be a part of something so important. I forwarded all of the donations to the PCTA after accounting for what had been donated. Every one of my donors received a letter from the PCTA in recognition of their gift, and I sent each of my donors custom postcards with a photograph from my thru-hike on it. I made these postcards to thank my donors for taking part in something important that would touch many people's lives for generations to come, and the postcards allowed me to acknowledge donations immediately.

All of my photos and journal entries from my thru-hike were posted on TrailJournals (www.trailjournals.com). This Web site was incredible as it allowed my friends, family, and donors to get a feel for what thru-hiking is about. Anyone can access the TrailJournals.com and read hundreds of journals about many different trails. One feature I like is the ability to load photos and sort them by day, allowing the reader to progress through the photos and see what a hiker would see along the way. TrailJournals.com also has many links so that readers can learn more about long-distance trails.

As I write this, it is spring of 2007 and I recently checked in with the PCTA to find out what had become of the funds that my donors had dedicated to land acquisition. I was very happy to hear that the PCTA has now identified permanent protection of the entire trail as its number one goal and primary focus for the next three years. The PCTA is trying to raise federal funding for the purchase of private land along the PCT at fair market value. In Southern Oregon, the PCTA recently worked to help protect 1.25-mile section of the trail with a conservation easement (see the Trail Protection article in the July 2007
While I had hoped to raise more money and awareness of this timely issue, I am happy with the outcome. Hopefully several thru-hikers each year will consider raising money for this cause. I, for one, will be back again to thru-hike the PCT, and if the job of permanent protection of the PCT is still unfinished I will walk for as many pennies as I can pick up.
[Above right: on the PCT just outside Warner Springs, CA, April 2006. Above left: Fall colors on the blue-blaze trail that first made Adam aware of land acquisition issues affecting long distance trails. Lower right: At the northern terminus of the PCT; Adam finished his PCT thru-hike on September 24, 2006. Photos: Adam Bradley]