Waxman – Markey Climate Change Bill Includes Support for Wildlife Corridors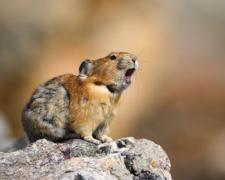 On May 21, in a 33-25 vote, the House Energy and Commerce Committee approved the American Clean Energy and Security Act (HR 2454). The bill is designed to create millions of new clean-energy jobs, save consumers hundreds of billions of dollars in energy costs, enhance America's energy independence and cut global-warming pollution. Here at Patagonia, we're pretty sure you've read about this bill or heard mention of it.
Included in this massive bill are provisions to strengthen and rebuild coastal marshes, coral, and oyster reefs, headwater forests and wetlands, restore natural floodplains, maintain forest health, and connect grasslands and mountain corridors to serve as migratory routes for wildlife. The parts of the bill that involve support for wildlife corridors and protection of migratory routes for wildlife may not have been apparent to you. These include the Natural Resources Climate Change Adaptation Fund, which will provide additional money for numerous state and federal conservation programs to assist fish and wildlife adapt to the effects of climate change.
Money from this legislation is also designated for the Land and Water Conservation Fund, which protects properties around the country that are important to fish and wildlife. Also in the bill is the National Wildlife Habitat and Corridors Information Program, which establishes a new program in the Department of the Interior to support states and tribes efforts to understand and map fish and wildlife habitat migration corridors, and to expand the use of computer database tools for wildlife management. The bill has a way to go before coming to a full vote in the House of Representatives and eventually in the United States Senate, but we urge you to keep track of it, especially the parts of the bill having to do with wildlife and corridors. We will keep you posted. For more information on the bill, go to the Energy and Commerce Committee's website: www.energycommerce.house.gov/
The National Wildlife Federation has great information on corridors. And for more detail and video, visit the Wilderness Society's website.
[Photo: From The Wilderness Society website, A pika, which is a species threatened by global warming, in the wild. Photo by William C. Gladish]