What can you buy for eighteen bucks anymore?
As the election season kicks into high gear, we're urging friends, family, colleagues, and community not to miss their chance to cast their vote. The issues we face are much bigger than political parties or individual candidates, that's why we encourage everyone to get informed and Vote the Environment. – Ed.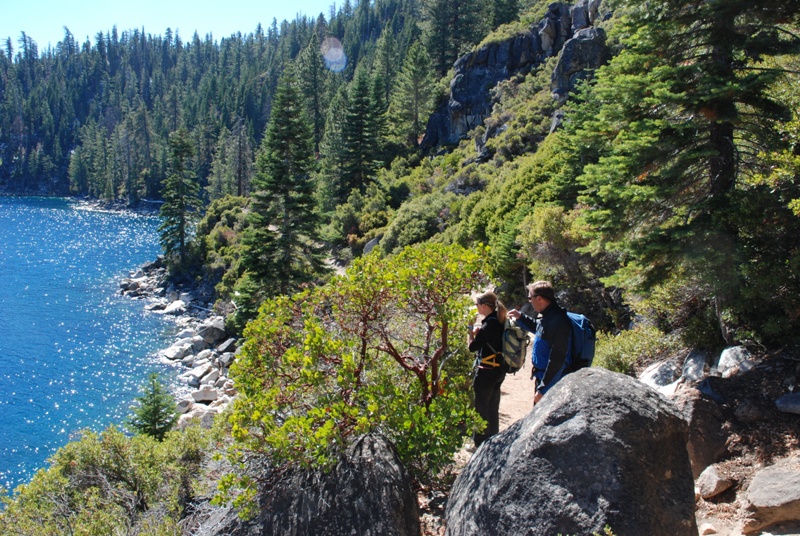 Eighteen bucks. What does a Jackson (less a couple Washingtons) buy nowadays? Lunch out for two at your local deli, a tank of gas (not really), a week's worth of lattes at Starbucks . . . You get the picture. Eighteen dollars does not buy much anymore. But what would you say if your $18 would help keep California's 278 state parks open, clean, and safe . . . and fetch you a free pass for the year to all of them?
That's what the State Parks and Wildlife Conservation Act (affectionately called Prop 21) would do if passed this November. It will provide a stable, reliable, and adequate source of funding to protect state parks and conserve wildlife. Prop 21 will be specifically dedicated to state parks and will allow California vehicles a free day-use admission in exchange for this fee.
[A couple enjoys the view from DL Bliss State Park's Rubicon Point Trail. Photo: Ron Hunter]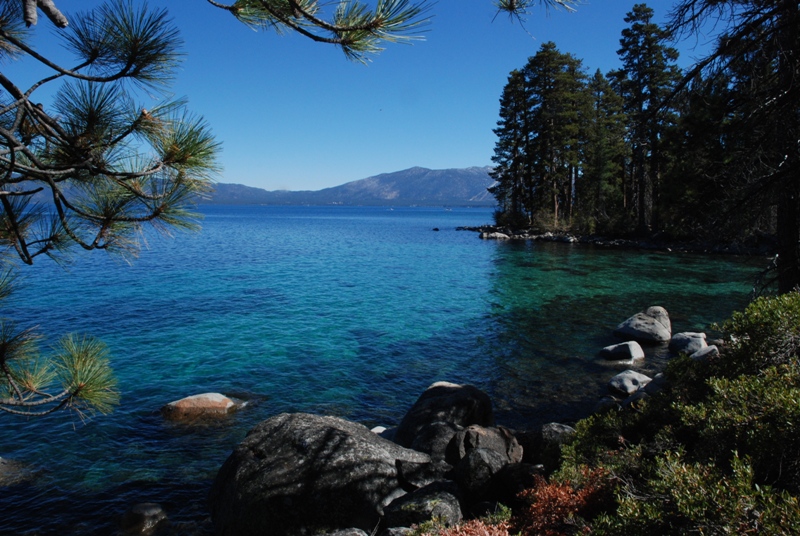 I have to admit, I support Prop 21 for selfish reasons. I live in a small town north of Lake Tahoe, called Truckee. My wife and I visit 3 spectacular parks on the west shore of Lake Tahoe (DL Bliss, Emerald Bay, and Sugar Pine Point State Parks) where we hike, swim, and hang out during our all-too-short summer season. We do it to re-energize and get in touch with both ourselves and the beautiful place we live – a needed respite in our ever-busier lives. John Muir said it best, "Everybody needs beauty as well as bread, places to play in and pray in, where nature may heal and give strength to body and soul."
But to get back to reality, it's the same old story here in California: budget cuts, service reductions, unfunded mandates – blah, blah, blah – but here is something tangible and concrete we can do. We can pay a little money and get a whole lot of bang for our buck.
This November, California voters have the opportunity to vote to spend 18 bucks and do a whole lot of good for places they love – and love to visit. That's why voting matters to me.
 
Ron Hunter
Patagonia Environmental Programs
Reno, NV
[California's Prop 21 is designed to provide the state's parks with permanent funding to ensure continued protection; and to provide the state's residents with permanent free access to places like this, along Lake Tahoe's West Shore. Photo: Ron Hunter.]