What Inspired You? A Reader Letter
Old School
/
May 07, 2012
/
3 Min Read
/
Community
We recently received this email from Ross Curwen, a reader from, as he says, "rainy old England."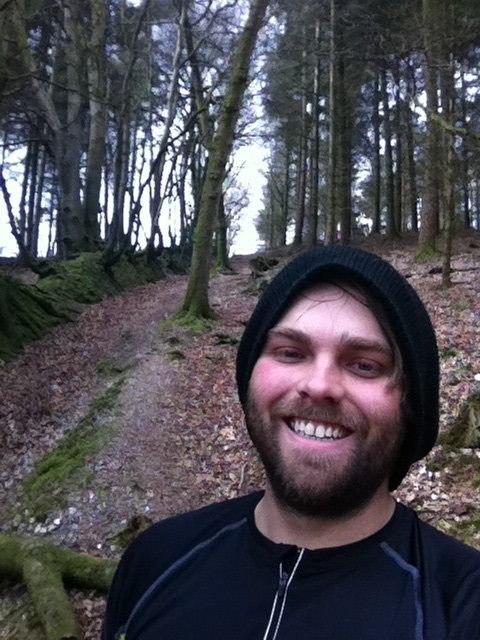 Just a letter saying thanks to The Cleanest Line community from rainy old England. About a year ago I injured my shoulder. This meant I had to cut right back on two things pretty huge to me: surfing and climbing. I was a bit mopey for a bit.
I needed to have something to maintain my fitness. Gyms, road running, cycling are all good but they're missing something. That's when I found trail running, through the Patagonia site. I don't have the huge expanse of mountains and national parks but I am spoilt with miles of cliff paths and dartmoor close to hand.
A year later and I am hooked. I love the rhythm of the trails, the temperature changes on your face emerging from dappled tree lines onto exposed cliffs. Like a lot of people in the community it becomes a bit of obsession. I'm at work knowing I've got shoes and a head torch waiting for me and trails to conquer later.
I wouldn't have this drive without reading the submissions on The Cleanest Line. I read the stories of all the different sports, trips and adventures and it inspires me to make my own. So all in all thank you to all of you and keep going as you are.
This short letter got us thinking about how we got started doing the things we love to do. Surely, we thought there are lots of interesting stories out there among our readers and we thought it'd be cool to hear some of them. If you have a story to tell, by all means chime in!
I'll go first…
If I remember right, it was on Forester Pass along the John Muir Trail in California's Kings Canyon National Park when I first dreamt of skiing. I was hiking up the switchbacks to the pass which tops out at a breathless (literally) 13,200'. As I looked over the treeless expanse of the High Sierra it occured to me that because these mountains are buried in snow for at least half the year, if I really wanted to experience the Sierra in all their glory, I'd have to be there when there was snow, lots of snow. Two years later, at the age of 17, I found myself on the same trail backpacking to Canada along the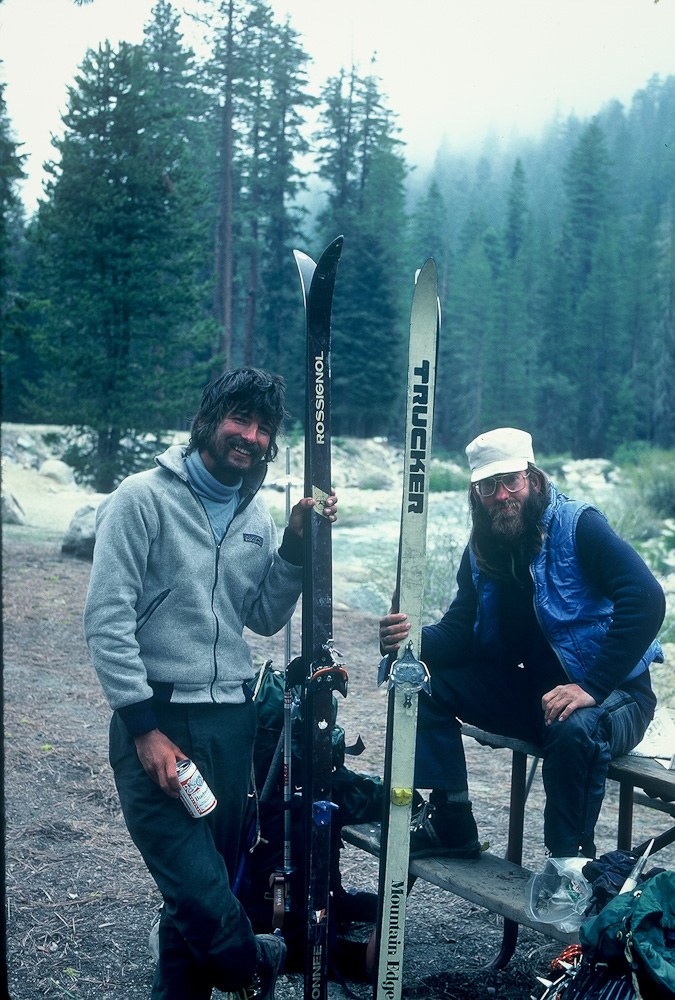 Looking back it's hard to believe how much of my adult life was changed by that one trip with Tom. Backcountry skiing had much to do my decision to move to Tahoe so many years ago. The year after our trip Tom moved back to New Hampshire to work on the family farm and Jon and I lost touch. Just a few months ago, Jon tried to contact Tom to catch up. Unfortunately, it was too late. Tom was killed in a tree felling accident seven years ago. I had always wanted to let him know how much that ski trip, all those years ago, meant to me and how indebted I was, but alas I never did. RIP Tom.
OK, now it's your turn. What's your story?
[Photos: Above right, Jon Rose, making it look easy, big pack and all. Photo: Old School. Above left, Old School strides underneath the Palisades. Photo: Jon Rose. Right, Old School and Jon, at Lodgepole Campground, Sequoia NP, after 6 weeks on snow, and yes, those really are heel locators on those skis! Photo: Jon Rose.]