What to Do on a Stormy Day? The Two Kinds of People in the World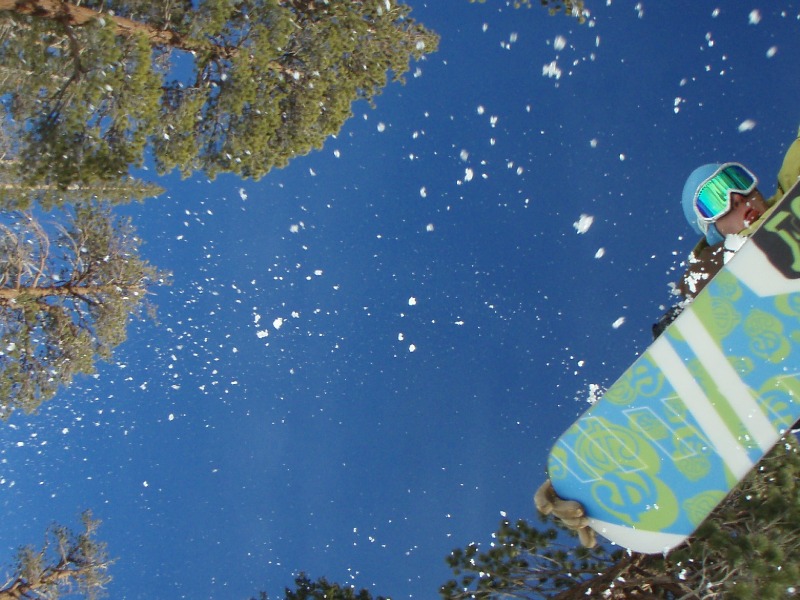 Something interesting has happened around here. Our crew of reluctantly employed fun junkies has remained largely unchanged since Patagonia first set up shop here in Reno in 1996. Sure, the workplace has changed a little bit (no more camping in the parking lot, to mention one thing), but the people have been more or less the same—that is to say, we've grown old together.
It wasn't until this year's big company trip to Mammoth Mountain, California that the shift became clear. What happened was akin to that special moment when two people make plans to, say, go climbing together. After arriving at the crag, one pulls out a fresh quiver of aerospace carabiners strung together with dental floss, the other laboriously drags out a full spectrum of hexentrics and the last three tri-cams to be found on American soil. New School and Old School stare politely at each other thinking: "Uhh . . . What now?"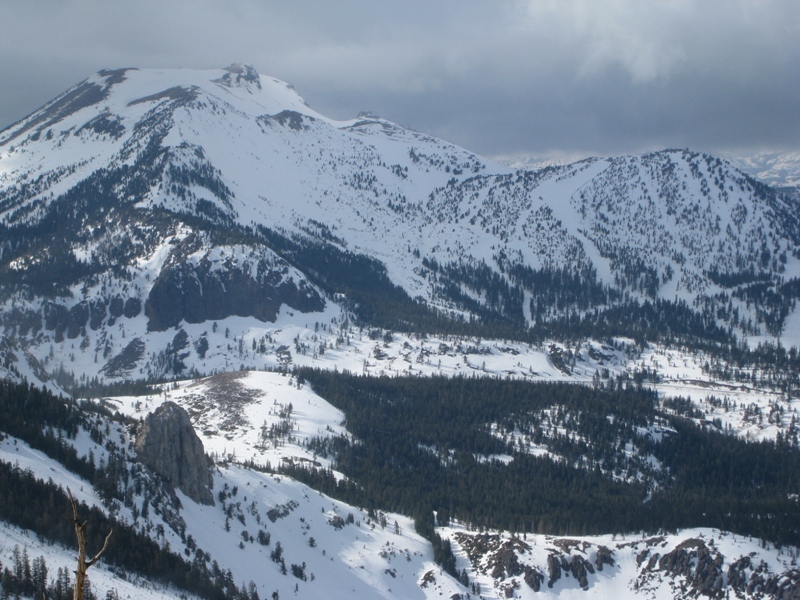 All schools welcome at Mammoth Mtn. All Photos – team reno schralpsteady
It was on a Saturday in Mammoth that our coworkers realized a new generation had arrived at Patagonia. What follows is their parallel accounts of how the two clans spent their day. Who had the most fun? You be the judge.  One thing's for sure, it's not hard to guess who was taking the most pictures.
It was Saturday morning of the annual Patagonia Mammoth trip and the festivities of the previous night had taken their toll.Hangovers, malaise and sunburned faces combined with a punishing 60 mph wind outside made our Saturday morning start even slower than usual.Luckily for us in Condo 5, Nate had brought his espresso maker and so we were at least wide awake as we watched the wind rip a rain gutter off a neighboring condo while old Warren Miller movies rolled on the tube. By 11:00, even the worst-off among us were getting antsy and so plans were made.

Wind or no wind, intense espresso and intense schralp footage is all a jibber really needs to get motivated. As the malaise of the morning dispelled and people started throwing out ideas of what to do all day, a powerhouse of four new-schoolers emerged as if destined by the PowderGods to become one unit. We became The Jibber Contingent. With gear piled high in the Subi and Bob Marley on the radio, we left the condos with the wind at our shirttails . . . and there it seemed to stay. 
The first option to present itself was sledding on a lone-but-steep little hill in the middle of the meadow across the road. It seemed that one of the other condos was a bit more ambitious than us and had already procured a number of saucers and sleds and was organizing an all-condo sledding extravaganza. The jibbers in the room had other ideas. Their plan was to drive out the Mammoth scenic route, find a good spot to build a jump, and spend the afternoon launching themselves silly.

We drove a mile stretch of the scenic route a couple times as we peered into the forest looking for a place to have some fun. Although there were a couple places to hike up to and make some turns, the powder gods urged us to continue our quest for the perfect jib spot. We all agreed to park and walk up into the trees to scout things out. Once we were in the trees, the winds were calm. The skies began to clear. It was nice to feel the late-winter sun on our faces.

We old-schoolers had a plan as well. Our original thought, even before the wind took hold, was to skip the hordes of a Mammoth Saturday and shuttle up to Tamarack Lodge, climb up the ridge and ski one of the Sherwin bowls. The Sherwin Crest lies due south of the town of Mammoth Lakes and while not a few first-time skiers to Mammoth have wondered if "the Sherwins" too were lift-accessible, they remain strictly the province of the self propelled. We decided however, that the high winds would not only make the climb to the ridge top most uncomfortable, the amount of wind-deposited snow might increase the avalanche danger and make it downright dangerous as well.

So instead, we opted to start from the bottom, climb up, and ski a well-treed spur off the crest of the ridge. We skinned up in the parking lot, crossed Old Mammoth Road without even bothering to take our skis off, and headed out across the meadow to the base of the ridge.

We all seemed to share the same excitement. Fun was imminent, and we felt it. We hurriedly put on our boots and began the quick trek into the shady woods. The week-old snow was soft and surprisingly fresh, and it gave way beneath our boots. We marched upward and onward into unfamiliar territory, periodically turning around toward the beautiful view to see if we could spot any old-schoolers on the ridge tops.



The clouds swirled above the mountains, peaceful yet ominous. A storm seemed to lurk but fortunately never developed. Instead, the golden sun shined brightly and, in a peculiar twist of fate, its rays led us straight to what we didn't know we were looking for. An old, burly tree had fallen at an ideal angle to create a perfect opportunity for some big air. Like school kids let out to recess, we scurried up to the tree and examined its potential. A lonely, unlikely tree would soon devote a portion of its decaying life to four eager jibbers.

As is so often the case, the wind wasn't nearly as bad as we thought and getting across the meadow didn't result in nearly the sandblasting we expected. Once we hit the trees the wind was really a non-factor. There were five of us, two split boarders, two telemark skiers, and one AT-er. We hooked up with an existing skin track and kick turned our way to the top of the ridge. The snow just off the top of the ridge was wind-affected with a thin crust, but once we got down a few turns and worked our way into the north-facing trees conditions rapidly improved. We were rewarded with soft, week-old powder and plenty of untracked lines.

Skiers—particularly those from more continental climes—chide Sierra skiers over what we call "powder." In a strict sense, there was really nothing powdery about this snow. It was, however, snow you don't often find in the Sierra anymore, at least not without hours of hiking. It was the dense-but-soft result of snow sitting for a week without the deteriorating effects of wind, sun, warmth, and most especially, skiers. It was creamy soft, consistent and fast, and before we knew it we were down to the meadow and slogging back to the condo.

We began shoveling snow on top of the log and molding the edges of a soon-to-be-picture-perfect booter. Working as a team, it didn't take us long to finish. Within an hour, we were ready to launch. Because of the angle at which the tree fell, we had about 270 degrees of fresh snow to land in. We spent the next four hours "launching ourselves silly" (phrase copyright of 'Old-School' Larussa, not to be used without express permission). After we mastered our big-air grabs, our 360s and 540s, and our front flips we got creative. Tree bonks and board slides kept us entertained for another hour.

While we were out skiing, some of our condo mates were out shopping. By the time we got back, a full-on feast was in the making. They even found an old barbecue in the ski closet and it wasn't long 'til the wafting scent of grilled chicken and beef were making the other condos jealous. The jibbing contingent finally showed up and regaled us with tales and pictures of their airborne exploits. They had built a jump from a downed tree and spent the afternoon sailing through the air.

As the afternoon came to a close, and the hunger pangs couldn't be subdued by water and stale Clif bars, we followed our noses back to Club Five, or Condo number five, where a fabulous dinner awaited us. We spent the evening in the company of the old-schoolers. As we all sat down to grub, they regaled us with stories of the day and days passed. Different agendas and different adventures aren't enough to disguise that we, both old and new, share common interests. We enjoy life, the outdoors, and we enjoy the pleasure of like-minded company (especially in the presence of good food, wine, and bluegrass).

Sunday morning dawn clear and windless and people scattered in all directions. Some opted to leave early and head straight for Reno or Ventura, while others headed up to the mountain. Our group decided on another backcountry day and hit a 1800' shot near June Mountain while the jibbing contingent spent the day taking high-speed groomers on the near empty slopes of June Mountain. We finished off the trip with a quick soak at some hot springs followed by a fine Mexican dinner before reluctantly returning to home and work. As Tim (fellow old-schooler) says, "you know it's a great vacation when you need a vacation from your vacation."

All photos: team reno schralpsteady