Lynn Hill's Yosemite Trip to Speak at AMGA
Lynn Hill
/
Nov 06, 2007
/
4 Min Read
/
Climbing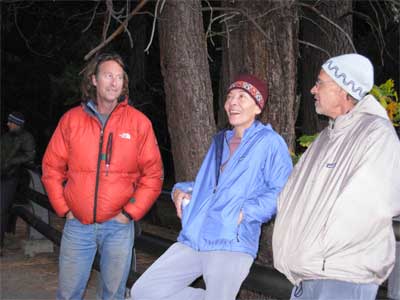 I just arrived home from a brief but pleasant trip to Yosemite Valley, where I was invited to give a presentation at the AMGA (American Mountain Guides Association) annual meeting. The fall colors were splendid and the climbing temperatures ideal. It was a coming home of sorts, I met up with my old friends, Mari Gingery, Mike Lechlinski, and Dean Fidelman, who were part of my community of friends living in Southern California during the late 70's and 80's. We enjoyed every opportunity possible to climb and hang out together and in retrospect, it seems fitting that it was with Mari and Dean that I first climbed the Nose in 1979.
The following year, Mari and I teamed up for another ascent on El Cap on a spectacular route called, the Shield. Known as a relatively difficult aid route at the time, some of the guys doubted our chances of making it to the top and said things like, "Get ready to rescue those girls up there." But Mike, Mari's boyfriend of the last thirty-five years, was the only one besides us, who was confident that we would make it to the top.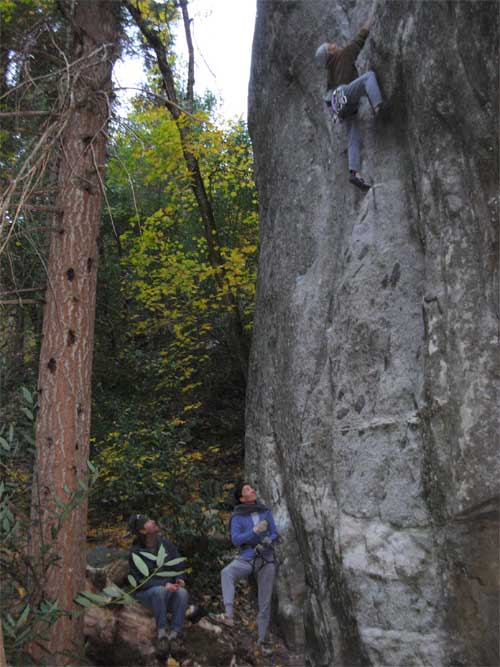 One of the things that made our bond so strong had to do with our absolute commitment to certain values we still share today: minimalism, non-conformity, conservation of nature, and Freedom, to mention a few… Though many things have changed over the years, the bond we shared since those days remains as strong as ever. When we would get together on weekends or holidays, our main intent was to simply have fun, tease each other in a kind of playful banter (heckling), and of course, challenge ourselves on beautiful rock climbs in these magical places. We felt truly free to pursue our passions without any interference from the usual constraints or pressures of society. Climbing was a kind of an escape and the one place we felt at home and in our natural place.
Mike takes the lead on Chapel Wall. Photo: Lynn Hill
Technological advancements, the Internet, the number of climbers (the closest estimation of the number of climbers in the U.S. is about one-million) have certainly changed our sport as it has society itself. But instead of wanting to escape the problems of modern society as I did when I was younger, I now feel compelled to do my best to help resolve such problems. Conversations with my friends this weekend spanned from the state of modern climbing culture, individualism, and consumption in America, to global issues related to pollution, corruption and climate change. "But what can we really do to help change these trends as individual citizens?" I asked my friends. Mari's first response was, "Be a good example." Yes, of course this is certainly the first place to start, but this is not enough!
I do believe that human beings want to make the right choices, but the immediate gratification of satisfying our individual desires is often at odds with making the best choice for all. Sometimes we make the wrong choices out of ignorance, but in today's world, any reasonably aware person knows that our current lifestyle and over-consumption of un-renewable resources is unsustainable. If we don't decrease the amount of greenhouse gases by 50% over the next 50 years, we will reach a critical tipping point spelling disaster for the entire planet. Certainly there are many things we can do as individuals to reduce our carbon footprint, but the biggest problem we face today has to do with our dependence on OIL. Not everyone has the money to buy a hybrid vehicle, or convert their car to use flex fuels, vegetable oil or other biofuels. Without a unified effort by both public and private sectors to find globally sustainable solutions, we will continue to have limited choices or alternatives. Hopefully the conflict between the interests of the 1% of our population that controls 80% of the world's wealth will finally be resolved for the good of all.
On the flight home, I picked up the recent National Geographic magazine entitled, "Growing Fuel: The Wrong Way and The Right Way" and read a few articles about the sustainability of biofuels and ways we can reduce greenhouse gases. I really enjoyed the following conclusion of Bill McKibbon's article with regard to what we can do as a society to help minimize global warming:
"Global warming presents the greatest test we humans have yet faced. Are we ready to change in dramatic and prolonged ways, in order to offer a workable future to subsequent generations and diverse forms of life? If we are, new technologies and new habits offer some promise. But only if we move quickly and decisively – and with a maturity we've rarely shown as a society or a species. It's our coming-of-age moment, and there are no certainties or guarantees. Only a window of possibility, closing fast but still ajar enough to let in some hope."